Alicia Mousseau
Pine Ridge, South Dakota
Dr. Alicia Mousseau is the daughter of the late John and Vera Mousseau and the granddaughter of the late James and Lena Mousseau from Porcupine, South Dakota. Her hunka parents are Howard Brown and Karen Spoonhunter-Brown of Arapahoe, Wyoming. Her hunka children are Marcella and Alexander Brave Heart and Sarayah, Gia, and Jo Weston. Dr. Mousseau received her Ph.D. in Clinical Psychology from the University of Wyoming in 2012. Before becoming the Vice President for the Oglala Sioux Tribe, she culturally adapted, implemented, and evaluated prevention and intervention programs with American Indian youth and families. Dr. Mousseau's commitment to her Tribe, community, and Oyate (people) has influenced her Vice Presidential platform to bring trauma/healing informed care as well as a Science, Technology, Engineering, Arts, and Math (STEAM) Research and Training Center to the Oglala Sioux Tribe. Overall, Dr. Mousseau is dedicated to promoting prevention and health equity in American Indian communities through culturally and contextually relevant ways of knowing and capacity building.
My Truth
When I do what I expect of others, I am living my own truth. I try to live my own truth daily so I can be me and stand confidently in my spirit. It is my hope that modeling this type of courage will inspire others to live their own truth; and it is there where our spirits can meet and the real work can be done.
Stories featuring Alicia Mousseau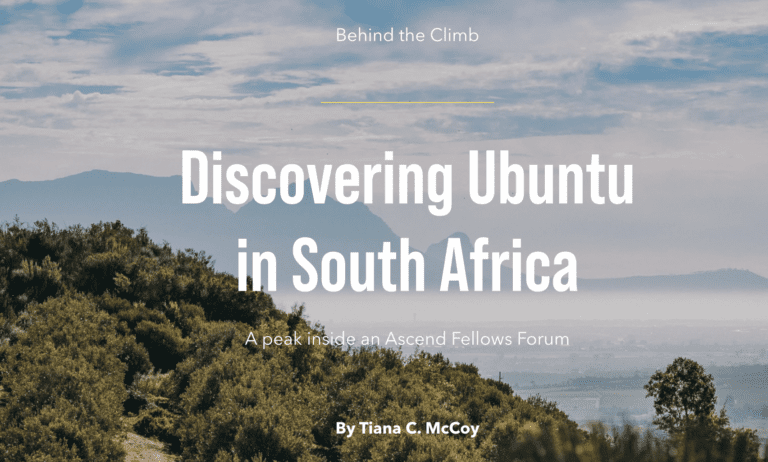 Tiana C. McCoy – Senior Associate, Operations and Convenings at Ascend – provides an inside look at the experience of a Fellows Forum.
Poverty is the result of poor policy choices. These choices reflect our national values and decide who deserves access to opportunity to achieve their dreams and who does not. This flawed mindset has led to persistent inequities and a hollowing of our shared humanity. Change is possible. The choice is ours.