Keesa Smith
Little Rock, Arkansas
Keesa M. Smith currently serves as the Executive Director of Arkansas Advocates for Children and Families.
Keesa worked for the Arkansas Department of Human Services from 2013 until 2023 as the Deputy Director of Youth and Families. In that role, she oversaw the divisions responsible for the state's child welfare, juvenile justice and early education programs during a time of significant transformation. Prior to joining DHS, Keesa served as the Chairman of the Arkansas Board of Review, a position to which she was appointed by Governor Mike Beebe. Ms. Smith also served as Deputy Legal Counsel and State Implementation Director for the American Recovery and Reinvestment Act for Governor Beebe. Before serving in this capacity, Keesa held positions in the Governor's Communication and External Affairs team. She began her legal career as a Staff Attorney for the Center for Arkansas Legal Services. Ms. Smith received a Bachelor of Arts in Journalism and Mass Communication from the University of North Carolina at Chapel Hill in 2002. She also earned a Juris Doctorate from the University of Arkansas at Little Rock William H. Bowen School of Law in 2005. She has one daughter, Afiya, who is a Junior Nursing major at Southern University and A&M College in Baton Rouge, Louisiana.
My Truth
What guides my leadership and work is never forgetting that every person has value. Those in need often find themselves marginalized and undervalued, especially when we overgeneralize how a person ended up where they currently find themselves. My truth is to always remember that, in creating and administering programs, we have the ability to change the trajectory of someone's path if we truly see them for who they are as opposed to what their current position looks like.
Stories featuring Keesa Smith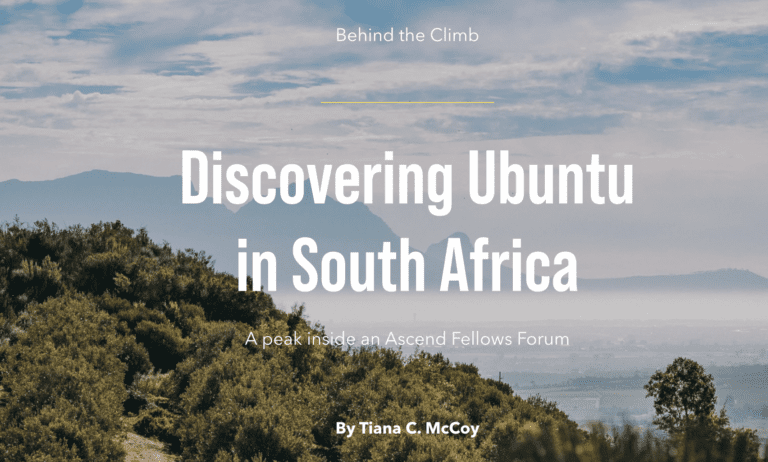 Tiana C. McCoy – Senior Associate, Operations and Convenings at Ascend – provides an inside look at the experience of a Fellows Forum.
Poverty is the result of poor policy choices. These choices reflect our national values and decide who deserves access to opportunity to achieve their dreams and who does not. This flawed mindset has led to persistent inequities and a hollowing of our shared humanity. Change is possible. The choice is ours.