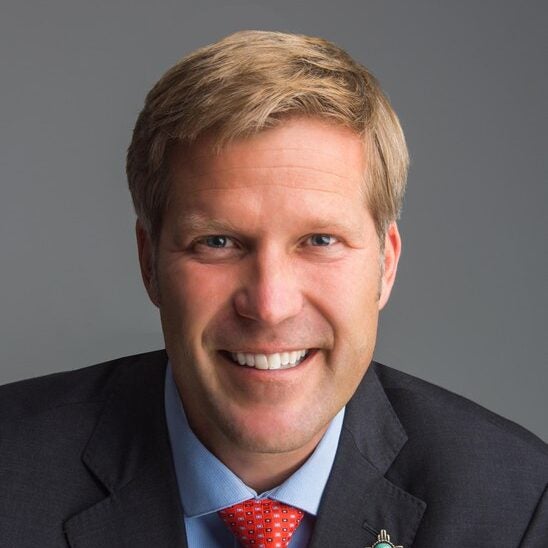 Tim Keller
Albuquerque, NM
After a successful business career, Tim Keller refocused his professional life on tackling some of the biggest issues facing Albuquerque and New Mexico. Throughout his public service, from State Senator for the International District to New Mexico State Auditor to Mayor of Albuquerque, Tim has consistently challenged the status quo and developed a track record of real impact. Tim became Mayor on Dec. 1, 2017, after garnering 62 percent of the non-partisan election.
Previously, Tim was elected twice to the State Senate in one of the most diverse districts in New Mexico, encompassing Albuquerque's International District. He rose to the position of Majority Whip and successfully sponsored dozens new laws. He also had the distinction of passing the most bipartisan sponsored legislation during his tenure.
In 2014, Tim Keller was elected one of the youngest State Auditors in the country. He created the state's first Government Accountability Office (GAO) and pushed the office to the forefront of the state's most critical issues. Responsible for financial oversight of about 1,000 local governments, Tim championed a range of transparency efforts including highlighting billions in idle infrastructure funds, exposing fraudulent actions by elected officials, rebutting the myth of scarcity and tackling the rape kit backlog.
In addition to his public service, Tim spent fifteen years in the private sector, starting with fortune 500 companies and most recently helping Native American governmental financial operations. He also lived for several years in Cambodia where he ran the nation's first IT social enterprise focused on hiring land mine victims and other disadvantaged persons.
Tim Keller was born and raised in Albuquerque and is an Eagle Scout and Kellogg Foundation Race Equity Fellow. Following graduation from St. Pius X High School, he attended the Notre Dame where he studied Art History. He then went on to earn an MBA with honors from the Harvard Business School.
Convenings Featuring Tim Keller
Location: Virtual
Governors, mayors, and families are on the front lines of communities coping with changes in the pandemic world. In the wake of the police shooting of Jacob Blake in Wisconsin, the Institute's Education & Society and Ascend programs hosted...