Teresa Ramos
Chicago, Illinois
Ramos is a mother, sister, and tía; a Polish-Mexican (Polexican) Latina who grew up in the Logan Square neighborhood of Chicago, attended Chicago Public Schools and now lives in Hermosa with her partner in life, her husband Eric Lugo.
Teresa is currently the First Assistant Deputy Governor for Education for the Office of Illinois Governor JB Pritzker. Previously she served as the Vice President of Public Policy, Research, and Advocacy at Illinois Action for Children. There she supported policy, research, and community engagement teams as they advocate for an equitable and excellent early care and education system for Illinois' youngest children.
Teresa spent over 7 years as the Director of Community Engagement for Advance Illinois, a statewide education advocacy organization promoting a strong public education system. In that role she built and managed the Funding Illinois' Future coalition and campaign that changed school funding in Illinois and cofounded the Illinois 60 by 25 Network, an emerging collective-impact network of community organizations committed to seeing 60 % of all Illinois residents with a post-high school degree or credential by 2025.
Prior to joining Advance Illinois Teresa was a community organizer for Organization of the NorthEast—now ONE Northside— and managed the Grow Your Own teachers program.  In 2012 Teresa completed her Ph.D. in Anthropology with a minor in Latina/Latino studies at the University of Illinois Urbana-Champaign (U of I).  Her areas of professional and research interest include school culture and racial justice. While at the U of I Teresa was a researcher with the Ethnography of the University Initiative and Center on Democracy in a Multiracial Society.
Stories featuring Teresa Ramos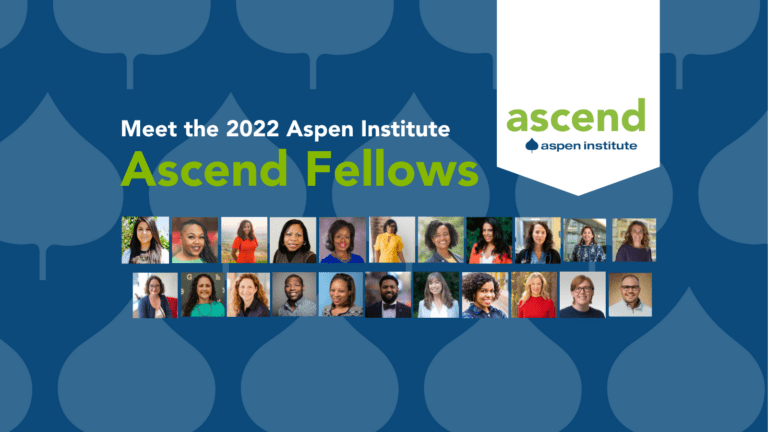 Today, the Aspen Institute announced its 2022 Aspen Institute Ascend Fellows, 22 leaders from across the United States who are primed to transform systems so that our youngest children and families can thrive.