Black and Native Family Futures Fund
Ascend at the Aspen Institute's Black and Native Family Futures Fund is a new capacity-building fund that will provide financial support and expert technical assistance to selected Historically Black Colleges and Universities (HBCUs) and Tribal Colleges and Universities (TCUs) campuses that are committed to improving the success of their student parents.
One in five college students – close to 4 million – is pursuing higher education while parenting. More than half are students of color, with Black and Native students more likely to be balancing school and parenting than other groups of students.
With institutional cultures that are rooted in family, community, and holistic supports – key elements of a supportive campus for student parents – HBCUs and TCUs are uniquely positioned to identify and address the needs of Black and Native student parents. Read more in our announcement.
This video presentation introduces our team and provides further background into this Fund. Download the presentation HERE.
The application window is now open! Interested institutions must review the Request for Proposal (RFP) and submit their application by 11:59 pm ET on Friday, September 23, 2022.
PROJECT RESOURCES
Black and Native Family Future Fund Grants
Request for Proposal (RFP)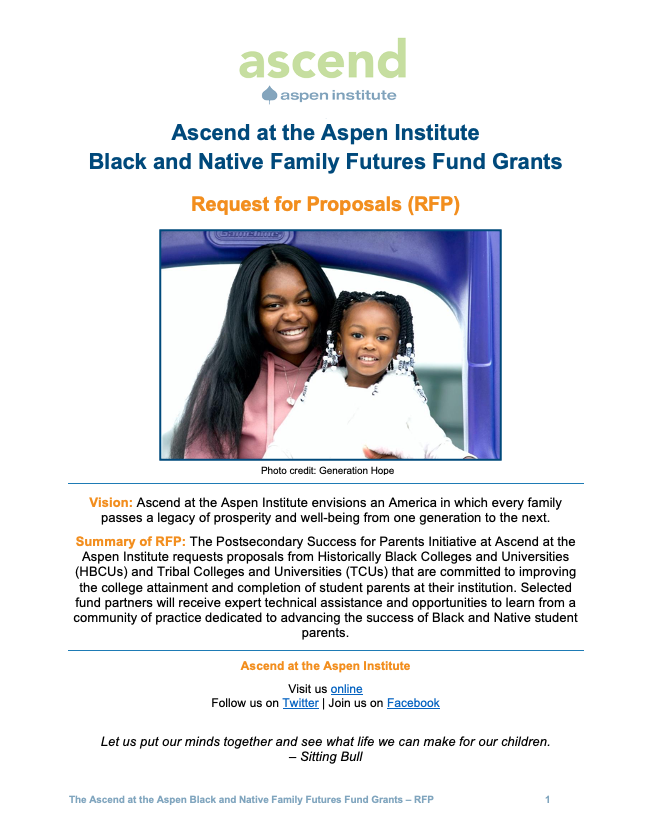 Proposal Budget Template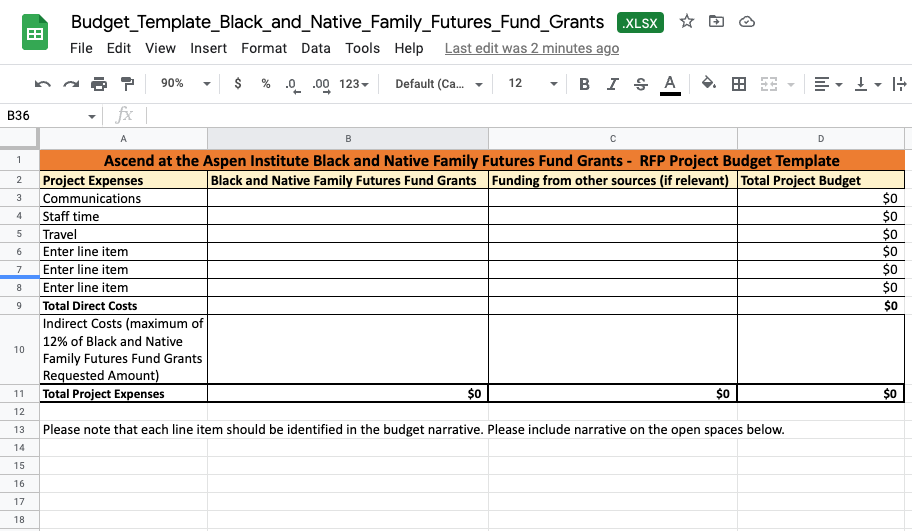 JOIN US FOR VIRTUAL OFFICE HOURS
We highly recommend that institutions interested in applying to the Fund attend one of the virtual office hours. The Ascend team and staff from Fund technical assistance providers will be there to answer questions related to the RFP and application process. Attending office hours will increase the likelihood of drafting a successful proposal by not only receiving answers to your questions but hearing answers to other institutions' questions too.
Institutions are welcome to attend either office hour session, regardless of sector and consultant presenting.
Office Hours 1
Thursday, August 18, 2022
1:00 – 2:00pm ET (10:00 – 11:00am PT)
Office Hours 2
Wednesday, September 7, 2022
2:00 – 3:00pm ET (11:00am – 12:00pm PT)
Frequently Asked Questions
Building a ladder to intergenerational prosperity through education