GAO Report Calls on HHS to Support State 2Gen Approaches
The current health and economic crisis along with the heightened awareness of the indisputable impacts of systemic racism make it clear that now is the time for a transformative paradigm shift that places children and families at the center of our federal and state systems. Advancing the two-generation (2Gen) approach, which builds family well-being by intentionally and simultaneously working with children and the adults in their lives together, has become even more urgent to create real change in the lives of families with low incomes and to ensure effective stewardship of public resources.
In May 2020, the Government Accountability Office (GAO ) released – Poverty Reduction: HHS Can Improve Information to Assist States and Localities in Adopting Approaches that Serve Whole Families, a report that reinforces 2Gen momentum in innovative states and local governments who are driving increased economic mobility and family well-being. This national study highlights the lessons and experience of representatives from 23 entities in state and local governments working in five states – Colorado, Connecticut, Georgia, Maryland, and Minnesota. Each state has taken a 2Gen approach to improve outcomes for families in their communities. The GAO report request was a provision in the original Two Generation Economic Empowerment Act, sponsored by Senators Martin Heinrich (D-N.M.) and Susan Collins (R-ME) that was enacted as part of the FY 2018 Omnibus Appropriation.
The GAO recommended that the U.S. Department of Health and Human Services (HHS), in consultation with the Council on Economic Mobility, "make information that would assist state and local entities in developing and implementing two-generation poverty reduction approaches readily available across federal programs and offices." This recommendation merits timely and strong action by HHS.
It is noted that leaders within the Administration for Children and Families (ACF) and the Maternal and Child Health Bureau released a joint letter to encourage family support, maternal and child health, and early childhood programs (including Head Start, home visiting, early intervention, and other early care and learning programs) to promote coordinated family strengthening and prevention strategies via virtual, electronic, telephonic, or other safe means during the COVID-19 pandemic. Earlier this month, HHS and the Office of the Assistant Secretary for Planning issued a Request for Information on Federal Coordination To Promote Economic Mobility for All Americans to help meet the needs of families more effectively.
Over the past decade, momentum for 2Gen has continued to build as states and communities adopt concrete actionable 2Gen approaches and solutions as part of their comprehensive efforts to break the intergenerational cycle of poverty for children and families. This momentum is bipartisan, practical, scalable, and most importantly, centered around families –their dreams, their experiences, and their voices.
The GAO's findings amplify what we have heard from the Ascend Network, a vibrant national learning community of more than 400 organizations with geographic representation in all 50 states, the District of Columbia, and Puerto Rico. Our Network is composed of practitioners, policymakers, philanthropic leaders, and researchers from which we can distill lessons and best practices that build evidence for advancing whole family outcomes through 2Gen. Additionally, Ascend supports and tracks the 2Gen approaches underway in 12 states – Colorado, Connecticut, Georgia, Hawaii, Maryland, Minnesota, Mississippi, Oregon, Tennessee, Utah, Washington, and the District of Columbia. The GAO report amplifies the barriers and opportunities when taking a 2Gen approach at the state and local level.
Particularly, the GAO report:
Reiterates the research and evidence base for 2Gen approaches. A key guiding principle to ensuring fidelity to the 2Gen approach is to "measure and account for outcomes for children and the adults in their lives." Ascend developed the 2Gen Outcomes Bank as a framework from which practitioners, policymakers, evaluators, researchers, etc. can glean to ensure alignment with best practices. This crowdsourced repository contains the framework that reflects the ever evolving and constant improvement nature of this work.
Underscores how the 2Gen approach's flexibility provides state policymakers opportunities to innovate as they blend and braid resources from state, local, and philanthropic funds with federal dollars to meet the needs of families. In 2016, the ACF circulated two informational memorandums to states providing guidance for leveraging the Community Services Block Grant (CSBG) program and Temporary Assistance for Needy Families (TANF) program to strengthen family outcomes through 2Gen approaches. This guidance sparked a series of innovative pilots and advanced existing approaches, many of which are still impacting families and communities today. In States Leading the Way: Practical Solutions that Lift Up Children and Families (2018), Ascend highlights the policy and practice innovations of seven states and localities. These examples demonstrate the importance of reimagining programs, policies, systems, and funding through a 2Gen frame to realize greater outcomes for families.
Finds that more coordination at the federal level would provide the critical assistance and flexibility states and localities need to develop and implement 2Gen policies to improve family well-being. The report highlights the various federal funding streams and programs that have been used to fund and support 2Gen approaches. Yet, there has been minimal insight provided for how states could replicate funding models and work across federal programs to achieve improved outcomes for families. With improved coordination across federal agencies through the Council on Economic Mobility and additional guidance, states could be empowered to "think outside of the box" in ways that translate to improved policies and practices that, ultimately, benefit the lives of children and families. By weaving together new and existing funding streams, states can pursue aggressive 2Gen system reforms that create more efficient ways to improve economic security, education, health, and well-being for parents and children.
Raises awareness around the difficulty states experience when seeking to balance the need to share, link, and improve data of families with protecting privacy and overcoming systems barriers. Though Utah and other states have had some success in improving data systems and data governance, more states could achieve similar successes with additional guidance and resources from federal partners. Improvements to data sharing could support seamless service provision to families and data-informed decisions to drive equitable policies and practices. In order to develop targeted solutions, states need access to integrated systems that allow for data to be shared, centralized, and stratified.
Illuminates five common elements among strategies that drive 2Gen approaches, one of which validates the importance of leadership to advancing whole family outcomes through 2Gen. For Ascend, a focus on leadership has been foundational to this work. The Ascend Fellowship, a key component of Ascend at the Aspen Institute, has cultivated a deep bench of public, private, and social sector innovators and leaders who share the "north star" of family prosperity and well-being. To date we have supported and worked with over 80 Ascend Fellows, leaders who are developing solutions and innovations at the community, state and national levels to ensure all children and families reach their full potential.
Another key part of the equation is the Human State Health and Human Services 2Gen Leadership: Realizing the power of state agencies and public sector role, starting in 2012, Ascend included state agency directors and leaders in the Fellowship model which has led to important 2Gen innovations that catalyzed new mindsets, models, and collaboration within and across state agencies as well as with community partnerships.
Inaugural Ascend Fellows Steven Dow, former executive director of CAP Tulsa, Dr. Lindsay Chase-Lansdale and colleague Dr. Teresa Eckrich Sommer of Northwestern University, and Chris King, former director of the Ray Marshall Center at University of Texas at Austin, led on-the-ground 2Gen innovation with support from HPOG funding that linked workforce training with career sector focus, social capital, and quality early learning.
In 2016, Ascend Fellow, Ann Silverberg Williamson, executive director of the Utah Department of Human Services, embraced the 2Gen approach as she transformed the state system around child welfare and well-being to keep children safely with their families and out of the foster care system.
In Washington state, Ascend Fellow, Dr. Lori Pfingst, senior director in the Department of Social and Health Service, embedded the 2Gen approach as she led Governor Inslee's Task Force on Poverty Reduction, which resulted in a 10-year comprehensive plan for reducing poverty and inequality in Washington state.
Ascend Fellow, Reggie Bicha used a 2Gen approach to child support in 2013 that which was part of an HHS Office of Child Support national demonstration effort and created a new policy paradigm providing positive parenting skills support and employment training coupled with building social capital among fathers. Insights and inspiration from this pilot effort have led to an Ascend Fatherhood and Families Learning and Action Community (supported by the Kresge Foundation) to create a series of father-focused and family-supportive policy recommendations.
Ascend Colorado Fellow, Gretchen Hammer, former state director of Medicaid, developed a 2Gen Medicaid Checklist to identify opportunities to target and optimize Medicaid funding for young children and parents. The checklist was complemented by a 2Gen and Medicaid policy brief from the Georgetown Center for Children and Families.
Arapahoe County, CO – Cheryl Ternes, director of the county's Department of Human Services and Ascend Colorado Fellow, launched the Generational Opportunities to Achieve Long-Term Success project in 2019 to move families from poverty and homelessness to economic security and stable, permanent housing. Learn more about their work here.
Mesa County, CO– Jeff Kuhr, executive director of Mesa County Public Health and Ascend Fellow, launched the Child Care 8,000 initiative in 2019 to double the number of licensed childcare slots to 8,000 by 2022 to reliably invest in the future of the community. Learn more about their work here.
This community level leadership and momentum will continue to grow with support from partners like the National Association of Counties. In 2019, NACo enacted a Resolution Supporting Two-Generation Efforts to Reduce Poverty as an effective framework for their membership of 5,000+ counties to drive local action and better outcomes for children and families.
Ascend's investment and support of Ascend Fellows at senior levels was predicated on the belief that leaders create conditions for inter- and intra- agency collaboration and culture change that extends to case managers, coaches, and front-line staff. This leadership supports the mindset shifts that leads to streamlining systems, eligibility, and services that respects parents, appreciates family strengths, and honors parents' time. As a result, coordination is emphasized as central to materializing the vision of leadership and effectuating change at the local and state level. Four of the five states interviewed by the GAO have hired "2Gen Coordinators." These multidisciplinary agents of change work from within state systems to break down silos, build relationships, link and optimize programs and funding, and shift paradigms through a 2Gen approach to improve outcomes for families.
In addition to the GAO's key findings, we know that the most effective 2Gen approaches honor the experiences of families by intentionally providing ways for them to expand their social capital, to participate and engage in both identifying challenges, and to develop practical solutions to those challenges.
The findings of the GAO report also underscore why adoption of the Two Generation Economic Empowerment Act of 2020, reintroduced by Sens. Heinrich and Collins in February of this year, especially its emphasis on increasing the coordination of services, is critical to a robust 2Gen approach.
Today's economic and public health crisis demands the innovation, inclusiveness, collaboration, coordination, and flexibility that the 2Gen approach provides. A 2Gen approach will place families at the center as we rebuild the economic, education, health and social service infrastructure that support families. We are all called by this moment to support all families – the 2Gen approach will help us do just that.
Related Posts

What does college success look like for Black and Native student parents? This podcast episode sheds light on student parents' and administrators' experiences at Historically Black Colleges and Universities, or HBCUs, and Tribal Colleges and Universities, or TCUs.

We know that there is a better way to approach child support policy to build strong families and communities -- and that's why we're proud to share with you our updated Centering Child Well-Being in Child Support Policy toolkit.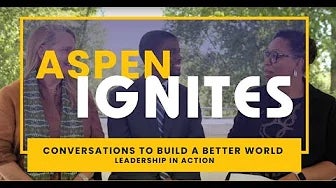 In episode three of Aspen Ignites: Conversations to Build a Better World, Jenn White leads a conversation on leadership with Anne Mosle and 2018 Ascend Fellow Melvin Carter.