Juneteenth Is a Day of Reflection for All Americans
This post, by Aspen Institute senior manager of digital content and communications Kristina Saccone, was originally published on the Aspen Institute's website.
Juneteenth, or Emancipation Day, recognizes an important moment in US history—when nearly a quarter of a million men, women, and children were freed—ending slavery nearly two years after the Emancipation Proclamation went into effect.
Today, the country continues to struggle with the repercussions of slavery and systemic racism. "It is this tortured history of our treatment of people of color as less than human, even in this present day, that we must confront. It's a complex truth but one that influences all of the institutions in our society," said Dr. Wendy Ellis, director of the Center for Community Resilience at the Milken Institute School of Public Health at George Washington University. She is also an Aspen Institute Ascend Fellow from the class of 2018.
Dr. Ellis's organization brings together multiple sectors of the community to better understand the adversity facing children and families and build the support needed to help children thrive. Ellis says that families of color always face the biggest challenges when it comes to public health and educational attainment, incarceration and housing instability, and much of the systems at the backbone of the country.
She says, "Juneteenth provides this opportunity for all Americans, regardless of race, color or country of origin, to explore their humanity and challenge our own notion of what is right and just—and who has access to what is right and just. That is the beginning of a process of truth and reconciliation."
One way to do that is for the country to explore its history. The Center for Community Resilience offers the timeline above as an initial guide to that work as well as a full learning module, Fostering Equity: Creating Shared Understanding for Building Community Resilience, to help guide group learning.
Additional resources:
Read Ascend's statement and call to action to end structural racism here.
Related Posts
In episode 14 of the City of Kalamazoo's Shared Prosperity podcast, Ascend's Sarah Haight sits down with Kevin Ford, the city's Shared Prosperity Kalamazoo Coordinator. Throughout their discussion, they speak about the two-generation (2Gen) approach to improving family and community well-being.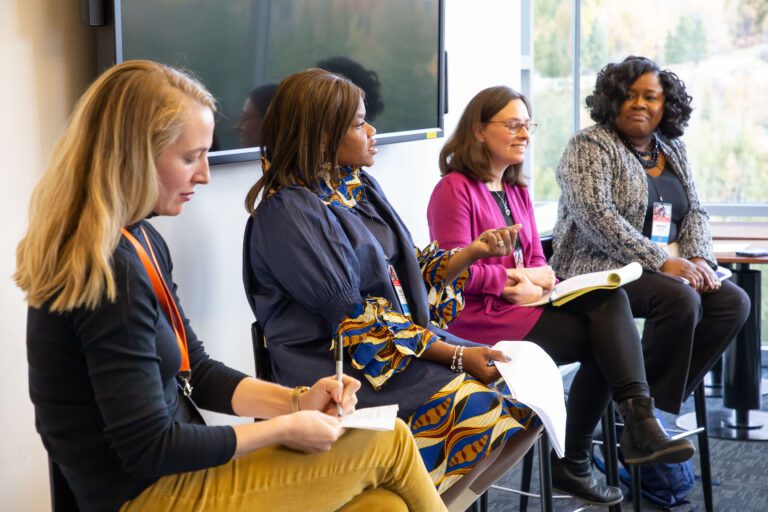 Intake forms are important because you never get a second chance to make a first impression. I'm heartened by Ascend Network partners' efforts to simplify intake processes for families with low incomes involved in two-generation (2Gen) programs.
In episode 101 of the Office Hours with EAB podcast, David Croom shares compelling success stories and recommendations on creative ways for institutions to partner with local businesses and community leaders to offer more support and wraparound services to help student-parents succeed.
Featured from the Ascend Community