POSTSECONDARY LEADERSHIP CIRCLE ACTIVATION FUND
Recognizing that community colleges are uniquely positioned to increase student parent outcomes, especially for single mothers, and the pandemic's impact on moving student parent efforts forward at these institutions, Ascend, with support from ECMC Foundation, is launching a new fund to accelerate institutional investment into expanding effective, equitable, and culturally-informed student parent supports at four community colleges and/or systems.
Building on the learnings and momentum of Ascend's Postsecondary Leadership Circle, community colleges and/or systems that participated in that effort are eligible to apply. Additionally, community college and/or system leaders that Ascend has existing relationships with and whose institutions have pre-established student parent efforts and are primed for success in this project will be invited to apply. Community colleges and/or systems also must have an indicator in their student information systems that identifies which students are parents to be eligible.
During this 2-year effort, Fund partners will leverage a cross-campus or cross-system task force to identify, plan, and implement two strategies that align with their current efforts and will contribute to increasing student parent persistence and attainment with a special focus on single mothers. Selected Fund partners will receive $75,000 in grant funding, regular expert technical assistance, and opportunities to learn from a community of practice to support their work.
The application window is now open! Eligible community colleges and systems that are interested must review the Request for Proposal (RFP), attend a virtual proposal consultation, and submit their applications by 11:59 pm ET on Thursday, June 1, 2023.
Interested applicants must meet with Ascend staff for a 15-minute virtual consultation before submitting a proposal. Consultations will be offered between April 27 and May 25, 2023, and scheduling must occur at least a week in advance. Schedule your consultation by completing this Doodle poll. Only one person per institution/system should complete the poll by adding their name and email address. Once an Outlook calendar invitation is sent, that individual can forward the invitation to other staff or faculty members who would like to join.
PROJECT RESOURCES
Postsecondary Leadership Circle Activation Fund
Request for Proposal (RFP)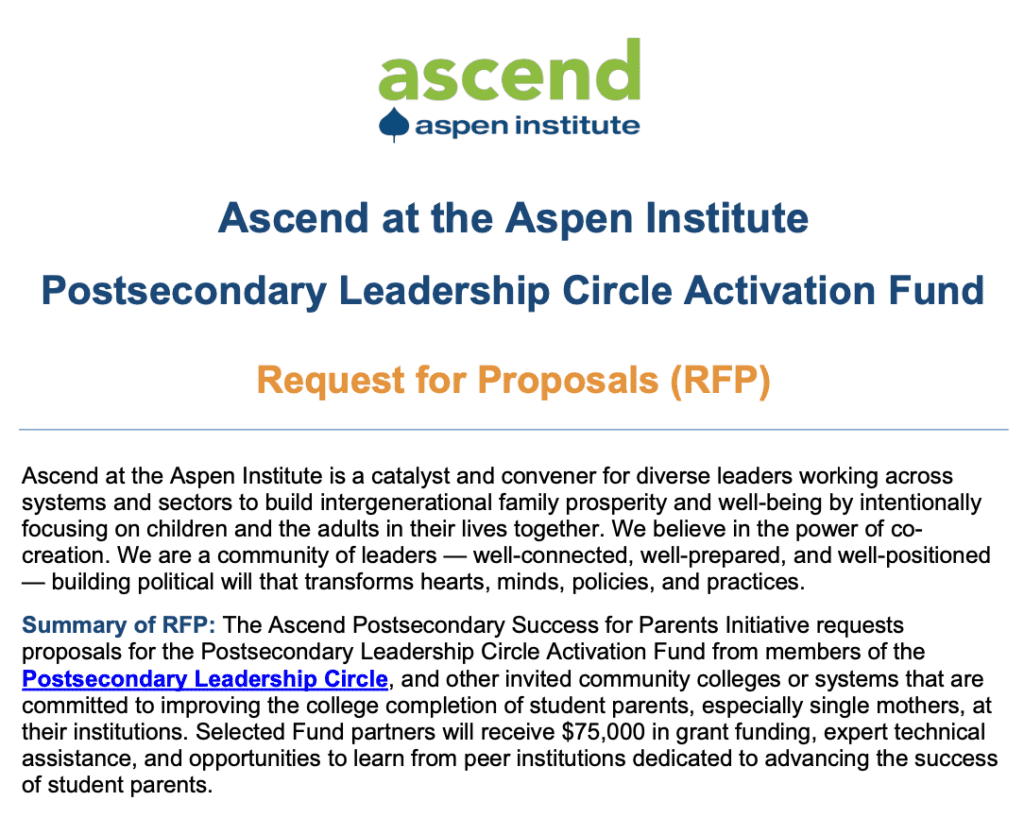 Proposal Budget Template
JOIN US FOR an informational webinar
Join us for an informational webinar and Q&A to learn more about the Postsecondary Leadership Circle Activation Fund, a new fund being launched by Ascend at the Aspen Institute with support from ECMC Foundation.
Webinar
Wednesday, April 26, 2023
1:00 – 2:00pm ET (10:00 – 11:00am PT)
Frequently Asked Questions
Building a ladder to intergenerational prosperity through education