Ascend's New College President Advisory Group to Implement Best Practices on Campus to Advance Student Parent Success
Ascend is proud to announce the inaugural cohort of the Postsecondary Leadership Circle (Leadership Circle) for Parents: A prestigious group of college and university leaders that will advise the Aspen Postsecondary Success for Parents (PSP) Initiative – a multi-year effort to raise awareness of and share recommendations to better support students who are parents.
During its first phase, the PSP Initiative convened experts in the postsecondary field including parents, researchers, policymakers, and college and workforce development directors to gain a deeper understanding of the opportunities and barriers facing students who are parents. Recently, the PSP Initiative entered its second phase focusing on the implementation of best practices to advance student parent success.
Members of the Leadership Circle are spearheading innovative practices and family-friendly strategies on their campuses that advance postsecondary success for student parents across the country. This group includes chancellors from Texas to presidents in Oregon who provide concrete pathways towards completion with resources such as on-campus child care and mental health services.
The Postsecondary Leadership Circle for Parents includes:
Roslyn Clark Artis, President, Benedict College, SC
Pam Eddinger, President, Bunker Hill Community College, MA
Sue Ellspermann, President, Ivy Tech Community College, IN
Mike Flores, Chancellor, Alamo Colleges District, TX
Gregory Fowler, President of University of Maryland Global Campus, MD
Barry Gribbons, President, Los Angeles Valley College, CA
Carrie Hauser, President and CEO, Colorado Mountain College, CO
Maria Harper-Marinick, Former Chancellor, Maricopa County Community College District, AZ
Anne Kress, President, Northern Virginia Community College, VA
Russell Lowery Hart, President, Amarillo College, TX
Felix Matos Rodriguez, Chancellor, City University of New York College System, NY
Susan Mingo, President, Washington County Community College, ME
Mark Mitsui, President, Portland Community College, OR
Eduardo Padron, President Emeritus, Miami Dade College, FL
DeRionne Pollard, President, Montgomery College, MD
Carol Probstfeld, President, State College of Florida – Manatee-Sarasota, FL
Juan Salgado, Chancellor, City Colleges of Chicago, IL
William Serrata, President, El Paso Community College, TX
Laurel Vermillion, President, Sitting Bull College, ND
Suzanne Walsh, President, Bennett College, NC
Daria Willis, President, Everett Community College, WA
M. Roy Wilson, President, Wayne State University, MI
Katharine Winograd, President Emeritus, Central New Mexico Community College, NM
The Leadership Circle members join two other advisory groups in providing guidance to support the PSP Initiative. The Parent Advisors share their firsthand insight into the postsecondary world of students with children by speaking on panels, participating in convenings and webinars, and infusing parent voice in Ascend publications. They hold knowledge, expertise, and lived experiences that complement the work of the practitioners and researchers who will collaborate with Ascend for field-level action and impact.
The National Advisors are leaders from postsecondary and workforce programs who can speak to the needs to student parents. This group provides guidance and helps leverage the Ascend State Innovation Challenge, an opportunity for five to seven localities to determine what policy changes and related actions are needed to support student parents.
The Leadership Circle members add a unique perspective on higher education by engaging in conversations that identify barriers on campus and discuss what can be done to improve outcomes for student parents.
Ascend is poised to promote the most effective strategies for accelerating opportunities for student parents. As momentum continues to build to advance educational success and economic security for this essential yet overlooked college population, we are confident the commitments made by the Postsecondary Leadership Circle will have a lasting impact on families.
[/et_pb_text][/et_pb_column][/et_pb_row][/et_pb_section]
Related Posts

An episode of firsts! Our first live episode recorded at the inaugural Ascend Parent Advisor Convening in Aspen, CO in front of an audience of student parents.

Today, Ascend at the Aspen Institute announced that four community colleges from across the United States have been selected as partners to its Postsecondary Leadership Circle Activation Fund.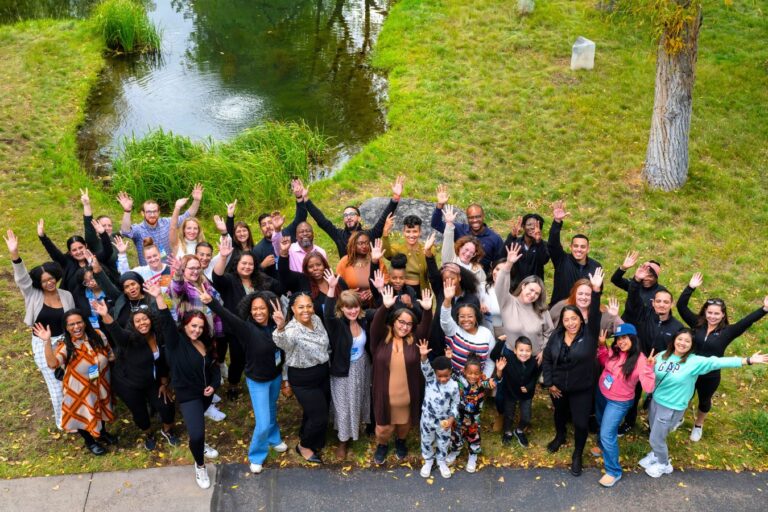 Snapshots from the 2023 Ascend Parent Advisor Convening in Aspen, Colorado.
Featured from the Ascend Community