Ron-Li Liaw
Mental Health In-Chief, Cannon Y. & Lyndia Harvey Chair in Child and Adolescent Psychiatry and Chair of the Pediatric Mental Health Institute,
Children's Hospital Colorado
Denver, Colorado
Dr. K. Ron-Li Liaw is the Cannon Y. & Lyndia Harvey Chair in Child and Adolescent Psychiatry and Chair of the Pediatric Mental Health Institute at Children's Hospital Colorado. Dr. Liaw is a Professor, Vice Chair of Diversity, Equity and Inclusion, and Division Director of Child and Adolescent Mental Health in the Department of Psychiatry at the University of Colorado School of Medicine. She will also be serving as the inaugural Mental Health In-Chief at Colorado Children's Hospital to help shape and oversee child mental health vision and strategy, operations, quality, safety, and workforce development system-wide. Dr. Liaw was previously the Director of the Sala Institute's Child-Family Services and Resilience Programs and Chief of Service of Child and Adolescent Psychiatry at Hassenfeld Children's Hospital at NYU Langone. Nationally, Dr. Liaw has served as an expert consultant in design and innovation, family engagement, improvement science, mental health integration, clinician wellbeing, diversity and equity for the American Board of Pediatrics Foundation's Resilience Roadmap Pilot Collaborative, Greater New York Hospital Association Clinician Wellbeing Advisory Group, American Academy of Child and Adolescent Psychiatry, Children's Hospital Association's Behavioral Health Leadership Roundtable, and IDEO.
My Truth
Children grow, thrive, and overcome adversity when they are scaffolded and supported by caring, empowered adults, family, and positive peers. Transforming pain, loss, trauma, and challenge into strength, skill, resiliency, and wisdom is a form of modern-day alchemy powered by science, biologic and socio-cultural evolution, storytelling, and relationships. All children and their families should have equal opportunity and access to the critical resources and relationships they need to grow, heal, and thrive.
Stories featuring Ron-Li Liaw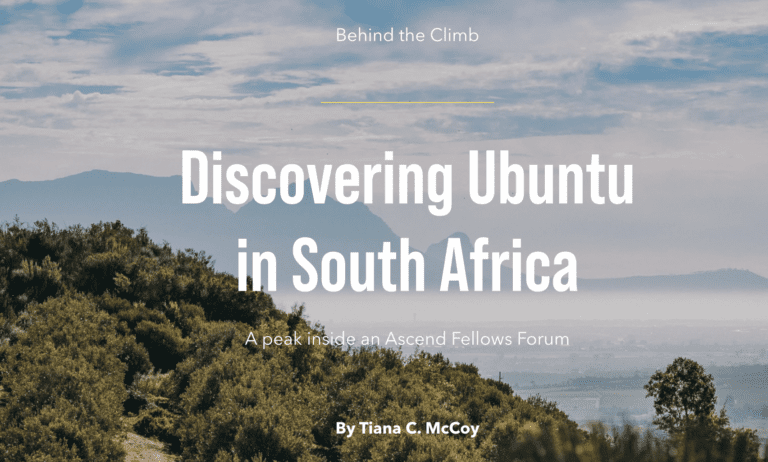 Tiana C. McCoy – Senior Associate, Operations and Convenings at Ascend – provides an inside look at the experience of a Fellows Forum.
Poverty is the result of poor policy choices. These choices reflect our national values and decide who deserves access to opportunity to achieve their dreams and who does not. This flawed mindset has led to persistent inequities and a hollowing of our shared humanity. Change is possible. The choice is ours.
Convenings Featuring Ron-Li Liaw
Location: Washington, DC & Virtual
More people than ever before are aware and willing to share their experiences when it comes to mental health and well-being. At the same time, powerful innovations are emerging around the country to build on new insights from brain science and...