Agenda & Sessions
At Aspen VisionXChange, we aimed to:
DREAM big and get hard things done, so children and families can prosper
DISRUPT the way things have always been done and stand up against the naysayers to show what's possible when we center well-being across our systems
DELIGHT and find joy as we navigate trying times
Day 1
Sunday, July 30
During the opening dinner of the 2023 VisionXChange, Dan Porterfield, President and CEO of the Aspen Institute, provided opening remarks and context-setting welcome before three short FRESH talks embodying the week's themes: Dream, Disrupt, Delight. Following these inspirational short talks, Anne Mosle provided a plenary speech.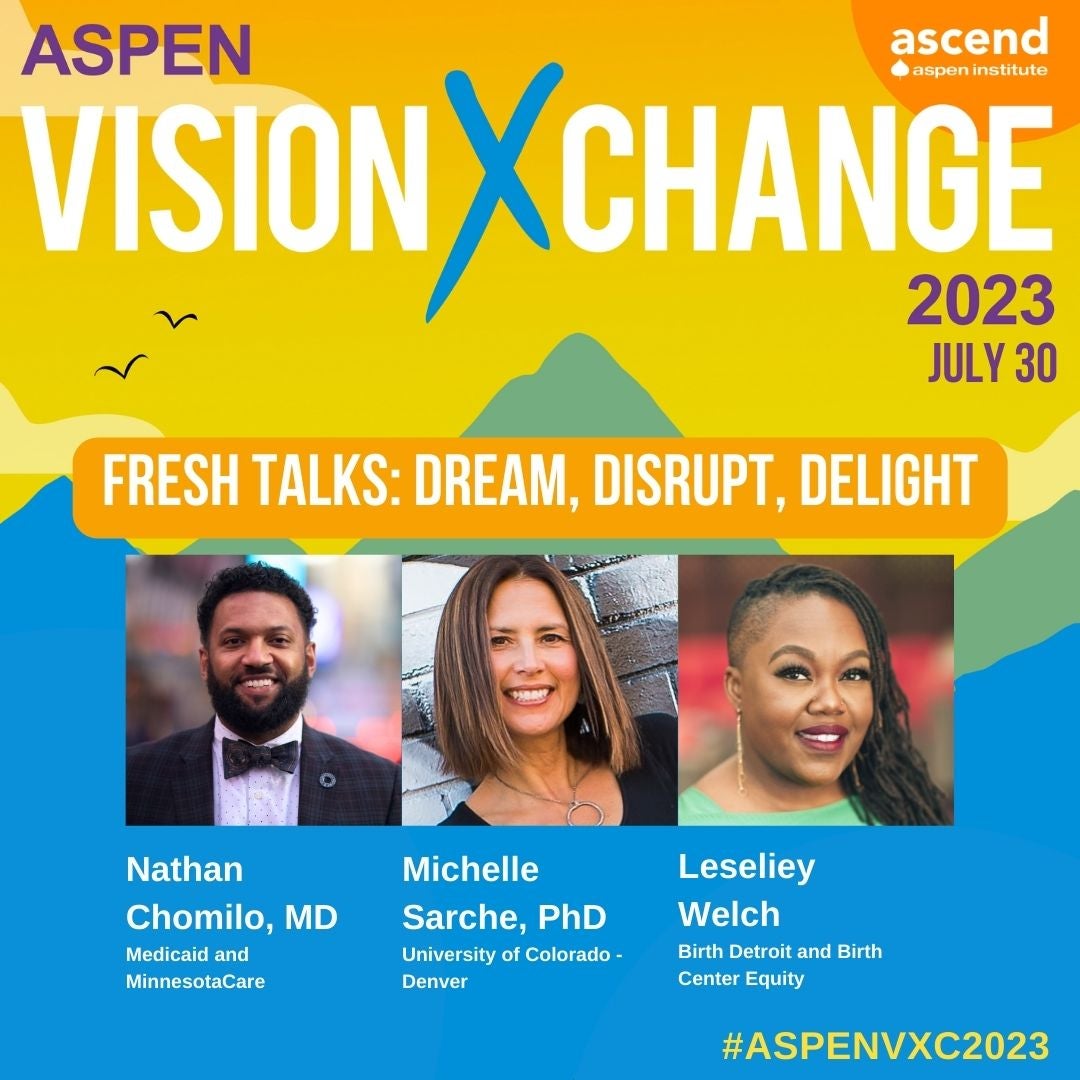 6:00 pm - 8:00 pm MT
Ascend Fellow Dr. Nathan Chomilo, Medical Director at Minnesota's Medicaid and MinnesotaCares programs, asks: Is the blueprint we are following to reconstruct our healthcare system just? Chomilo suggests we need to stop wallpaper over cracks in our healthcare system, but build equity into the walls.
Birth has the power to heal and transform our economy. In a beloved economy, how we enter the world matters. Connection, cooperation, and care are ethical and economic priorities. Ascend Fellow Leseliey Welch examines what that could look like.
Ascend Fellow Dr. Michelle Sarche explains that "Native people today inherited intergenerational trauma, but are also heirs to intergenerational strength." She issues a challenge to learn from Indigenous wisdom, find your own call, and do what the moment asks of you.
Day 2
Monday, July 31
What happens when we dream big about how children grow up surrounded by love? What if we challenge assumptions about what families need? We'll hear from leaders from around the country who are disrupting systems to reclaim ways for children to thrive, families to feel a deep sense of connection with each other and their communities, and all to have opportunities to prosper and be well.
Day 3
Tuesday, August 1
"Living our best lives" has become a cliche — but health, wellness, and joy should not be privileged states of being. Hear from leaders with new ideas for tackling today's mental health crisis, so wellness becomes the status quo. Delight in the joy that should surround the Black birthing experience and the dreams families have for themselves right here in the Roaring Fork Valley.
Photos