Parent-Powered Solutions Fund
Ascend at the Aspen Institute's Parent-Powered Solutions Fund is the first parent-led fund model of its kind – designed, led, and evaluated by Ascend Parent Advisors to the Ascend at the Aspen Institute's Postsecondary Success for Parents (PSP) initiative and funded by Imaginable Futures. This public fund supports nonprofit organizations and institutions focused on increasing postsecondary success among parents.
This fund is open to the public. Organizations and institutions that are supporting parents in completing postsecondary programs, including workforce development, career and technical education, and baccalaureate degree programs, are welcome to apply.
Organizations may apply for awards of $12,500; $25,000, and $50,000. Selected partners will also participate in a yearlong peer-learning cohort.
We look forward to supporting and advancing solutions, practices, and innovations that support student parent engagement and postsecondary completion. Read more in our announcement and download the RFP.
Ascend PSP Parent Advisor Jessica Pelton shares background on the Parent-Powered Solutions Fund and explains how it is transformative.
The application window is now open! Interested nonprofit organizations and institutions must review the Request for Proposal (RFP) and submit their proposal (application, narrative, budget attachment, and student parent reference survey) by 11:59 pm ET on Friday, September 8, 2023.
PROposal RESOURCES & materials
We invite you to review the Parent-Powered Solutions Fund Request for Proposal (RFP). This RFP outlines the full funding opportunity, our goals, priorities, and the proposal guidelines.
Completed proposals must be submitted via the Parent-Powered Solutions Fund Portal. Please prepare the following materials to complete your submission, referencing all details within the full RFP:
1. Application as outlined in the RFP
2. Narrative responding to the "Proposal Guidelines" in the RFP (up to 3 pages maximum)
3. Budget Attachment (up to 1 page maximum)
4. Student Parent Reference Survey (2 submissions minimum)

Proposal Budget Template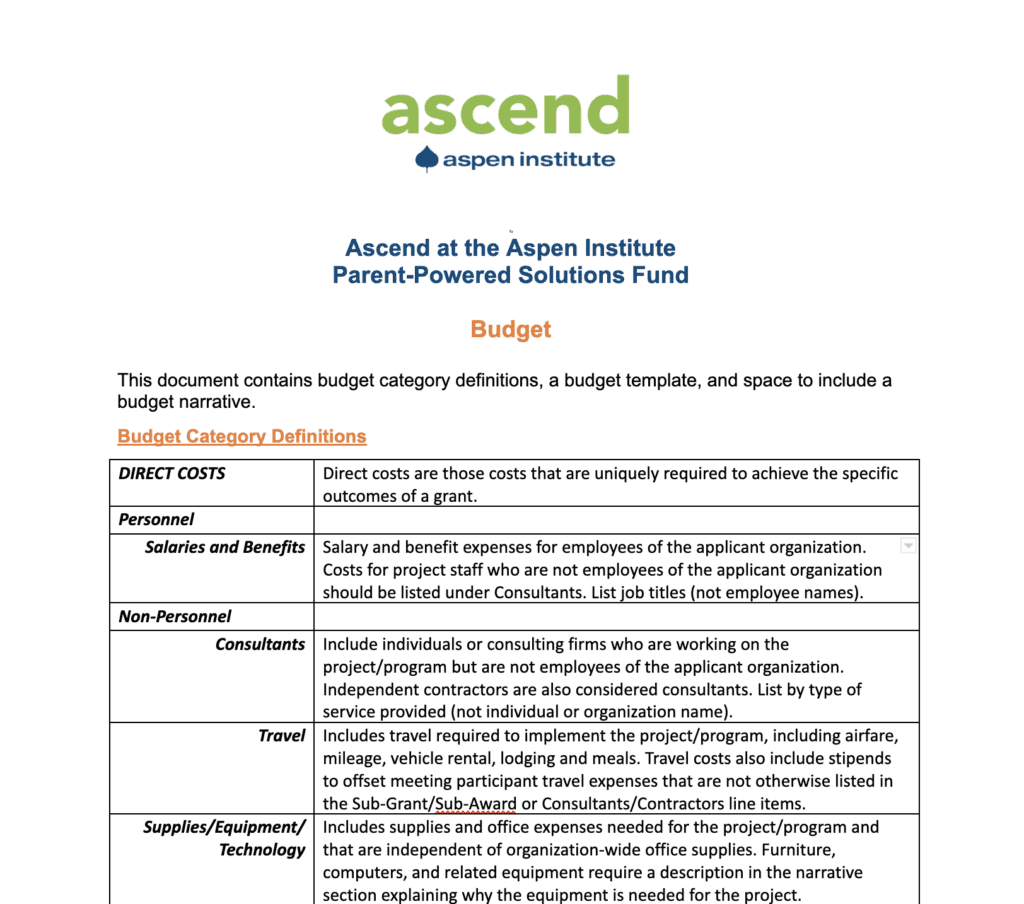 watch our INFORMATIONAL WEBINAR
We highly recommend that nonprofit organizations and institutions interested in applying to the Parent-Powered Solutions Fund watch our Parent Advisor-led informational webinar to learn more about the fund.
Frequently Asked Questions
Building a ladder to intergenerational prosperity through education