Ascend's 2023 Parent-Powered Solutions Fund Centers Student Parent Expertise, Advances Postsecondary Success
RFP for nonprofit organizations and institutions to apply for funding and technical assistance to advance student parent success
Washington, DC – One in five college students – close to 4 million – is pursuing higher education while parenting. Engaging this vital population's ideas, perspectives, and expertise is critical to co-creating solutions that advance postsecondary completion for student parents and build intergenerational family prosperity and well-being. That's why today, Ascend at the Aspen Institute is excited to announce the launch of the 2023 Parent-Powered Solutions Fund, which will provide financial resources and technical assistance to nonprofit organizations and institutions focused on increasing postsecondary success among parents.
Our Parent-Powered Solutions Fund is the first parent-led fund of its kind – designed, led, and evaluated by Ascend Parent Advisors to the Ascend at the Aspen Institute's Postsecondary Success for Parents (PSP) initiative and funded by Imaginable Futures. This public fund supports nonprofit organizations and institutions focused on increasing postsecondary success among parents via workforce development, career and technical education, and baccalaureate degree programs. Organizations may apply for awards of $12,500; $25,000; and $50,000. Selected fund partners will also participate in a yearlong peer-learning cohort.
Interested grantees must review the Request for Proposal (RFP) and submit their proposal by 11:59pm on Friday, September 8.
Centering Student Parent Expertise
Importantly, the Parent-Powered Solutions Fund is designed, led, and evaluated by our 2023 cohort of Ascend PSP Parent Advisors. The Parent Advisors' passion and dedication in leading this initiative come from their lived experiences and a desire to see these innovations at and beyond their own institutions. They have been true leaders, working across governmental institutions, nonprofit organizations, school boards, equity initiatives, and higher education institutions to bring awareness to student parents' needs, share their voice, and advocate for change for student parents. Each Parent Advisor shares a deep commitment to the sustainability of this work and an enthusiasm for the innovative solutions that will result from the fund.
"I can't give my child what's not available to me," says Brittnee Marsaw, a mother of a 4-year-old, Ascend Parent Advisor, and graduate of the Family and Workforce Centers of America's Skillup Program. "Student parenting is a two-generational approach. When I succeed, my child sees that. When I fall short, my child sees that as well. Being able to give student parents resources that benefit not only them as an individual, but their children as an extension of them, is what drives my ambition for this Parent-Powered Solutions Fund."
In addition to providing financial resources to programs that support parents' postsecondary success, the fund's activities will expand the capacity of PSP Parent Advisors to engage in philanthropic decision-making and enhance their ability to provide technical assistance to other parents and nonprofit organizations. Ascend will chronicle all aspects of the fund to document learnings and develop a model for the philanthropic sector to replicate and scale.
"My role in leading the Parent-Powered Solutions Fund is to make sure the student parents who don't feel heard and are stuck relying on the system finally have their voices amplified and are able to receive more support to become independent and successful," says Mikah Jorgensen, a mother of one daughter, Ascend Parent Advisor, and psychology student at Triton College.
Advancing Postsecondary Success
We expect the Parent-Powered Solutions Fund will advance postsecondary success in at least three ways:
The fund will support selected nonprofit organizations and institutions implement and/or strengthen parent engagement practices.

The fund will provide practitioners, policymakers, and philanthropists with vital insights and impactful personal accounts that illuminate the work they do on behalf of families.

The fund will ensure parents have the capacity, resources, and positioning to influence practice, policy, and philanthropy on behalf of other parents. Building on established relationships with organizations and our track record of fostering parent leadership, we are committed to policies and practices that are guided by the insights and leadership of parents.
The Parent-Powered Solutions Fund Creators and Evaluators
Related Posts

What does college success look like for Black and Native student parents? This podcast episode sheds light on student parents' and administrators' experiences at Historically Black Colleges and Universities, or HBCUs, and Tribal Colleges and Universities, or TCUs.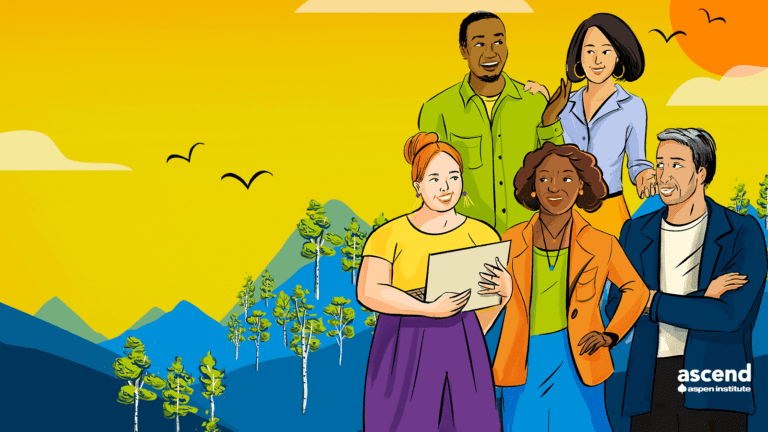 100 Ascend Fellows will join the Aspen community for two afternoons of conversations aimed at Building Well-Being for Children and Families and Prioritizing Joy and Human Thriving.
Reflections on the experiences, challenges, and joys that shape the life of student father and Ascend PSP Parent Advisor Christian Ortiz.