This blog is part of Ascend at the Aspen Institute's 2Gen Level Up series. Ascend challenged organizations that work with and/or on behalf of children and families to apply one of six resources listed below and level up their two-generational efforts. Of the many organizations from across the country that put these resources to use, Ascend selected six 2Gen Level Up winning organizations to each receive $5,000 and advance outcomes for families in their communities.
This blog series features the applications written by each of the winning organizations to demonstrate real-life implementations of these resources. Below is one winning entry, from Family Futures Downeast, for their usage of the resource Principles for Engaging and Centering Parent Voice.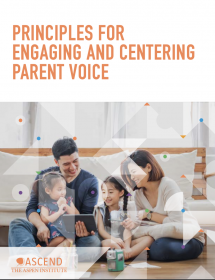 Family Futures Downeast (FFD), a two-generation program designed to improve economic outcomes for low-income families, accesses post-secondary education for parents delivered in a cohort model at the same time their children access high-quality early childhood education to improve school readiness. Through intensive family coaching, college preparation and tutoring, workforce supports, and barrier removal, FFD seeks to reduce poverty in Washington County.
How can parents build social capital, one of FFD's critical success factors, when we are working through the pandemic that directly interferes in the way we have always build social capital with our parents?
How have you implemented the resource? How did this resource level up your 2Gen work? 
Family Futures Downeast (FFD) initially shared the document with the Board who immediately identified four areas where immediate changes with big rewards could be made at FFD. Although we felt like these areas were ones that the FFD stressed in our core values, they were ones that had challenged us during the pandemic.  These were: 
Ensuring Equity

: W

e looked at 

equity 

around welcoming tribal members and parents from our growing Latin-X community. What would be a barrier to their participation on the board

?

Since fall, we increased our number of parents on the FFD board from 2 to 4. This incrxeased the number of voting members to 10. Not only is this making it easier for parents to help mentor each other, but it also helped make it easier for Passamaquoddy Nation tribal parents less alone on the board – two of the four parents serving are Passamaquoddy.

 
Prioritizing Social Capital

:

W

e reviewed the impact of the pandemic on what we considered an organic (unscripted) part of the FFD model.

We also improved communication between parent board members to each other and FFD staff. Recognizing that parents did not have the opportunity to talk with each other before meetings. Since the six organizational leaders are often in regular communication with each other outside of the meetings, we created a private Facebook chat just for parent board members and the FFD Director to prep for meetings. Pre-pandemic, this used to occur organically on campus in our Family 

Rooms

 but this also allows sharing ideas from parents at both campuses who usually don't interact with each other. 

Parents and partners also were struggling to develop relationships with each other. These social capital development opportunities have been an important part of parents as leaders – building self-confidence, and leading to other opportunities,

internships,

 and employment. Our response has been to have facilitators at each meeting add an additional prompt during introductions for people to share about themselves not just their agency. Not only has this helped parents see leaders as "whole person

s,

" but it has also helped strengthen the organizational partners' relationships too, which had suffered from remote meetings.

 
Compensating Parents Appropriately

: 

Conversations about 

compensation

 were very transparent to both parents and other board members. 

We reviewed the financial support provided to parent board members and initiated compensation (gift card) each month for their service.

 
Cultivate Evaluation

:

 

The FFD Data and Evaluation Committee looked at participation rates in student surveys and other opportunities for feedback.

 
We made continuous quality improvement around data & evaluation. While we historically have conducted one end-of-program year survey for all participants, since October, we have created "flash surveys" with under six questions to focus on specific parts of the program. We have already seen response rates to surveys more than double, and have been able to make some quick program changes based on that.  
What are your next steps? 
FFD and Family Coaches will continue to build social capital with pandemic-safe "family cohort activities," recognizing that children were not having the same peer connections that previous cohorts have had. Even though parents were saying they were "Zoomed out," they specifically asked for Zoom time family-to-family. This month's activity is starting home gardens. Each family has received pots, seeds, trays, and soil, and families across our program will start to create their gardens together on Zoom. The Coach has also connected each family to a rural health initiative that will provide families raised beds. Other "family cohort activities" will include outdoor winter events that are socially-distanced and do not involve screen-time. 
We are also reviewing the section in the Leveling Up material on Thank & Recognize Parents. The board is working on ways to appropriately thank parents for their service, rather than seeing it as an "opportunity" for parents. Family Coaches are also bringing more recognition of parents' successes outside the post-secondary arena to their monthly report to the board as a way to highlight ALL achievements, not just the major milestone around degree completion.  
Additional Resources
Please find the other Resources included in various 2Gen Level Up Prize winning applications below: