Lola Adedokun
Washington, DC
Lola Adedokun is the Executive Director of the Aspen Global Innovators Group at the Aspen Institute and co-Chair of the Aspen Institute Forum on Women and Girls. She leads a portfolio of programs that seek to expand opportunities for and access to health and prosperity for people living at the world's margins, including the New Voices Fellowship and AMP Health.
Prior to joining the Aspen Institute, Lola worked at the Doris Duke Charitable Foundation as both Director of the Child Well-being Program and Director of the African Health Initiative. By building partnerships between implementers, policymakers and researchers, her work sought to further reduce inequality, strengthen communities, and promote evidence-based policy decision-making. In her dual roles, she focused her work on strengthening the systems and services that enable children and families to lead healthy, vibrant and self-determined lives.
Earlier in her career, Lola served as an analyst with the New York City Department of Health and Mental Hygiene, where she was responsible for management and analysis of HIV/AIDS surveillance data. She was also an analyst at Abt Associates Inc., implementing several federally funded impact evaluations related to domestic and international HIV/AIDS programming and research-capacity building.
Lola earned dual B.A. degrees with honors in Health Policy and Society and Sociology from Dartmouth College and an M.P.H. from Columbia University's Mailman School of Public Health. She currently serves on the boards of Foster America, the National Employment Law Project, and the Brooklyn-based Explore Schools network.
Stories featuring Lola Adedokun
We are pleased to share Ascend at the Aspen Institute's newest report – Reimagining Child Welfare and Realizing a Networked Approach to Family Well-Being. Tapping the expertise and experience of families, Ascend Fellows, and the Ascend Network, this report is the result of our effort that began in 2020 to interrogate the systems, practices, and policies that …
Presented by the Aspen Institute in partnership with the Atlantic, in its 15th year, the Aspen Ideas Festival is the nation's premier, public gathering place for leaders from around the globe and across many disciplines to present and discuss the ideas and issues that both shape our lives and challenge our times. Ascend has had the honor …
Convenings Featuring Lola Adedokun
Date: June 7, 2021
Location: Virtual (Zoom)
Parents and caregivers are resilient, but they need smart and effective help right now. In this conversation we will learn how the 2Gen field can hit the ground running with bold, family-centered policies and practices that can immediately put all...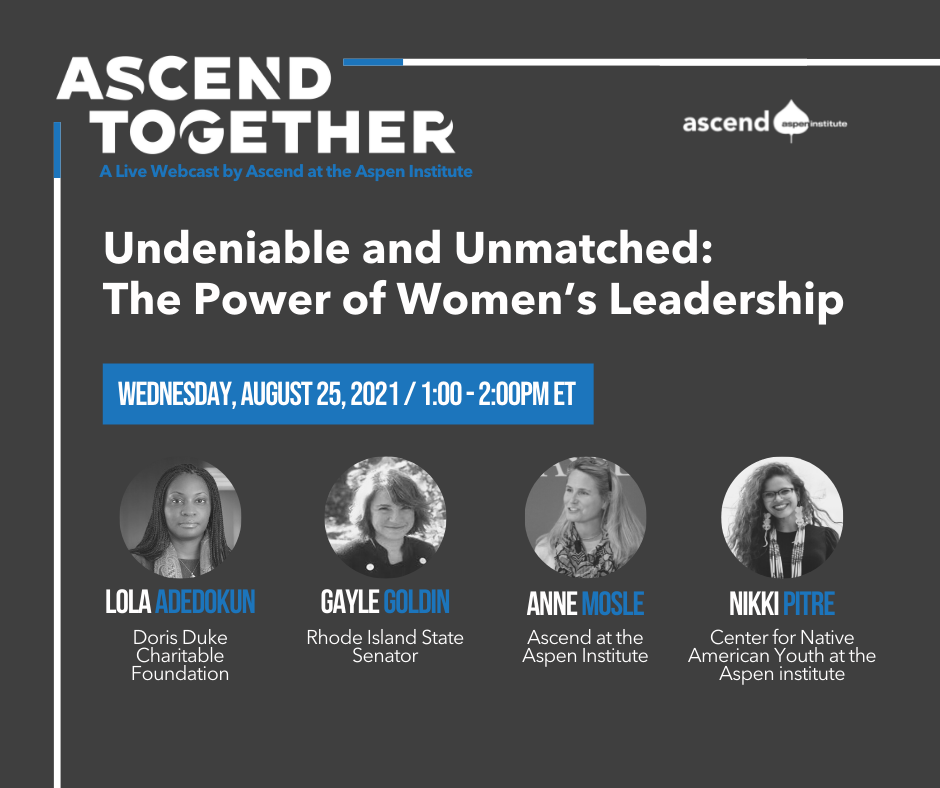 Date: August 25, 2021
Location: Virtual
In our third episode of #AscendTogether, Anne Mosle was be joined by Gayle Goldin from the Rhode Island State Senate, Nikki Pitre from the Center for Native American Youth, and Lola Adedokun from the Doris Duke Charitable Foundation. In...