Seeing Fathers' Roles in Family Prosperity Clearly in 2020: Equitable Family Leave and Research for Improved Outcomes
In celebration of Father's Day, the Lurie Children's Family and Child Health Innovations Program (FCHIP) released the Fathering During a Pandemic report to help guide fathers during the COVID-19 pandemic and beyond.
"Father's Day reminds us to think about and support the father figures who are important in our lives, and that's something we should do every day of the year," said Dr. Craig Garfield, director of the Lurie Children's Family & Child Health Innovations Program. We know that raising children can be difficult and stressful. So, asking dads, 'How's it going for you? What are the things that you love about being a dad? What are the things that are really frustrating?' gives us an opportunity to share the common experience of having children and being in families and lays the foundation for engaging fathers and ensuring that they have what they need to effectively contribute to their children's healthy development.
The Family and Child Health Innovations Program understands that child health occurs within the context of the family. Therefore, the central tenet of FCHIP is 'Children Thrive when Families Thrive.' In its first year, FCHIP is taking a particular focus on the role of fathers in the health of children and families. The goal is to advance children's well-being through understanding the roles of parents in a wide variety of family contexts, and how to enhance parents' contributions to children's health and development.
Garfield says, "The father factor at its core is about fathers having a positive presence in the lives of children that we know from research and studies has a major impact on the success of those children, and now we're starting to learn on the well-being of those fathers."
These are his recommendations for our systems and services to more effectively engage fathers for family prosperity and overall child and family well-being.
Paid leave policies that prioritize families and are inclusive of fathers
"There's very good research that shows that the more involved and the longer leave that dads take early on in the child's life after the birth, the more likely that dad is to be involved later. We know that dads who are there in the beginning feel more comfortable taking care of their children later on in their life, and it really sets them off on the right foot."
More equitable research to better understand and support the important role of fathers in children's healthy development.
"Equitable research is about adding a piece that includes fathers and supporting that from systems and policy perspectives. We really don't know what we don't measure, and much of the transition to fatherhood has been missing from the literature and missing from the research. A better understanding of fathers' influence on the overall health of the family and the child would help us develop better ways to improve outcomes for children and families."
Dr. Craig Garfield is director of the Lurie Children's Hospital of Chicago Family and Child Health Innovations Program and director of research, Division of Hospital Based Medicine; co-director, Pediatric Hospital Medicine Fellowship; and professor in Northwestern University Feinberg School of Medicine's Departments of Pediatrics and Medical Social Sciences. Feinberg is a partner organization in Ascend's Fatherhood Learning and Action Community. Stay tuned for a comprehensive set of policy recommendations and best practices from the Learning and Action Community for the field to more effectively engage fathers for family prosperity.
Related Posts

What does college success look like for Black and Native student parents? This podcast episode sheds light on student parents' and administrators' experiences at Historically Black Colleges and Universities, or HBCUs, and Tribal Colleges and Universities, or TCUs.

We know that there is a better way to approach child support policy to build strong families and communities -- and that's why we're proud to share with you our updated Centering Child Well-Being in Child Support Policy toolkit.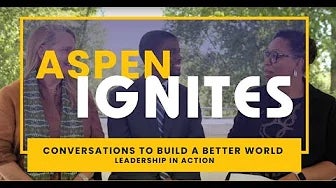 In episode three of Aspen Ignites: Conversations to Build a Better World, Jenn White leads a conversation on leadership with Anne Mosle and 2018 Ascend Fellow Melvin Carter.
Featured from the Ascend Community