Advice from Four 2Gen Leaders on Scaling Up
After a dynamic week of engaging conversations with our Network Partners, Fellows, field, and families, one thing is clear: The #2Gen field is strong. We're redesigning policy, shifting culture, and adapting to the times in the most skillful, collaborative ways. But can we "Go Big?" Over 8 million families have become poor during 2020, according to a study out this month. On the last day of our #2GenLevelsUp Week, we've turned to Network Partners to talk about how we can use what's in our communities already to scale up and expand our work to make sure no one is left behind.
We've collected insights from four 2Gen leaders, prompting them with this question: If you could give just one piece of advice to someone scaling up their work — like designing a program partnership, a community-wide or statewide 2Gen approach – what would it be? Here's what they had to share.
When scaling any initiative, keep the long-term sustainability in mind as you design the program and do an environmental scan of potential partners. Also, in the program design, be sure to listen to the diversity of people closest to the problem/those most impacted. They will have the best insight for the creation of a solution which is never a single-strategy. People live complex lives and therefore need complex resources to thrive. In my experience, a key lever to successfully scaling a 2Gen initiative is the engagement of a broad-based constituency that will engage in the design, implementation, funding and evaluation of the effort. The beauty of a 2Gen approach, in addition to be holistic, is that it can speak to various potential partners that will be critical to the outcomes for both generations.
– Gloria Perez, President and CEO, Women's Foundation of Minnesota
In weekly surveys conducted between May and June 2020, nearly 25% of adults in the U.S. living in households with children, reported they felt down, depressed, or hopeless for more than half of the days, or nearly every day in the past 7 days (U.S. Census Bureau, Household Pulse Survey, 2020). For many families struggling to make ends meet before the pandemic, life has gotten even more difficult. In addition, the disparate impacts of the pandemic and racial injustice have intensified racial inequities in our health, economic, and social systems leaving families traumatized and disconnected from their dreams. The current realities for Community Action Agencies and community-based organizations have affirmed the need for two-generation (2Gen) or whole family approaches to weave together the supports, interventions, and system changes parents and children need to reach their full potential.
Over the last six years the National Community Action Partnership has found that organizations that form thoughtful, diverse guiding coalitions that include staff from all levels of the organization, key community partners from diverse sectors of the community, and families with lived experience, are well positioned to build successful 2Gen approaches in their communities. Well-crafted guiding coalitions that engage parents as experts and keeps the needs of families at the center are essential to building the structural foundation and scaffolding needed to address the 2Gen guiding principles and key components outlined by Ascend as the hallmarks of a 2Gen approach.
– Tiffney Marley, Vice President, Practice Transformation, National Community Action Partnership
Our name, Agape, means unconditional love. It rests in meeting people where they are, loving, and humbly serving. The challenges and opportunities presented amid the COVID-19 pandemic have only reinforced our conviction of the need for innovative ways to meet family needs and to bridge gaps of understanding and resources among major employers and government that will allow more families to thrive.
Organizations with a vision, mission and calling to seek goodness, rightness, equity, and inclusion in often marginalized communities, must keep in mind that scaling only comes after communities/neighbors/leaders invite you to the table as a valued partner. To come alongside their neighborhood vs. an advantageous model based on anything other than the wellbeing and goodness with those you partner. Scaling is not, and should not, be an opportunistic model, but rather a relational, altruistic focus…done together, with excellence.
– Julie Sanon, COO, Agape
Through our 2Gen Policy Advocacy Cohort, we learned that, for foundations and funds to develop a 2Gen culture, buy-in through education and deep learning and mission alignment from leadership, grantees and parents is essential to increase their understanding and engagement in 2Gen. In a three-year program at the Women's Funding Network with four women's funds, we found significant results in creating this alignment to push for state-level policy solutions that benefit children, women and families through legislative advocacy and leadership. When organizational stakeholders are aligned with and understand 2Gen goals, the work becomes more sustainable and less susceptible to the variable nature of local or regional politics. That has a ripple effect and translates into direct benefits to families seeking economic security and well-being.
– Megan Murphy Wolf, Deputy Director, Women's Funding Network
Related Posts

What does college success look like for Black and Native student parents? This podcast episode sheds light on student parents' and administrators' experiences at Historically Black Colleges and Universities, or HBCUs, and Tribal Colleges and Universities, or TCUs.

We know that there is a better way to approach child support policy to build strong families and communities -- and that's why we're proud to share with you our updated Centering Child Well-Being in Child Support Policy toolkit.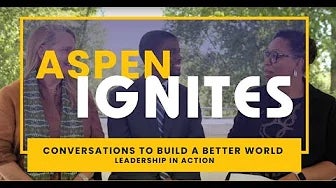 In episode three of Aspen Ignites: Conversations to Build a Better World, Jenn White leads a conversation on leadership with Anne Mosle and 2018 Ascend Fellow Melvin Carter.
Featured from the Ascend Community