Building a Packet for Success
This op-ed was published on October 28, 2020 by Higher Learning Advocates.
Back to school shopping should be an exciting time for many children and parents. Yet, for families that have to decide between a pack of binders or a pack of diapers for the week, it can be an extremely stressful time. COVID-19 has changed the landscape of what back to school shopping looks like. Forget the fancy kitty folders and first day of school outfit—insert computers, hotspots, a stylus, and a home printer with paper and ink.
Now, imagine what that looks like for the nearly four million parents who are also college students. For Black women in college, two out of five are mothers. Nearly two-thirds of student parents are living in poverty. Although it takes student parents twice as long to graduate, they perform better than peers without children. This juggling act isn't new to parenting students who are constantly making difficult decisions between school supplies and basic needs. What is new is balancing their own education and the education of their child(ren).
I took this photo of my seven-year-old daughter's second grade packet she received in the mail, provided by her public Los Angeles elementary school. It was complete with multiple labeled folders, oil pastels, math counters, a brand-new iPad, a white board with markers, rulers, math dice, water colors, card stock, a science bag with special materials, on and on. She was sent a packet for success.
I cried when I saw the display. I was filled with equal parts appreciation and rage. I was devastated for the millions of children in our country who will not have this same support or access to materials. Why did my daughter have that access? Is it because, by chance, we live in an affluent zip code? What about those other smart seven-year-olds who just so happen to live down the street? My little girl was not born smarter or with more potential than any other child. She is no more deserving of these materials than any other student. Every child and every adult should have equal and equitable access to education—regardless of zip code, gender, or skin color.
Representation matters. Access matters. Equality and equity matter.
I grew up as the youngest of eight children and am the first in my family to attend college. I never saw anyone in my family or community attend college, so I didn't see it for myself. Having a child motivated me to change my life, so I enrolled in a community college parenting class. By chance, I chose Los Angeles Valley College (LAVC), which has the only Family Resource Center (FRC) in the entire state of California and a high-quality childcare center on campus.
The FRC provided me with a similar packet for success. There is a family therapist on staff, playgroups, family-friendly computer labs, a children's clothing exchange, free diapers and wipes, a lactation room, and a space to bring my full self. I met other parenting students. I had a dedicated counselor who allowed me to bring my children. And I sought guidance from a mentor who helped me envision a future for my family when I couldn't have done that alone.
I had access. I had social capital. I had hope.
But student parent success is not just about access. It's not just about representation, or even hope. It's an intentional combination of support that gives students a sense of agency in improving their lives and the lives of their children. Families are better equipped to reach their full potential when offered opportunities for social support, educational pathways, and meaningful employment. A variety of tools are needed to build and strengthen personal and community well-being. We must recognize that not all families start with a full toolbox and many have additional racial and societal barriers to endure.
Within the framework of equity, institutions of higher education need to take a look at how student parents are represented and served. Are there adequate policies in place to support parenting students? Are there appropriate professional training opportunities so that staff and faculty are well-versed in who they are serving?
After meeting Marni Roosevelt, founder and director of the FRC, eight years ago as a parenting student looking for support, I became an intern and was later hired as a student worker. I am now the Program Coordinator at the FRC, a Parent Advisor for Ascend at the Aspen Institute, and am in the process of being hired as an Adjunct Instructor at LAVC. I graduated from LAVC and transferred to California State University, Northridge, where I changed my major to Family Studies so I could help families build their own packets for success.
For more information about the FRC, visit www.lavcfamilyresourcecenter.org
Amber Angel is the program coordinator at the Family Resource Center at Los Angeles Valley College. She is also an Ascend Parent Advisor supporting the Aspen Postsecondary Success for Parents Initiative.
Related Posts

An episode of firsts! Our first live episode recorded at the inaugural Ascend Parent Advisor Convening in Aspen, CO in front of an audience of student parents.

Today, Ascend at the Aspen Institute announced that four community colleges from across the United States have been selected as partners to its Postsecondary Leadership Circle Activation Fund.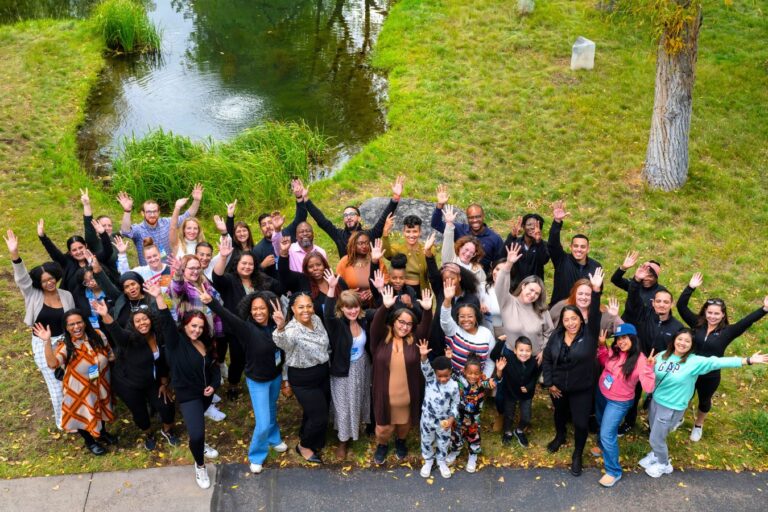 Snapshots from the 2023 Ascend Parent Advisor Convening in Aspen, Colorado.