Announcing Roxane White as New Morgridge Innovator in Residence
For Immediate Release
Contact: Lori Severens
Ascend at the Aspen Institute
Tel: 202.736.2920
.(JavaScript must be enabled to view this email address)
Roxane White Joins Aspen Institute as
Morgridge Family Economic Security Innovator in Residence
Washington, DC, July 18, 2017 – The Aspen Institute announced Roxane White as its first Morgridge Family Economic Security Innovator in Residence beginning in September 2017. The Innovator in Residence is a new program at Ascend at the Aspen Institute to expand the conversation around solutions for families with low incomes and advance systemic shifts and new ideas to serve children and their families more effectively.
"Roxane White has an outstanding track record as an innovator, policy strategist, and communicator," said Carrie Morgridge, chief disruptor at the Morgridge Family Foundation. "We partnered with Ascend to create the position because we need to shake up the way we think about the challenges facing families living in poverty if we want transformative solutions. Roxane is as passionate as Ascend is about finding better ways to create change." The Innovator in Residence is one of several signature Fellowship investments of the Morgridge Family Foundation.
"No issue is more important to our nation today than equality and opportunity for all Americans," said Aspen Institute President and CEO Walter Isaacson. "Roxane will join forces with the Institute's Ascend founder Anne Mosle. This is an especially exciting collaboration since Roxane and Anne are both among the most prominent advocates on behalf of the welfare of children and families." Ascend is a leading voice in advancing practice and policy solutions for children and families at the community, state, and federal levels.
White is currently the president and CEO of Nurse-Family Partnership, where she spearheads their growth to serve more families. Nurse-Family Partnership is one of the country's leading community health programs, using an evidenced-based approach to bring caring maternal and child health care to first-time parents. Robert Hill, Chairman of the Board, said, "If you have watched Roxane's work at NFP, you know that a great deal of forward movement has happened in the last three years. Thanks to her leadership and the passion of an extremely competent staff and executive team, Nurse-Family Partnership is better positioned than ever to serve more families, and alleviate inter-generational poverty in this country."
Previously, White served as chief of staff to Colorado Governor John Hickenlooper and as the manager of the Denver Department of Human Services. "Roxane's compassion and commitment for serving others is unmatched. I'm delighted to see her join Ascend and the Aspen Institute, which have been long-term partners in our work for Colorado families," said Governor John Hickenlooper.
Lean more about the Morgridge Innovator in Residence program here.
Ascend at the Aspen Institute is the national hub for breakthrough ideas and collaborations that move children and their parents toward educational success, economic security, and health and well-being. We embrace a commitment to racial equity and a gender lens. For more information, visit https://ascend.aspeninstitute.org
The Aspen Institute is an educational and policy studies organization based in Washington, DC. Its mission is to foster leadership based on enduring values and to provide a nonpartisan venue for dealing with critical issues. The Institute is based in Washington, DC; Aspen, Colorado; and on the Wye River on Maryland's Eastern Shore. It also has offices in New York City and an international network of partners. For more information, visit www.aspeninstitute.org
###
Related Posts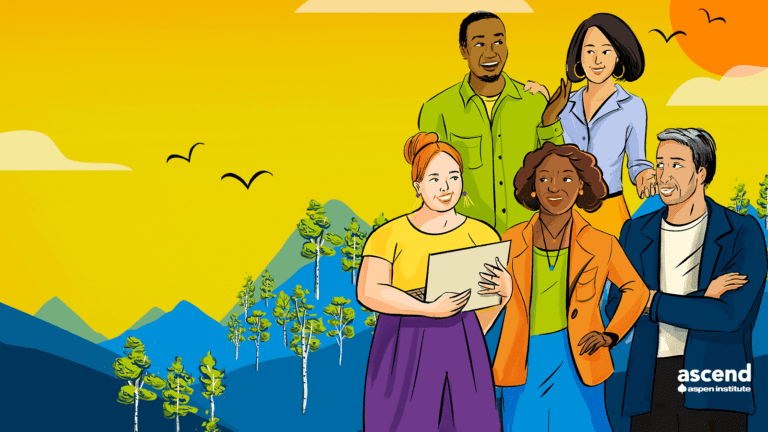 100 Ascend Fellows will join the Aspen community for two afternoons of conversations aimed at Building Well-Being for Children and Families and Prioritizing Joy and Human Thriving.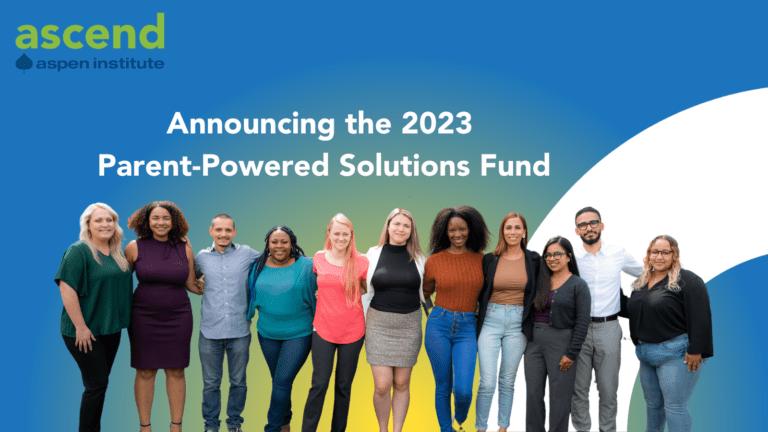 Ascend at the Aspen Institute is excited to announce the launch of the 2023 Parent-Powered Solutions Fund, which will provide financial resources and technical assistance to nonprofit organizations and institutions focused on increasing postsecondary success among parents.
Today, Ascend at the Aspen Institute (Ascend) released the second season of "1 in 5," its highly rated podcast that explores the multifaceted lives of the one in five college students raising children.