New Report Sheds Lights on One Million Students in College who are Fathers
Ascend at the Aspen Institute's new chartbook shows that Black, Native American, and Native Hawaiian/Pacific Islander men in college are most likely to be balancing school and fatherhood
Washington, DC – 'We Are Here Too': Who are the 1 Million Fathers in College?, a new chartbook out today from Ascend at the Aspen Institute, presents the first comprehensive look at available data on the 15% of undergraduate students in the US today who are fathers.
Ascend's Postsecondary Success for Parents (PSP) Initiative focuses on ideas and solutions that promote the success of the one in five college students raising children. Although mothers make up the majority of student parents, nearly one in three student parents is a father, with fatherhood most likely among Black, Native American, and Native Hawaiian/Pacific Islander men in college.
"The fathers we work with say time and time again that they want to provide for their families and they see a postsecondary credential as a way to unlock new opportunities for them to do so," said David Croom, Associate Director for Postsecondary Success for Parents Initiative at Ascend. "If higher education institutions want to reverse declining enrollment among men and address equity gaps, they must gain a better understanding of what motivates and supports student fathers. As the first publication to synthesize everything that we know about this key population, this chartbook can be a useful starting place for institutional leaders, policymakers, and advocates."
Other findings on student fathers included in the new chartbook include:
Student fathers and student mothers experience college differently. While student mothers are more likely to be women of color and single, student fathers are most likely to be white and married. Student fathers are more likely than student mothers to have child care help and feel excited and stimulated by college, but are also more likely to stop out.
Black men are a distinct group among student fathers. Black student fathers are more likely to be single than married. Black student fathers have the highest rates of stopping out of college across race and gender and experience especially high levels of basic needs insecurity.
Knowing who student fathers are and why they enroll is crucial to improving equity in higher education. The lack of research and data on student fathers perpetuates a false perception – among both institutional leaders and prospective student fathers themselves – that college is not a place for fathers, limiting fathers' enrollment and justifying colleges' lack of support for student fathers.
"When choosing between school and work, working is, more times than not, the path taken," said Christian Ortiz, an Ascend PSP Parent Advisor and student father enrolled at Hunter College in New York. "Yes, school is the hope of a stable future through the use of a degree, but it is hard to tell that to hungry children, or a partner that is relying on you to provide."
Dr. Mike Muñoz, Superintendent-President of Long Beach Community College District and a former student father agrees: "When I started my higher education journey, I was a young, single father caring for my infant daughter. It was challenging to find the resources I needed as I juggled my work, school, and parenting, all while struggling with food and housing insecurities. Although I apply my own personal experiences to help guide my decisions today as the chief executive at a California community college, not all decision-makers have life experiences that give them understanding about unique groups of students. This report will assist policymakers and higher education leaders to utilize data to create support programs for a particular group of students that often goes unnoticed."
Read the new chartbook and learn more about how to support the success of student parents at https://ascendstories.aspeninstitute.org/one-million-student-fathers-chartbook/index.html.
###
—–
Ascend at the Aspen Institute is a catalyst and convener for diverse leaders working across systems and sectors to build intergenerational family prosperity and well-being by intentionally focusing on children and the adults in their lives together. We believe in the power of co-creation. We are a community of leaders – well-connected, well-prepared, and well-positioned – building political will that transforms hearts, minds, policies, and practices.
The Aspen Institute is a global nonprofit organization committed to realizing a free, just, and equitable society. Founded in 1949, the Institute drives change through dialogue, leadership, and action to help solve the most important challenges facing communities at home and around the world. For more information, visit www.aspeninstitute.org.
###
Contact: Kathy Lugo
Communications Officer
Ascend at the Aspen Institute
katherine.lugo@aspeninstitute.org
Related Posts

What does college success look like for Black and Native student parents? This podcast episode sheds light on student parents' and administrators' experiences at Historically Black Colleges and Universities, or HBCUs, and Tribal Colleges and Universities, or TCUs.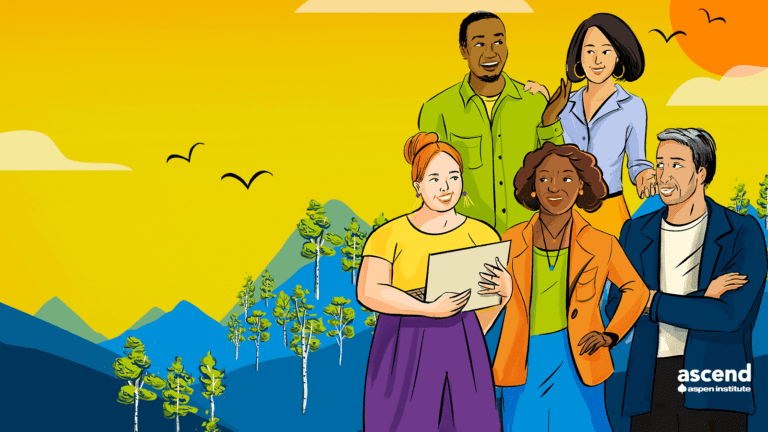 100 Ascend Fellows will join the Aspen community for two afternoons of conversations aimed at Building Well-Being for Children and Families and Prioritizing Joy and Human Thriving.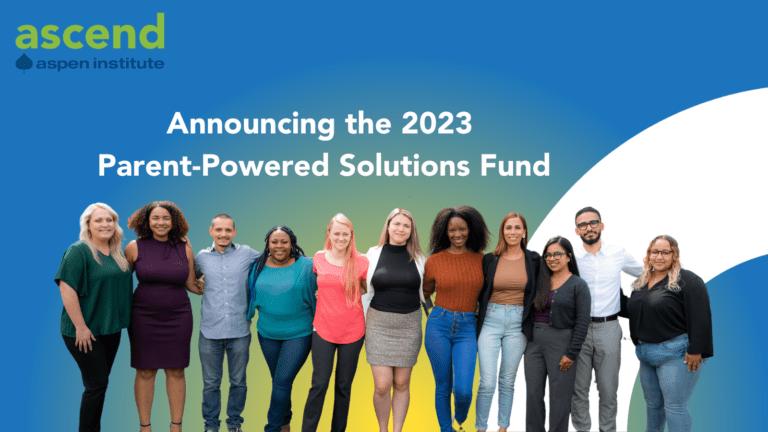 Ascend at the Aspen Institute is excited to announce the launch of the 2023 Parent-Powered Solutions Fund, which will provide financial resources and technical assistance to nonprofit organizations and institutions focused on increasing postsecondary success among parents.
Featured from the Ascend Community