Media Advisory: Aspen VisionXChange 2023 Brings Dreamers and Doers Together
100 Ascend Fellows will join the Aspen community for two afternoons of conversations aimed at Building Well-Being for Children and Families and Prioritizing Joy and Human Thriving.
WHAT: Media are invited to attend Aspen VisionXChange 2023, hosted by Ascend at the Aspen Institute. Aspen VisionXChange is a gathering of diverse, entrepreneurial dreamers and doers from around the country who all share one North Star: transforming our nation's hearts, minds, policies, and practices to ensure all children and families thrive. The convening is free and open to the public.
WHEN: Monday, July 31st from 4:00 – 6:00 pm MT*; Tuesday, August 1st from 3:00 – 5:00 pm MT
*Monday's programming will be followed by community dinner from 6:00 – 8:00 pm MT
REGISTER: Attend In-Person | Attend Virtually
WHERE: Aspen Meadows Campus, Doerr-Hosier Building
AGENDA HIGHLIGHTS
View the full agenda here and the speaker list at the bottom of this page.
The themes for this VisionXChange 2023 begin with dreaming:
How do we DREAM big and get hard things done, so children and families can prosper?
How do we DISRUPT the way things have always been done and stand up against the naysayers to show what's possible when we center well-being across our systems?
And how do we DELIGHT and find joy as we navigate trying times?
Building Well-Being for Children and Families
Monday, July 31st from 4:00 – 6:00 pm MT
What happens when we dream big about how children grow up surrounded by love? What if we challenge assumptions about what families need? We'll hear from leaders from around the country who are disrupting systems to reclaim ways for children to thrive, families to feel a deep sense of connection with each other and their communities, and all to have opportunities to prosper and be well. Sessions include:
Raising Children With Love
This Is What Civic Engagement Looks Like'
Integrating Wisdom: What Indigenous Communities Have Always Known
Birth, Joy, and Justice
Prioritizing Joy and Human Thriving
Tuesday, August 1 from 3:00 – 5:00 pm MT
"Living our best lives" has become a cliche — but health, wellness, and joy should not be privileged states of being. Hear from leaders with new ideas for tackling today's mental health crisis, so wellness becomes the status quo. Delight in the joy that should surround the Black birthing experience and the dreams families have for themselves right here in the Roaring Fork Valley. Sessions include:
Mental Health is the New Normal
Eye of the Beholder: Disruptors at Work
Can There be Well-being Without Wealth?
Creating Communities of Joy
FOR PRESS: Ascend Staff and Ascend Fellows speaking at Aspen VisionXChange will be available for interviews on a pre-arranged basis. To interview Anne Mosle, executive director of Ascend at the Aspen Institute, or Lori Severens, Director of Leadership Programs at Ascend, or an Ascend Fellow, please contact Adam Flango at Adam.Flango@aspeninstitute.org.
Related Posts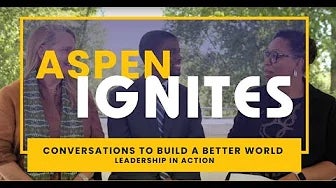 In episode three of Aspen Ignites: Conversations to Build a Better World, Jenn White leads a conversation on leadership with Anne Mosle and 2018 Ascend Fellow Melvin Carter.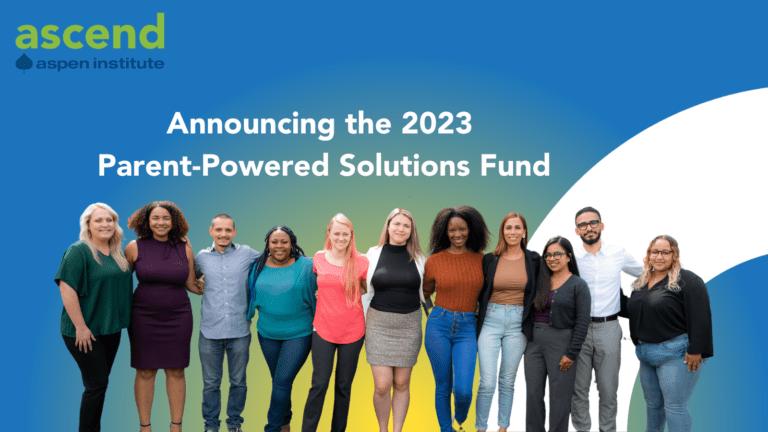 Ascend at the Aspen Institute is excited to announce the launch of the 2023 Parent-Powered Solutions Fund, which will provide financial resources and technical assistance to nonprofit organizations and institutions focused on increasing postsecondary success among parents.
Today, Ascend at the Aspen Institute (Ascend) released the second season of "1 in 5," its highly rated podcast that explores the multifaceted lives of the one in five college students raising children.