Announcing Ascend Fellowship Impact Fund Awardees
We are excited to announce the latest Ascend Fellowship Impact Fund awardees.
Through the Ascend Fellowship Impact Fund, we offer catalytic capital to accelerate Fellows' work to build political will, change systems, and drive policy agendas needed to support the prosperity and well-being for all children and families. Each class of Fellows has the opportunity to apply for flexible resources that could have far-reaching results and meet critical needs, including opportunities to scale new partnerships, invest in critical research, and pilot new approaches. Past awardees have tested new ways to deliver home visiting services to parents, advanced education efforts in Native communities, and facilitated two-generation (2Gen) learning networks.
We've selected four projects from the 2021 Class of Fellows that show impressive potential in both their scope and capacity to address timely issues.
Ebony Underwood, 2021 Ascend Fellow and Laura Huerta Migus, 2018 Ascend Fellow
Award: $75,000
Ebony Underwood is the Founder/CEO of WE GOT US NOW, a nonprofit organization that is amplifying the collateral consequences children and young adults with incarcerated parents face. Ebony's Fellowship Impact Fund award will support Can You Imagine, a 3-part series that will explore the systemic harms that have been imposed upon children and parents impacted by mass incarceration in the US through an art installation, short film, and educational forum. Ebony will partner with Deputy Director of the Institute of Museum and Library Services Laura Huerta Migus to host elements of the Can You Imagine series at cultural institutions across the country.
Craig Garfield, 2021 Ascend Fellow
Award: $35,000
Craig Garfield – a professor at Northwestern University and a practicing pediatrician at the Lurie Children's Hospital of Chicago – is making a difference for new dads. His Fellowship Impact Fund award will support the Focus on Fathers initiative at Prentice Women's Hospital-Chicago, the 5th largest delivery hospital in the country. The funding will help recruit 150 first-time fathers to watch seven core educational videos developed as part of the Discharge for Dads pilot. The videos will cover topics like breastfeeding knowledge, safe sleep behaviors, mental health, paternal involvement, and bath time, and be evaluated to assess the acceptability of the video intervention, feasibility of hospital-based recruitment, and measure family outcomes.
Rinku Sen and Atiya Weiss, 2021 Ascend Fellows
Award: $75,000
Atiya Weiss, Executive Director at the Burke Foundation, and Rinku Sen, Executive Director of Narrative Initiative, are the latest Ascend Fellows to team up to advance birth justice. Their Fellowship Impact Fund award will support a collaboration among their organizations and the National Women's History Museum to improve maternal and child health by creating a virtual and in-person national exhibit and dialogue explaining the important contributions community doulas play in promoting health equity and birth justice.
Joe Waters, 2021 Ascend Fellow
Award: $35,000
As CEO of Capita, an independent, nonpartisan think tank with a global focus, Joe Waters will use the Fellowship Impact Fund to conduct field research and focus groups in development of the Childhood Climate Fund – an in-development global philanthropic vehicle investing in ideas, movements, and public opinion change at the intersection of early childhood and climate change. The work will be done in collaboration with historically disenfranchised communities – including those disproportionately impacted by climate change and the lack of robust early childhood systems, as well as those who have traditionally faced inequitable barriers to philanthropic support. This field research will allow the Fund to reflect a fully representative and diverse set of input and solutions. The award will also support the development of an ongoing Parent/Caregiver Advisory Network to support the design, development, and implementation of the Fund by lifting up and incorporating 'parent-powered solutions.'
Related Posts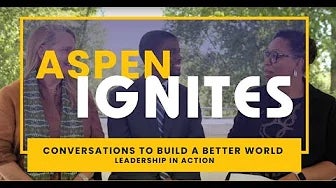 In episode three of Aspen Ignites: Conversations to Build a Better World, Jenn White leads a conversation on leadership with Anne Mosle and 2018 Ascend Fellow Melvin Carter.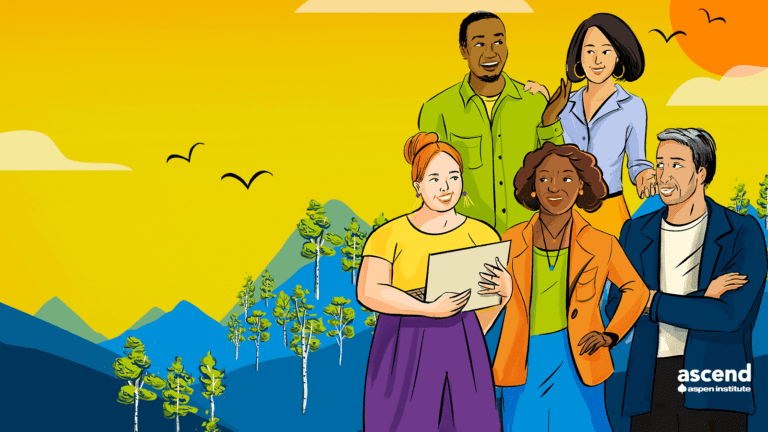 100 Ascend Fellows will join the Aspen community for two afternoons of conversations aimed at Building Well-Being for Children and Families and Prioritizing Joy and Human Thriving.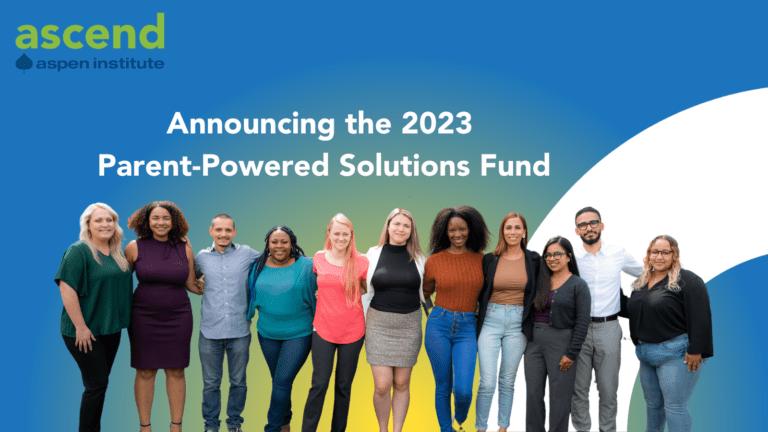 Ascend at the Aspen Institute is excited to announce the launch of the 2023 Parent-Powered Solutions Fund, which will provide financial resources and technical assistance to nonprofit organizations and institutions focused on increasing postsecondary success among parents.
Featured from the Ascend Community