New Mexico Snapshot: Innovations for Student Parents in the Land of Enchantment
On May 9, members of the Ascend team had the opportunity to visit Santa Fe Community College (SFCC) in New Mexico. Catron Allred, Director of the Early Childhood Center of Excellence at Santa Fe Community College, served as our amazing host and guide. The Early Childhood Center of Excellence at SFCC is a prime example of an Ascend Network partner using a two-generation (2Gen) approach to build family prosperity and well-being across generations. From exploring innovative spaces dedicated to child care to learning more about the needs of student parents on campus, here are three takeaways we are excited to share from our site visit.
1. Kids Campus meets a critical need
Our visit started with a tour of Kids Campus, an early childhood space that provides on-campus child care and education to SFCC students, staff, and community members Mondays through Fridays from 7am to 3pm. We knew this was a special place immediately: Hallways were lined with artwork and science projects created by the children, classrooms with designated age ranges were filled with age-appropriate toys, and the vibrant playground was almost too inviting to resist.
The critical role Kids Campus serves in meeting the demand for high-quality early child care was evident. The center serves 130 children at any given time, supporting student parents in more easily balancing family and study time and increasing their likelihood of completing a college degree – which would double their lifetime income. Currently, shortages in child care staff have had an impact on after care, and there are more than 500 people on the center's waitlist. And though the recent expansion of child care in New Mexico means that more families can access this crucial support, challenges like slowed public transportation and the fact that many SFCC students take classes online are barriers to accessing on-campus child care. In all, it was clear that innovative child care spaces like Kids Campus play an important role in supporting family well-being.
2. Opportunity Pathways is making a positive impact on student parents' journeys
1 in 5 college students is a parent, and we enjoyed meeting with three student parents – Isabella, Janelle, and Mariah – who shared the challenges and opportunities they've experienced along their college journeys. These parents are part of the Opportunity Pathways pilot program funded by the Annie E. Casey Foundation, which provides 19 student parents with milestone stipends, events, and basic need supports to help keep them financially secure and motivated to graduate.
Isabella, Janelle, and Mariah shared this wasn't their first time attempting to finish college, but that their children motivated them to stay focused on achieving their goals and graduating. They really appreciated Opportunity Pathways for offering flexible events and the opportunity to create community within their cohort.
3. SFCC is an emerging leader in serving student parents
We ended our site visit by touring the library, which has become a hub for student parents and their children. SFCC transformed one of the library's study rooms into a family-friendly space filled with books, toys, and tiny couches for children and a conveniently placed computer lab where parents can complete their homework.
The library is just one example of the many ways that SFCC has committed to supporting student parents. As a member of Generation Hope's FamilyU cohort, SFCC consistently centers student parents' lived experiences in their practices. Student parents experience basic needs insecurity at alarming rates, and SFCC provides free resources like their Campus Cupboard to help ensure that student parents can access baby wipes, diapers, food, and clothing. SFCC's Facilities department is also working on making the overall campus more family-friendly by providing high chairs, lactation rooms, changing tables in all bathrooms, and family-friendly parking.
Recently, SFCC updated course registration materials to include a question asking students whether they are a parent. This data is key to getting an accurate representation of how many of their more than 5,000 students are also parents – and how they can better meet their needs.
We're thankful to Catron and SFCC for showing  us their 2Gen work in action!
Also in New Mexico, Diné College is one of eight Ascend partners taking part in the Black and Native Family Futures Fund, a capacity building fund designed with and for Historically Black Colleges and Universities (HBCUs) and Tribal Colleges and Universities (TCUs) that provides financial support and technical assistance to selected campuses that are committed to improving the success of their student parents. Ascend is working across the country to raise awareness of and share recommendations to better support the more than four million student parents enrolled in postsecondary pathways. Learn more about our Postsecondary Success for Parents initiative.
Related Posts

What does college success look like for Black and Native student parents? This podcast episode sheds light on student parents' and administrators' experiences at Historically Black Colleges and Universities, or HBCUs, and Tribal Colleges and Universities, or TCUs.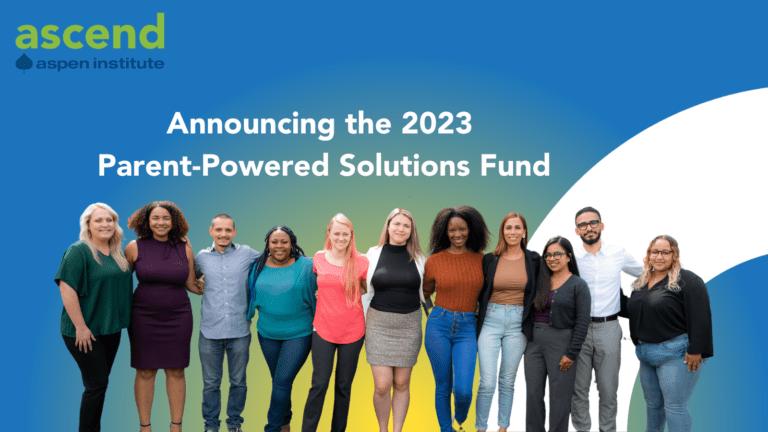 Ascend at the Aspen Institute is excited to announce the launch of the 2023 Parent-Powered Solutions Fund, which will provide financial resources and technical assistance to nonprofit organizations and institutions focused on increasing postsecondary success among parents.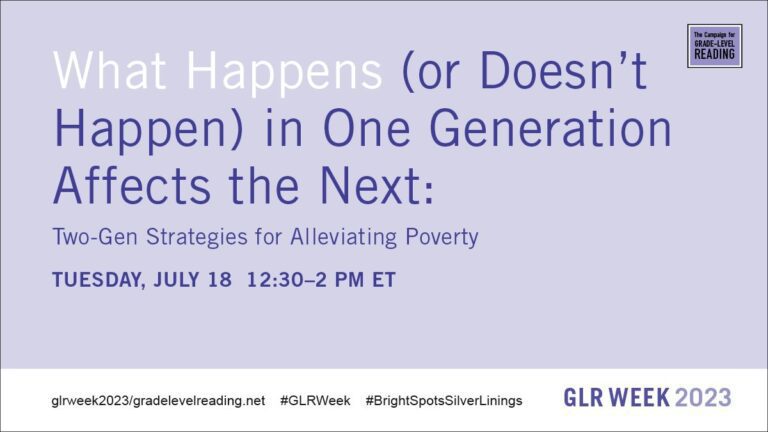 This Campaign for Grade-Level Reading Week session discussed two-generation (2Gen) strategies to achieving improved outcomes for families.
Featured from the Ascend Community