The Aspen Institute Announces "Two-Generation Approach" to Move Families Beyond Poverty
For Immediate Release:
Contact: Sarah Haight
Program Associate
Ascend
The Aspen Institute
202-736-2928
.(JavaScript must be enabled to view this email address)
THE ASPEN INSTITUTE ANNOUNCES "TWO-GENERATION"
APPROACH TO MOVE FAMILIES BEYOND POVERTY
Original Report and New Fellowship Program Promote "Two-Generation" Strategy
Washington, DC, February 15, 2012 –– Today the Aspen Institute's Ascend program released a report announcing a two-generation approach that targets education for both children and their parents, to help families achieve economic security.
The new report, "Two Generations, One Future," makes the case for focusing on simultaneous educational opportunities for parents and their children as a promising way to move families beyond poverty.
"A two-generation approach can be a game-changer for families with low incomes, especially those young families who have been hurt dramatically by the recent recession," said Anne Mosle, Ascend executive director. "We are seeing promising results from programs and policies around the country that promote education and skills for parents and provide quality early-learning opportunities for their children."
The Institute also announced that its Ascend Fellowship will go to an inaugural class of 20 leaders from around the country who are pioneering two-generation approaches in government, philanthropy, research, educational institutions, nonprofit work, media and the private sector.
Mosle cited the Jeremiah Program in St. Paul, Minn., and the Community Action Project's CareerAdvance™ program in Tulsa, Okla., as examples of the two-generation approach. The Ascend Fellows, she said, are "on the cutting edge of this innovative work in their communities, their research, and the policies they have put in place."
Ascend was launched in 2011 with support from national foundations and women philanthropists. It is a hub for programs, policies, systems, and research using the two-generation approach, and builds partnerships around breakthrough ideas and proven strategies to move parents and children—two generations—beyond poverty together. Educational success is central to its work.
About The Aspen Institute
The Aspen Institute's Ascend program is a hub for breakthrough ideas and proven strategies that more parents, especially women, and their children beyond poverty towards educational success and economic security.
The Aspen Institute mission is twofold: to foster values-based leadership, encouraging individuals to reflect on the ideals and ideas that define a good society, and to provide a neutral and balanced venue for discussing and acting on critical issues. The Aspen Institute does this primarily in four ways: seminars, young-leader fellowships around the globe, policy programs, and public conferences and events. The Institute is based in Washington, D.C.; Aspen, Colorado; and on the Wye River on Maryland's Eastern Shore. It also has offices in New York City and an international network of partners. For more information, please visit www.aspeninstitute.org.
Related Posts
Today, Ascend at the Aspen Institute announced that eight Historically Black Colleges and Universities (HBCUs) and Tribal Colleges and Universities (TCUs) have joined its Black and Native Family Futures Fund.
Today, Ascend at the Aspen Institute (Ascend) released the second season of "1 in 5," its highly rated podcast that explores the multifaceted lives of the one in five college students raising children.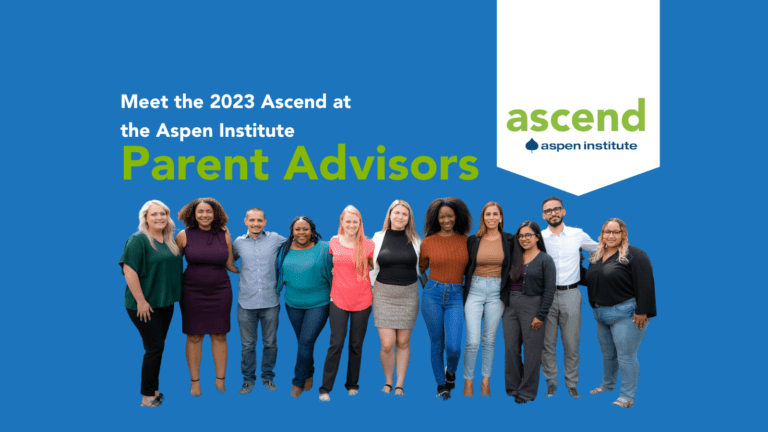 Today, Ascend at the Aspen Institute (Ascend) announced that 11 new Parent Advisors have joined its Postsecondary Success for Parents initiative (PSP) to help shape Ascend's expanded agenda to improve higher education policy and practice for student parents.