The Aspen Institute Wraps Inaugural Aspen ThinkXChange
For Immediate Release
Contact: Jeff Harris
Public Affairs & Social Media Manager
The Aspen Institute
202-736-3848
.(JavaScript must be enabled to view this email address)
The Aspen Institute Wraps Inaugural Aspen ThinkXChange
$1 Million Ascend Innovation Fund Launches
Washington, DC, October 10, 2012 – The Aspen Institute's Ascend program held the inaugural Aspen ThinkXChange in Aspen, Colorado, on October 8-10, 2012, focusing on economic security solutions for low-income families and launching the $1 Million Ascend Innovation Fund. The theme of the Aspen ThinkXChange was the power and potential of two-generation approaches, which provide opportunities for and meet the needs of vulnerable parents and children together. The Aspen ThinkXChange convened policymakers; philanthropists; community-based program leaders; leading researchers and businesspeople; noted journalists; and parents from two-generation programs around the country for two days of in-depth exchange on breakthrough strategies to improve economic odds for families.
The Ascend Innovation Fund fosters innovation and collaboration to develop and test two-generation approaches to drive better results for parents and children.  The Fund aligns bold and creative thinking with action, placing a high priority on cross-sector solutions to move families toward economic mobility.  The Fund targets innovations that integrate both a gender lens and a commitment to racial equity.
With a focus on the core components of a two-generation approach: education (specifically, early childhood development and postsecondary education), economic supports, and social capital, the Ascend Innovation Fund provides flexible capital to support and amplify initiatives aligned with Ascend's key strategies, which are to spark a new conversation around low-income families; build a leadership network; and elevate two-generation solutions.  Learn more at www.ascendprogram.org/build.
Forum highlights from the inaugural Aspen ThinkXChange included:
Values and Cultural Trends in America
Washington Post columnist Michael Gerson and pollster Celinda Lake debated how values and cultural trends influence policies and programs for vulnerable families, with Lake releasing fresh findings from a national survey that show Americans are seeking economic stability over security or opportunity, and that a majority of Americans support a two-generation approach to move families beyond poverty.
Two-Generation Approaches As Powerful Solutions to Poverty
Ascend Fellows Reggie Bicha (Executive Director, Colorado Department of Human Services), Dr. Christopher King (Professor, Ray Marshall Center, University of Texas, Austin), Dr. P. Lindsay Chase-Lansdale (Professor, Northwestern University), and Steven Dow (Executive Director, Community Action Project of Tulsa County) spoke about policy, program, and research opportunities for expanding two-generation approaches.
Building Social Capital for Parents and Children Together
Green Mountain Coffee Roasters' Karen Yacos spoke to Ascend Fellow Dr. Mario Small (Chair of the Division of Social Sciences, University of Chicago), Ascend Fellow Mia Birdsong (Vice President, Family Independence Initiative), and Dr. Sandra Smith (Associate Professor, University of California-Berkeley) about how parents and children can build relationships and networks to improve their economic stability.
 
Using Media As a Tool for Social Change
Oscar-winning filmmaker Debra Chasnoff, CBS Baltimore Anchor Vic Carter, and Ascend Fellow and photojournalist Steve Liss discussed opportunities and challenges to re-framing the narrative around low-income families.
Voices of Parents from Two-Generation Programs
Ascend Fellow and author Wes Moore interviewed parents from programs in Nevada, Minnesota, Oklahoma, New York, Boston, and Miami about their experiences in two-generation programs.
Opportunities for Two-Generation Strategies at the Local, State, and Federal Levels
Director of the Special Fund for Poverty Alleviation at the Open Society Foundations Mimi Corcoran highlighted the potential for a two-generation policy agenda with Ascend Fellow Andrew Levere (President, CFED), Ascend Fellow Reggie Bicha (Executive Director, Colorado Department of Human Services), Dr. Sherri Killins (Commissioner, Massachusetts Office of Early Childhood Care and Education), Lynn Johnson (Executive Director, Jefferson County Department of Human Services), and Sheri Steisel (Senior Federal Affairs Counsel, National Council of State Legislatures).
Select photos and video are available at www.ascendprogram.org
The following philanthropic partners supported the Aspen ThinkXChange: W.K. Kellogg Foundation, Bill & Melinda Gates Foundation, Patrice King Brickman, Charlotte Perret, Open Society Foundations/Special Fund for Poverty Alleviation, Chambers Family Fund, The Kresge Foundation, Siobhan Davenport/Rocksprings Foundation, Annie E. Casey Foundation, and Green Mountain Coffee Roasters/Keurig.
About The Aspen Institute
The Aspen Institute's Ascend Program is a hub for breakthrough ideas and proven strategies that move parents, especially women, and their children beyond poverty toward educational success and economic security. Ascend works to spark a new conversation around low-income families, build a network of leaders through a national fellowship program, and elevate promising two-generation policies and community solutions. Learn more at www.ascendprogram.org.
The Aspen Institute is an educational and policy studies organization based in Washington, DC. Its mission is to foster leadership based on enduring values and to provide a nonpartisan venue for dealing with critical issues. The Institute is based in Washington, DC; Aspen, Colorado; and on the Wye River on Maryland's Eastern Shore. It also has offices in New York City and an international network of partners. For more information, visit www.aspeninstitute.org.
###
Related Posts
Today, Ascend at the Aspen Institute announced that eight Historically Black Colleges and Universities (HBCUs) and Tribal Colleges and Universities (TCUs) have joined its Black and Native Family Futures Fund.
Today, Ascend at the Aspen Institute (Ascend) released the second season of "1 in 5," its highly rated podcast that explores the multifaceted lives of the one in five college students raising children.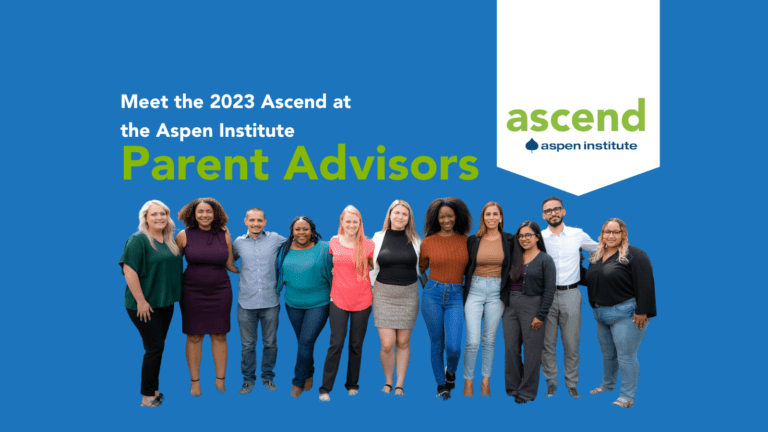 Today, Ascend at the Aspen Institute (Ascend) announced that 11 new Parent Advisors have joined its Postsecondary Success for Parents initiative (PSP) to help shape Ascend's expanded agenda to improve higher education policy and practice for student parents.