Book Talk with Nicole Lynn Lewis on Pregnant Girl: A Story of Teen Motherhood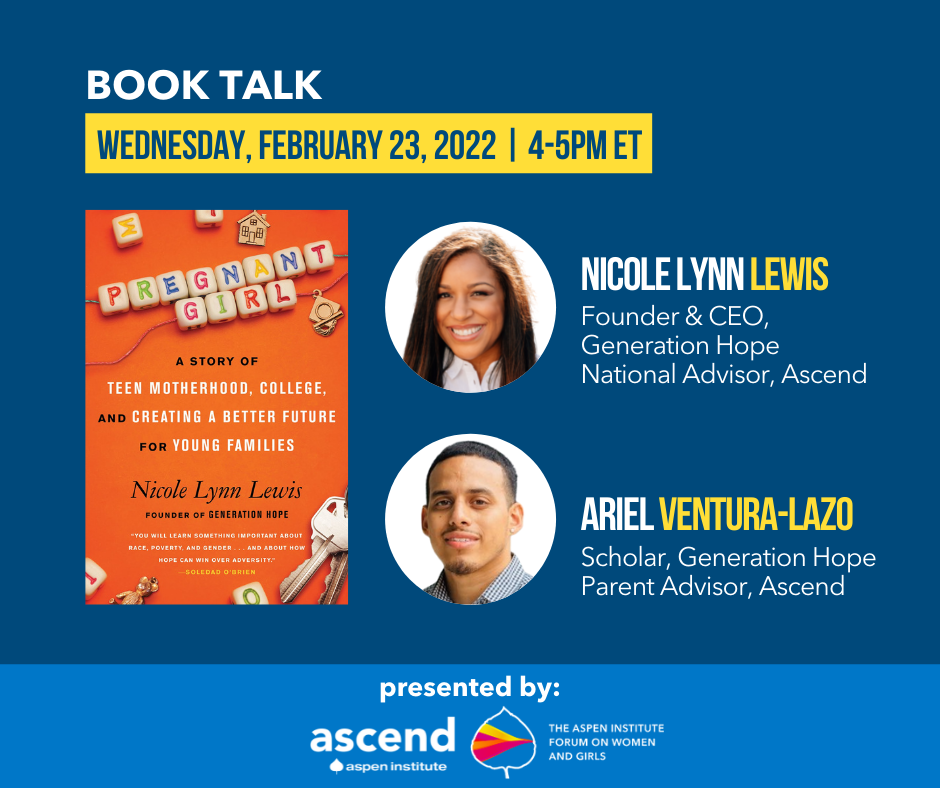 Ascend at the Aspen Institute and the Aspen Forum on Women and Girls are hosting a virtual book talk Wednesday, February 23, 2022 from 4-5PM ET with Nicole Lynn Lewis, founder and CEO of Generation Hope about her critically-acclaimed book Pregnant Girl: A Story of Teen Motherhood! As a former teen mother who put herself through the College of William & Mary with her three-month old daughter in tow, Nicole will share her journey as a leader and trailblazer to spotlight the experiences of the more than four million student parents across the country. The virtual book talk will be moderated by Generation Hope Scholar Ariel Ventura-Lazo, a father of two and first-generation American who was the first in his family to attend college.
Through Ascend at the Aspen Institute's Postsecondary Success for Parents (PSP) Initiative and nonprofit Generation Hope, both Nicole Lynn Lewis and Ariel Ventura-Lazo have drawn from their own lived experiences to improve policies with and for fellow student parents. Nicole leads Generation Hope, an Ascend Network Partner, and works nationally with institutions and policymakers to help teen parents achieve their dreams in college and beyond. Generation Hope Scholar Ariel shares the same mission, and recently served as a PSP Parent Advisor to design the Aspen Parent Powered Solutions Fund, the first ever student parent-led fund for organizations dedicated to supporting student parents like himself.
Celebrate the strength and resilience of young student parents, particularly single mothers and move the conversation forward to help them actualize their dreams. See information below to save your spot