Unpacking What it Takes to Create a Better Future for Student Parents and their Families
Listening to and learning from our parent leaders is at the heart of our work at Ascend at the Aspen Institute. And our Postsecondary Success for Parents Initiative specifically focuses on illuminating the experiences of the 1 in 5 college students who are parents. So our Ascend team was thrilled to join forces with our colleagues at the Aspen Forum on Women and Girls to host a virtual book talk with Nicole Lynn Lewis, author of Pregnant Girl: A Story of Teen Motherhood, College, and Creating a Better Future for Young Families.
After reading this personal memoir last year, I was inspired by Nicole's journey from former teen student mother to founder and CEO of nonprofit Generation Hope, an Ascend Network Partner dedicated to supporting teen parents in college and their children. Through her experiences fighting for resources to put herself through the College of William & Mary while raising her three-month-old daughter, Nicole discovered her true calling to build a brighter future for the more than four million student parents across the country. This powerful book also showcases how the higher education system in our country excludes and neglects certain populations–it's an indictment of how colleges neglect student parents.
It was only fitting to have Ariel Ventura-Lazo, an Ascend Parent Advisor and Generation Hope Scholar whose story is featured in Nicole's book, facilitate the conversation. Ariel is a student father of two currently enrolled at George Mason University, first-generation American who was the first in his family to go to college, and now the founder of Foundation Fatherhood. Alongside Nicole, Ariel shared his own experiences and insights to unpack the needs of student parents and how addressing them is critical for advancing racial and gender equity.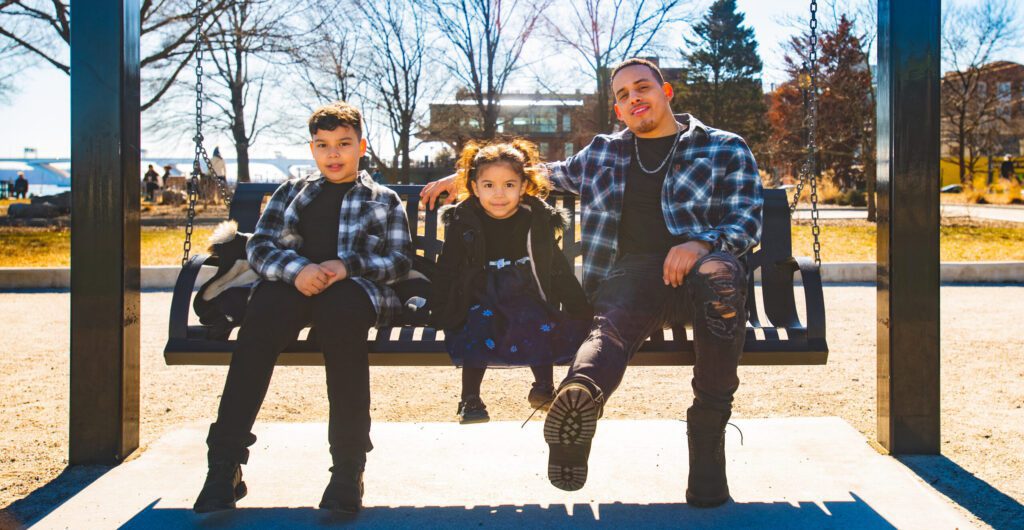 Together, Nicole and Ariel underscored:
Gender Equity and Perception of Student Fathers
Nicole: "Student fathers have not been engaged, perpetuating negative stereotypes and stigmas, especially for fathers of color. That's why it's incredibly important to elevate them and share the stories. My book wouldn't be complete without Ariel's. If we are really invested in economic mobility for families, we have to be invested in both parents."
Affordability and Accessibility of Basic Needs
Nicole: "Not only did parents go remote, their children did too. Everything is multiplied as a student parent – the need for food, technology, financial aid. When institutions consider what student parents need, it supports everyone."
Mental Health and Well-Being
Ariel: "Based on research conducted by Ascend and the JED Foundation, student parents face extreme stress, higher rates of basic needs insecurity, and less of a sense of belonging on campus. We have to work harder, but we take it all in stride."
Racial Inequities Exacerbated by COVID-19
Nicole: "The pandemic laid bare that too many student parents fell through the cracks. We needed to innovate. The name of the game was flexibility – creating environments that met each student parent where they are. We encourage all institutions to look at everything that they do through a student parent lens."
Ariel: "Student parents will only be as successful as the systems and policies in place allow us to be. The pandemic has provided an opportunity to reimagine and rebuild our systems to better serve these students. We have to push back."
COVID-19 has shown just how broken our safety net is and the exclusionary systems and policies that keep parents, especially parents of color, from completing postsecondary credentials. It is past due to reimagine how our policies and institutions can open postsecondary pathways for parents and invest in their young children. Bringing diverse leaders together, raising awareness, and making sure parents have a seat and a say in their education are key as well as increasing data collection on parenting status, codifying practice innovations, and advancing a shared policy agenda.
With 260 registrants and over 100 unique viewers joining us for our first PSP book talk, I was delighted to hear from so many new and familiar faces from all over the country. The honest comments and candid moments exchanged made for such an engaging conversation that I often found myself forgetting we were only connected by a screen. The student parent movement is real and growing. These bonds are what keeps it going.
On behalf of Ascend and our partners, thank you to everyone who joined us in celebrating the strength, resilience, and leadership of student parents like Nicole and Ariel. We've got so much work ahead, but I am inspired to build momentum to move the sector closer to our ideal – where every parent enrolled in a postsecondary pathway completes a credential and moves into a meaningful job. Together, we can ensure long-lasting impact on economic security for student parents and their families for generations to come.
Related Posts
In an Inside Higher Ed article, David Croom and Generation Hope provide important perspective into why the student parent population is important for higher education institutions to prioritize.

Today, Ascend at the Aspen Institute (Ascend) released the second season of "1 in 5," its highly rated podcast that explores the multifaceted lives of the one in five college students raising children.

Growing up, Isis Patterson and her family were constantly operating in survival mode. School offered her the safety and security she lacked at home, so she took a liking to it. When she found out she was pregnant at 15, she kept herself immersed in her schoolwork, graduated with honors, and received a full-ride scholarship …
'1 in 5' Season 2 Episode 10: Meet Isis Patterson Read More »
Featured from the Ascend Community