Measuring Transformative Impact for Whole Families
We know that for children to thrive, their whole family needs to be well. Two-generation approaches (2Gen) recognize children and the adults in their lives' well-being and success are intertwined, so 2Gen organizations simultaneously track outcomes for both children and the adults in their lives together. There is a strong and growing knowledge base supporting this intergenerational connectivity, but there is still progress to be made in enabling the field to utilize research that supports 2Gen approaches and improve their capacity to effectively implement evaluation and learning strategies.
One of the largest federal research investments in the 2Gen approach is the Next Steps for Rigorous Research on Two-Generation Approaches project from the Office of Planning, Research, & Evaluation (OPRE) within the Administration for Children and Families (ACF). OPRE has created a learning community of ten organizations – all of which are Ascend Network Partners – and is working with Mathematica on a study to 1) conduct formative evaluation of their 2Gen programs, 2) strengthen each organization's capacity to effectively evaluate program efficacy, and 3) pilot a measure of important constructs for future 2Gen initiatives. This initiative started off in 2019 and is set to share out their project learnings in the next month. We sat down with three of these initiatives' leaders to learn what results they've seen and to gather their insights and recommendations for other organizations as they progress on their 2Gen measurement and evaluation journeys.
Brighton Center
Newport, Kentucky
"One way we were able to move the needle for families and deepen the impact of our programs was by centering family voices and perspectives directly in our logic model. This went a step further for us than just having parents participate in a focus group. We looked at how we could really center family voice and have it show up in our strategies. By working with families to develop our logic model and improve upon it with multiple feedback loops, we learned we were giving parents leadership opportunities and shifting power dynamics. That changed our understanding of partnerships, how our strategies showed up, and it helped us improve how we look at our logic model to be more family-centric rather than just funder-centric."

Melissa Hall Sommer – Senior Vice President, Brighton Center
Center for Transforming Lives
Fort Worth, Texas
"On a quarterly and annual basis, we look at variables in our evaluation plan and how participants are progressing. Through this process, we've promoted a growth mindset – celebrating when things are going right AND when we realize things aren't because being able to identify and solve shortcomings is our pathway to innovation. We all want positive results for participants, and we want to see lives changed and improved, so we try to take out the negativity and worry of evaluation."

Carol Klocek – Chief Executive Officer, Center for Transforming Lives
Valley Settlement
Glenwood Springs, Colorado
"Program staff are heavily involved in evaluation from the beginning to end of our annual cycle. They provide insights on data during an annual 'evaluation retreat,' recommend program adjustments for the coming year, and make decisions within their program teams on which strategies and outcomes to measure in the future. Now, thanks to the team at Mathematica and their work in the Next Steps for Rigorous Research on Two-Generation Approaches project, we are equipped with easy and actionable strategies to engage in rapid-cycle learning throughout our annual evaluation cycle. This will be especially helpful as we build and test new programming components in partnership with families."

Kenia Pinela – Director of Programs and Innovation, Valley Settlement
For more background and resources on 2Gen evaluation, download ACF's 2Gen Logic Model Brief and check out our Making Tomorrow Better Together report series:
Ascend's Building Evidence Learning and Action Community is currently working to develop a 2Gen research agenda. Stay tuned as we share updates from this group, and listen to insights shared from several of these partners during the Redefining the Research Opportunity session at the 2023 Aspen Forum on Children and Families.
Related Posts
The 2Gen Accelerator Community is a new effort bringing together 15 local and national organizations with best practices for two-generation (2Gen) or whole-family approaches.
Three Ascend Network Partners offer proven, practical examples of how to use a 2Gen approach when working together with families with disabilities.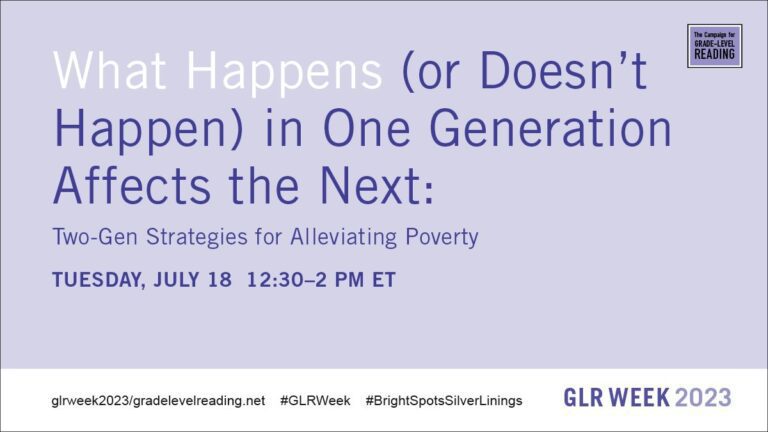 This Campaign for Grade-Level Reading Week session discussed two-generation (2Gen) strategies to achieving improved outcomes for families.
Featured from the Ascend Community