Announcing: Ascend Welcomes Inaugural Morgridge Communicator in Residence
Contact: Lindsay Broyhill
Ascend at the Aspen Institute
lindsay.broyhill@aspeninstitute.org
Ascend Welcomes Inaugural Morgridge Communicator in Residence 
Washington, DC – Ascend at The Aspen Institute is thrilled to welcome the inaugural Morgridge Communicator in Residence, Danielle Kristine Toussaint. This strategic role was created in partnership with Morgridge Family Foundation and will amplify the stories, impact, influence, and innovation that have emerged from Ascend's esteemed community of fellows, all leaders implementing a continuum of two generation solutions through policy, research, and systems change.
In this new role, Ms. Toussaint will be a senior member of the team bringing the power of storytelling to our leadership, systems, and policy change work. She will lead executive communications initiatives and develop strategic communications partnership. She brings over fifteen years of experience in social enterprise and nonprofit leadership and a deep commitment and passion for advancing educational and economic equity. Most recently, as founder and chief storyteller at She Thinks Purple, a women-powered creative agency, she partnered with impact-driven entrepreneurs and nonprofit leaders to tell inspiring brand stories. She has been the writing pen behind op-eds and speeches for Huffington Post, Forbes.com, and TEDx, and her book, Dare to Think Purple, will be published by New Degrees Press in December 2020.
"Ascend is at a critical acceleration point in its journey, and there's no better time to invest in elevating the stories of impact and innovation of this robust network of leaders and partners. These stories have the power to catalyze our nation at a moment when we are hungry for leadership, for solutions, and for deeper connection."  – Carrie Morgridge
"This is absolutely the right moment to advance and amplify two generation solutions that will create family prosperity and well-being for this generation and then next. We have seen the power of storytelling in our work, and we're thrilled to have this partnership with Morgridge Family Foundation to elevate the leaders that are helping our nation keep its promise to children and parents."  – Anne Mosle
"Ascend's mission is personal and their vision for change aligns powerfully with my own. As the daughter of immigrants, I've seen within two generations how educational and economic attainment has unlocked opportunities in my own family. With the compounding health, financial, and educational crises that we are living through, it's an absolute privilege that my charge at Ascend is to amplify the stories of the people who are making a difference. We need this inspiration now more than ever."  – Danielle Kristine Toussaint 
Ascend at the Aspen Institute is the national hub for breakthrough ideas and collaborations that move children and their parents toward educational success, economic security, and health and well-being. We embrace a commitment to racial equity and a gender lens. For more information, visit https:ascend.aspeninstitute.org.
The Aspen Institute is a global nonprofit organization committed to realizing a free, just, and equitable society. Founded in 1949, the Institute drives change through dialogue, leadership, and action to help solve the most important challenges facing the United States and the world. Headquartered in Washington, DC, the Institute has a campus in Aspen, Colorado, and an international network of partners. For more information, visit www.aspeninstitute.org
###
Related Posts
Today, the Aspen Institute announced its 2023 Aspen Institute Ascend Fellows, 20 leaders from across the United States who are transforming systems so that all children and families can thrive.

Today, Ascend at the Aspen Institute announced that four community colleges from across the United States have been selected as partners to its Postsecondary Leadership Circle Activation Fund.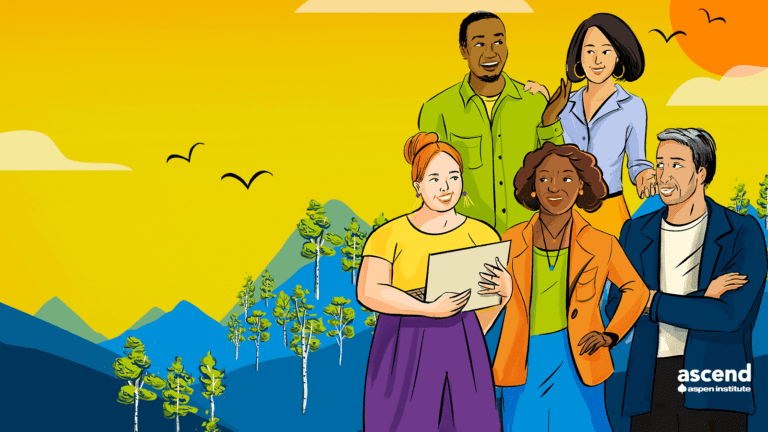 100 Ascend Fellows will join the Aspen community for two afternoons of conversations aimed at Building Well-Being for Children and Families and Prioritizing Joy and Human Thriving.