Greg Taylor
New York, New York
As Executive Director of the NBA Foundation, Greg Taylor is responsible for the strategic development, creation and implementation of programs and partnerships that advance the Foundation's efforts to increase access and support for high school, college-aged, job-ready and mid-career Black men and women. Additionally, Taylor oversees the administration of grants to national and local organizations that provide skills training, mentorship, coaching and pipeline development. Working closely with the NBA Foundation Board of Directors, Program Officers, National Basketball Players Association and all 30 NBA teams, he forms impactful partnerships and oversees support for national and local organizations in NBA markets and communities across the United States and Canada. Previously, Taylor served as Senior Vice President of Player Development for the NBA, leading the league's initiatives to assist players in their personal, professional and social development by building innovative programs in the areas of continuing education, financial management and mental health and wellness. Prior to joining the NBA in 2013, Taylor served as President and CEO of the Foundation for Newark's Future and as Vice President of Programs at the W.K. Kellogg Foundation, where he established strong relationships with local and national organizations and led a series of economic, education and youth development initiatives that supported youth and families of color.
My Truth
Finding the courage to speak my truth on a daily basis is akin to a street fight. Aggressions (micro or otherwise), societal inequity, or just the fatigue that I experience in altering my being just enough to make whatever audience I am addressing comfortable enough to hear ME all weigh heavily on my ability to authentically share my perspective with people outside of my immediate circle. As an African American man, I am constantly evaluating how I chose to show up in big and small interactions with the world around me. I reconcile this relentless battle by remembering to always speak my truth to those who ask for my opinion or express interest in my lived experience. The startling truth that guides my work and leadership is that I believe that in order to realize equitable communities for all I must complete these daily courageous acts: speak truth; authentically learn about divergent points of view; embrace the "uncomfortable"; and seek proximity to the inequity that I strive to eradicate.
Stories featuring Greg Taylor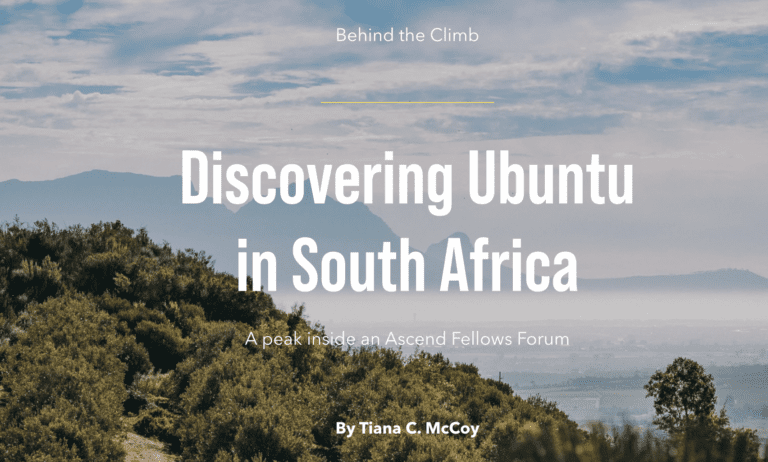 Tiana C. McCoy – Senior Associate, Operations and Convenings at Ascend – provides an inside look at the experience of a Fellows Forum.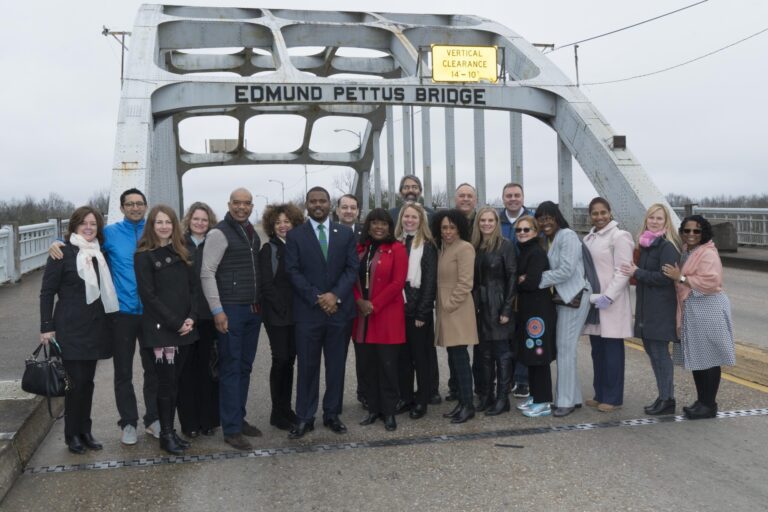 Image caption: Ascend Fellows at the Edmund Pettus Bridge in Selma, Alabama in 2018. Pictured left to right: Ann Kalass, Darius Tandon, Kirsten Lodal, Lori Severens, John Hudson III, Myla Calhoun, William Serrata, Dipesh Navsaria, Anne Mosle, Myra Jones-Taylor, Félix V. Matos Rodríguez, Laurie Miller Brotman, John Annis, Roxane White, Raquel Hatter, Sherece Y. West-Scantlebury, …
Poverty is the result of poor policy choices. These choices reflect our national values and decide who deserves access to opportunity to achieve their dreams and who does not. This flawed mindset has led to persistent inequities and a hollowing of our shared humanity. Change is possible. The choice is ours.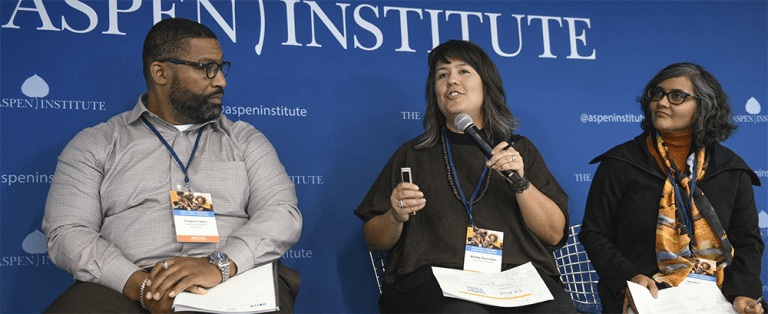 In February, Ascend launched the Aspen Family Prosperity Innovation Community in partnership with the Robert Wood Johnson Foundation to bring together some of the brightest minds and dynamic leaders across multiple sectors to identify new and different ways to ensure families in America find opportunity and thrive. Each member of Family Prosperity represents a thoughtfully-selected …
Bringing It All Together: Igniting Innovation for Family Prosperity Read More »