Bringing It All Together: Igniting Innovation for Family Prosperity
In February, Ascend launched the Aspen Family Prosperity Innovation Community in partnership with the Robert Wood Johnson Foundation to bring together some of the brightest minds and dynamic leaders across multiple sectors to identify new and different ways to ensure families in America find opportunity and thrive. Each member of Family Prosperity represents a thoughtfully-selected expert, from communities to the national level, Fortune 500 executives to direct service providers, that can cross-pollinate innovations, promising practices, and important perspectives.
My favorite part of this community is the strategic melding of these unlikely partners. Throughout the year, we have been layering in key components of the community: starting with a core cohort of policy and research organizations, building in a group of 13 private sector, policy, research, media, and community leaders to serve as advisors, and finally adding a selection of leading-edge community-based organizations from the expansive Ascend Network this fall.
The entire community recently came together for the first time – and it was powerful. They shared ideas and expertise to enable us to identify and promote innovative ways to support families with low incomes so that they have access to opportunities to thrive. Local nonprofits from Minnesota to Mississippi shared on-the-ground insights with national policy and research organizations like the American Enterprise Institute (AEI) and Urban Institute, and leaders from the National Basketball Association and FedEx shared perspectives on how family-supportive policies and practices might be most effectively implemented in the private sector.
There were so many light bulb moments during the convening that I think we could have powered our entire building. Here are my top 10 – in no particular order – that will strengthen our work together.
Change happens at the pace of trust. We can go further faster when people view us as trusted resources. Trust was a recurring theme; we talked about how to build trust with communities, policy makers, and partners. We can build trust by communicating our values and priorities in a plain, clear and resonant manner, showing up how and when we promise, and – above all – listening.
Set the agenda with the people you serve. Vicki Shabo of the National Partnership for Women and Families asked, "What would communities think about what we're doing and how it relates to their lives?" It's critical that we do our work with the people we serve, instead of to them. We should continually challenge ourselves to confirm that the problems we're addressing are the problems that need to be solved. How do we do this? Design the goals with the people we serve instead of just informing them.
Think locally, globally informed. Kaya Henderson of Teach for All challenged the group to learn from other countries' innovations and employ a network of global advisors to collect proven 2Gen ideas and practices from around the world. Communities around the world grapple with many of the same challenges as the United States and some have artfully revolutionized family support in ways that we can learn from.
Act on moral urgency. Princeton University psychology professor Eldar Shafir introduced the idea of "moral urgency." Eldar reminded us that our work is for good – and our moral cause shouldn't be downplayed. We need to awaken both the heart and the head in our engagement efforts.
Find the gatekeepers to help scale. During a small group brainstorm about how to "go in through the health door" on family support issues, we discussed that if you want to engage school nurses, the best way to do so is through the hospitals by which they are employed. If we want to scale our work, we need to think about whether there is a gatekeeper who can help us scale our efforts.
Track policy through to implementation. As Wendy Chun-Hoon of Family Values @ Work said, "No policy change matters if it is not implemented well." It was an important reminder to stay in contact with entities responsible for promulgating rules, distributing funding, and monitoring the policies for which we advocate.
Break down siloes. We must break down the divisions between the business, policy, health, education, legislative, and even sports and entertainment sectors to advance policies and programs that can better serve working families.
Be mindful of your messengers. Policy advocates aren't always the most persuasive messengers. Consider whom you need to reach and to whom they listen. For example, obstetricians would be excellent messengers to communicate with new mothers about paid family medical leave policies.
Pay attention to the polls. While all politics are local, we need to understand national attitudes about our issues. We heard from Democratic pollster Celinda Lake of Lake Research Partners and Republican pollster Chris Wilson about the results from the midterms and how they will affect our collective efforts. We know there's a great deal of public support for issues that will help families thrive, and we need to leverage that support to move our policies forward and engage more people in our cause.
Continue to center racial and gender equity in our work. We embrace a commitment to applying a racial and gender equity lens to our work, which is critical to ensuring that all working families benefit from and are supported by our policy efforts. Throughout the convening I heard members, such as Natalie Vieira of All Our Kin when she spoke about childcare, lift up the importance of centering race and gender equity in policy and program design and implementation. If we skip this step, we miss an opportunity to be equitable in our approach, counteract implicit bias in our work, and end intergenerational poverty.
Our community is united by our common goal of creating better outcomes for children and families. I'm inspired and encouraged by the new connections and unconventional partnerships sparked by Family Prosperity. Our latest convening opened the door for powerful innovation.
As Aspen Institute President and CEO Dan Porterfield said in his opening remarks, one tiny acorn becomes a mighty oak, and that tree in turn can create a great forest – a legacy. Each new innovation we create together with Family Prosperity has that same potential. Stay tuned for more from Family Prosperity, as we release a portfolio of innovative strategies and solutions for family prosperity in 2019.
Photo caption, from left to right: Greg Taylor, senior vice president of player development at the National Basketball Association; Wendy Chun-Hoon, co-director of Family Values @ Work; Pronita Gupta, director of job quality at the Center for Law and Social Policy.
Credit: © The Aspen Institute: Photo by Riccardo Savi
Related Posts
The Aspen Family Prosperity Innovation Community Phase II sought to find and foster the most effective and innovative strategies to accelerate social and economic mobility for working families with low incomes. To do so, we elevated the voices and expertise of families with lived experience, were guided by 14 advisors, and we brought together 20 …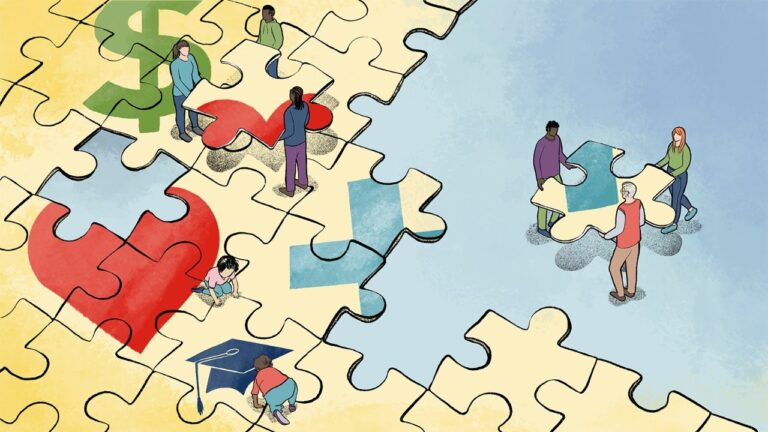 In a blog post authored by Trene Hawkins of Robert Wood Johnson Foundation, Ascend's Managing Director Marjorie Sims shares how Ascend harnesses parent and caregiver leaders' expertise to create policy and systems change in communities and organizations.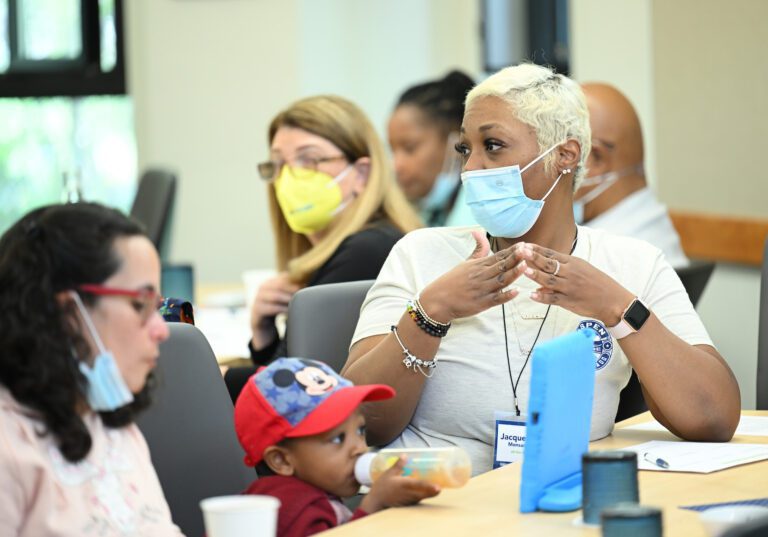 As an organization with a vibrant Early Head Start program and a two-generational approach to alleviating poverty, All Our Kin has been a proud partner in Ascend at the Aspen Institute's Family Prosperity Innovation Community. Being part of this group among 20 partnering organizations has given All Our Kin the opportunity to bring its innovative model …
Mom and Son Duo Reflect on Family Prosperity Convening Read More »
Featured from the Ascend Community