WEBINAR: Achieving Postsecondary Success for Parents: A New Partnership and Report Recommendations
Parents know what researchers have documented: Education, especially postsecondary education, is the most promising path for families toward this economic stability because it can lead to jobs and careers with living wages to support their families and make their children's lives better.
After announcing a new partnership with Omidyar Network and two reports that lift up recommendations for policymakers and practitioners working to advance solutions for student parents, Ascend held a webinar – "Achieving Postsecondary Success for Parents: A New Partnership and Report Recommendations" – to share more about the new project, findings from initial reports, and upcoming publications to be released in 2019.
Speakers:
Kristin Bernhard, Ascend Fellow; Deputy Commissioner for System Reform, Georgia Department of Early Care and Learning
Marni Roosevelt, Director, Los Angeles Valley College Family Resource Center
Vinice Davis, Venture Partner, Omidyar Network
Yolanda Johnson-Peterkin, Parent Advisor, Ascend; Chief of Housing Community Activities, New York City Housing Authority
Check out the webinar recording on our GoTo channel here.
Speakers provided an overview of the Postsecondary Success for Parents Initiative and highlighted the partnership with Omidyar Network, presented recommendations for leveraging the two-generation approach to support parents in postsecondary practice and policy, and elevated student parent voice and perspectives of model strategies supporting postsecondary success for parents.
Related Posts

What does college success look like for Black and Native student parents? This podcast episode sheds light on student parents' and administrators' experiences at Historically Black Colleges and Universities, or HBCUs, and Tribal Colleges and Universities, or TCUs.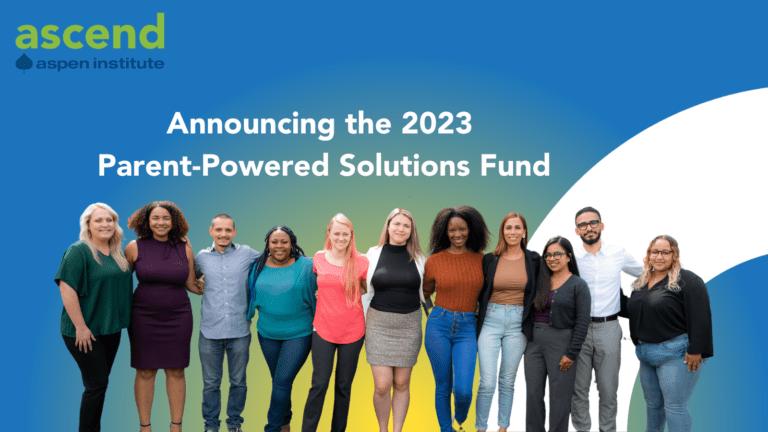 Ascend at the Aspen Institute is excited to announce the launch of the 2023 Parent-Powered Solutions Fund, which will provide financial resources and technical assistance to nonprofit organizations and institutions focused on increasing postsecondary success among parents.
Reflections on the experiences, challenges, and joys that shape the life of student father and Ascend PSP Parent Advisor Christian Ortiz.