Four Key Practices to Support Refugee Families
Every June, the US celebrates Immigrant Heritage Month. June 20th is World Refugee Day, which honors the many individuals and families who were forced to flee their homes due to the fear of persecution for reasons of race, religion, nationality, political opinion, or membership in a particular social group.
Since the withdrawal from Afghanistan last August, tens of thousands of Afghans have been evacuated to the US. In Europe, Russia's invasion of Ukraine has led to the worst refugee crisis on the continent since World War II. As a mother, World Refugee Day has more meaning for me now than before I had children. I watched as children and parents navigated impossible situations, making me wonder what I would do in their place.
Each year, tens of thousands of refugees resettle in the United States. Many come not as individuals but as families. They have the same family ties, dreams, and aspirations for their children. Yet instead of everyday worries like making it to school pick-up on time, refugees face challenges like adjusting to a new culture, new climate, new language, and new economic way of life. These come after they have already faced arduous journeys and impossible choices.
We are all responsible for creating a safe, welcoming home, but resettling families is hard work. Across the country—in rural, suburban, and urban areas—organizations and communities have stepped up and worked with families to solve problems and access new resources.
To help families cope with loss, trauma, and isolation, community leaders and practitioners are using the two-generation (2Gen) approach that honors their experiences and builds off their strengths as a whole family. By working with children and the adults in their lives to engage the entire family, organizations are helping them resettle and reach their full potential.
In September 2021, the Institute's Communities Strategies Group and the Migration Policy Institute's National Center on Immigrant Integration Policy launched a four-part series, Working with Immigrant and Refugee Families: Spreading and Adapting 2Gen Practices, to identify both the challenges and 2Gen solutions. They identified four essential practices. To illustrate these innovations and best practices, the groups connected with Ascend Network Partners to learn how they operationalized practices in four related categories:
1. Practices to build trust
At Hispanic Unity of Florida, Executive Director Pinzon said that to build trust with their community, "We listen, we care, we connect." The main ways by which they build trust include:
Intentionally hiring current and former clients as part-time or full-time staff
Reaching out to families directly, not waiting for families to contact them
Simplifying the intake process toward a single entry point
2. Practices that work with families with differing legal statuses
At Chicago Commons, staff determined that varying legal statuses in one family would not impede working with the entire group. They intentionally implemented the following practices to support mixed-status families:
Ensuring that staff understand the community's fears and educate themselves about relevant laws and federal rules
Prioritizing mental health and delivering trauma-informed care for families and staff
Partnering with legal aid organizations to help immigrant families understand their options based on their immigration status
Providing an opportunity for income generation through the Pathways for Parents Program, which helps parents open home daycare businesses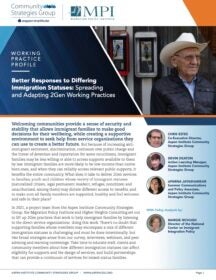 3. Practices that grow language skills
Understanding the host country's language can be a significant barrier for families, not only for quality employment opportunities but also for navigating everyday tasks for themselves and their children. Charlotte Bilingual Preschool responded to community needs by:
Shifting an all-English preschool curriculum to a dual-language program
Hiring bilingual and bicultural staff
Offering adult ESL classes over three levels of language training: basic, intermediate, and professional development, the third of which allows students to pursue career education and advance their employability while improving their language skills.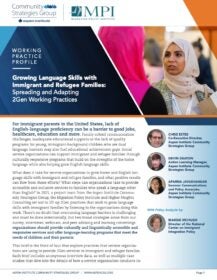 4. Practices that develop cultural competency
Cultural competency can manifest in several ways; however, achieving cultural competency almost always requires a set of practices that create trusted feedback loops for practitioners to receive truthful and relevant information. The Family Partnership has been building those skills for decades. Since the late 1990s, these activities include:
Mapping out where families live, block by block
Knocking on doors to learn more about the families' needs
Economic analyses of neighborhoods
Training grassroots community advocates in immigrant and minority populations
Developing a state-wide family strengths assessment
Hiring community builders who were representative of the community they serve and knocked on doors to bring services to families
Developing the Diversity and Social Work Advancement Program to provide culturally congruent mental health services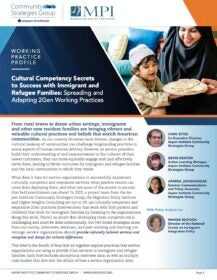 As I think about refugee families fleeing their homes in search of safety and stability, I am proud to share practical lessons from community-based organizations and Ascend network partners. These groups intentionally welcome and support families in a way that centers their voice and experience. I look forward to celebrating the many contributions these parents and children make to create a stronger, more vibrant country for us all.
Related Posts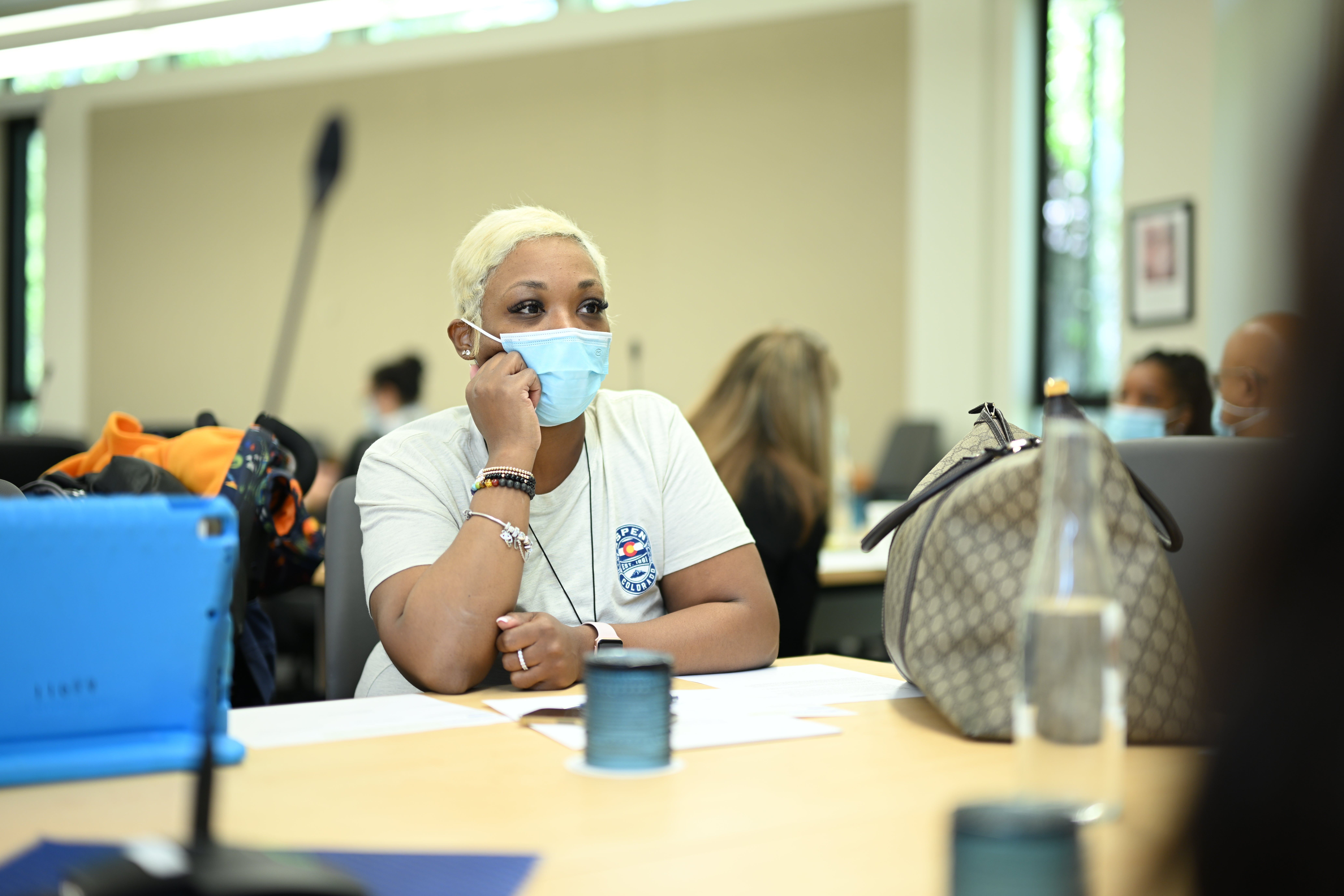 As an organization with a vibrant Early Head Start program and a two-generational approach to alleviating poverty, All Our Kin has been a proud partner in Ascend at the Aspen Institute's Family Prosperity Innovation Community. Being part of this group among 20 partnering organizations has given All Our Kin the opportunity to bring its innovative model …
Mom and Son Duo Reflect on Family Prosperity Convening Read More »
In episode 14 of the City of Kalamazoo's Shared Prosperity podcast, Ascend's Sarah Haight sits down with Kevin Ford, the city's Shared Prosperity Kalamazoo Coordinator. Throughout their discussion, they speak about the two-generation (2Gen) approach to improving family and community well-being.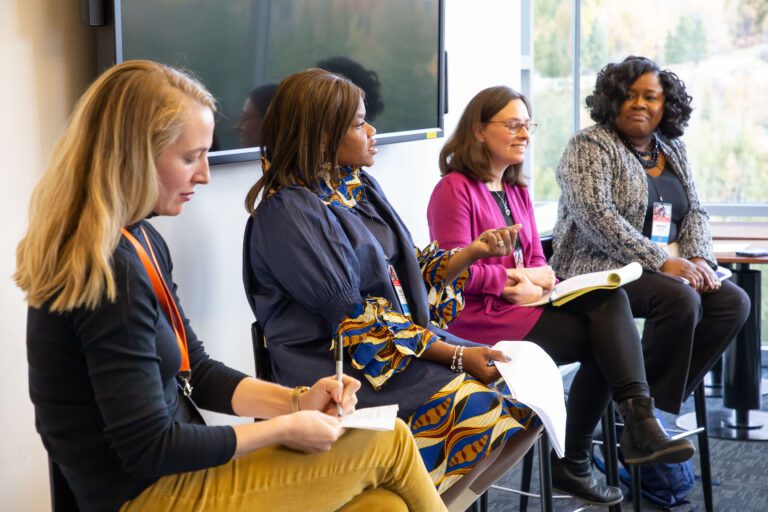 Intake forms are important because you never get a second chance to make a first impression. I'm heartened by Ascend Network partners' efforts to simplify intake processes for families with low incomes involved in two-generation (2Gen) programs.
Featured from the Ascend Community