Pivoting at PelotonU: How One Higher Ed Nonprofit's Response to COVID has Facilitated Student Success
"Not even this COVID-19 is going to stop me."
That's what Monisha texted back to her PelotonU coach in mid-March just days after we'd updated our new cohort that their promised in-person coaching and study spaces would need to be virtual for the foreseeable future. We gave each of the 30 students set to join us the choice: start virtually now or wait until we resumed our regular programming – this was back in March when we all hoped the pandemic would be over by summer.
Monisha was one of our first students to lose her job due to the pandemic – and her child care. PelotonU students, like many in our community, are feeling the impact of COVID-19 and its related employment consequences. Our student body is 71 percent women, 48 percent parents, and 78 percent at or below 200 percent of the federal poverty line. Fifteen percent of PelotonU students have lost jobs, and even more are experiencing food and housing instability.
Although there's certainly been a tremendous amount of pain and suffering for the 200+ students we serve at PelotonU, there's also been tremendous cause for hope: our parents with children at home are actually out-performing the rest of our student body; 10 of our students have earned degrees since COVID hit; and students who have only known us virtually are persisting at rates 10 percent higher than our historical numbers.
At PelotonU, our mission is to provide working adults with a pathway and the support to graduate from college. We started our program because 74 percent of the college-going population is now considered post-traditional – a fancy term that means folks are older than 24, commuting, attending part-time, working 30+ hours a week, or caring for a kid – but just 10-20 percent of these students ever graduate. It makes sense, though, because college wasn't built for them in the first place.
PelotonU redesigned the college experience to ensure it's built for all of today's students, which means it's both flexible and supportive. We've struck this balance by blending a new form of online learning called competency-based education (CBE) alongside coaching and community to foster transformative outcomes. As a result, 80 percent of our students persist, and 85 percent will graduate on time with fewer than 15 percent of students taking out student loans averaging just $6,000 or less.
Pre-COVID, our support depended on being in person – weekly face-to-face meetings with a coach, study spaces around town, and a community of peers to support and help each other along the way to graduation. We've long clung to the value, both tangible and intangible, of providing these in-person supports alongside our students' high-quality online degree programs. Had it not been for COVID, we would never have considered a fully virtual version of our model and the accompanying implications it has for our program and future innovations.
We closed our study spaces on Friday, March 13 and quickly surfaced three key mandates:
Rebuild Programs – It's not enough to make our programs virtual: that's the classic mistake for most of higher education. We redesigned each part of our model to express our values in an online context. For example, community-building used to occur in study spaces; now we've broken the two distinct elements (academic support and a sense of belonging) into discrete projects with new tech and proactive outreach.
New Student Supports – In the past, we focused on scholarships as the key tool to support students. Now, as we learn from students about what they need, we're expanding this focus. So far that's included getting computers and hotspots to every student, deploying $20,000 in emergency bridge grants and scholarships, and deputizing a coach to become an overnight expert in unemployment. As we learn more, these investments will continue to adapt.
Plan for The Future – When shelter-in-place is lifted and students go back to gathering in person, the world will look a lot different. The employment landscape, sense of public safety, and beliefs about education will all shift. To that end, we're planning for how to redesign our spaces and what to retain from the virtual tests we're running now.
The second focus has been most pressing for our students. Our work revolves around a trusted relationship between student and coach, which has allowed us to quickly expand our focus to now include proactive interventions around basic needs and employment. One of our coaches has become an unemployment navigator. She is an expert instructor, with over 12 years of university teaching experience, and used her skill set to quickly build content and provide individualized training for each student related to filing for unemployment.
We also launched a $20,000 emergency bridge grants program for our 234 active students and alumni. Grants are capped at $200 per student and targeted to meet immediate needs related to food security, late bills, and caring for children at home. Although we first launched it only for basic needs, we quickly learned that many students were going to need one-time support with tuition, as well, as their own discretionary spending shrank quickly with changing income and job scenarios.
Perhaps most importantly, we've now seen our students "bounce back" and return to their pre-COVID levels of academic success, with the median pace to a bachelor's degree hovering at just around 4.5 years. As we disaggregate to ensure equity across types of student, we see few negative outliers (folks who have lost their jobs due to COVID are struggling the most) and some positive outliers: parents with kids at home, students with DACA status, and Black or African-American students are doing better than the average in many key metrics.
Their success has challenged our assumptions about just how valuable the 'in-person" part of our support is. Although we don't expect to abandon this completely – we'll likely shift from requirement to optional feature – we are realizing that COVID has revealed some new ways we can expand access to more students, including some who couldn't have done our program before because of the in-person requirements. Our students are telling us that it's our approach to coaching and support – one that has always focused on the emotional and psychological barriers in our students' way first, then logistics, then academics – that's facilitating their success and resilience during these unprecedented times.
Shortly after Monisha started with us, she found out that baby #3 was on the way. With a new work-from-home job and the pregnancy, she decided to "pause" with PelotonU and return in August. Since giving birth, Monisha's commitment to her studies is stronger than ever. She has resumed courses at PelotonU, which offers students Associate's and Bachelor's degrees from Southern New Hampshire University and other accredited nonprofit colleges. No matter if students need to stop out, they know we'll be waiting for them when they're ready to come back.
Sarah Saxton-Frump is chief operating officer at PelotonU. She is a National Advisor with the Ascend Postsecondary Success for Parents Initiative.
Photo of students discussing a school project provided by PelotonU.
Related Posts

What does college success look like for Black and Native student parents? This podcast episode sheds light on student parents' and administrators' experiences at Historically Black Colleges and Universities, or HBCUs, and Tribal Colleges and Universities, or TCUs.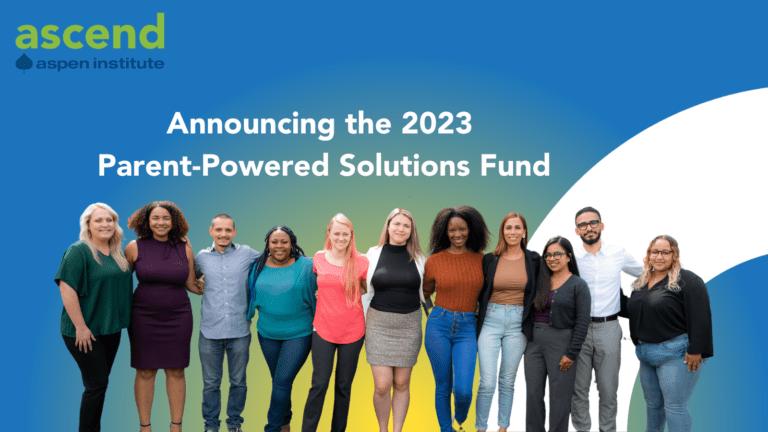 Ascend at the Aspen Institute is excited to announce the launch of the 2023 Parent-Powered Solutions Fund, which will provide financial resources and technical assistance to nonprofit organizations and institutions focused on increasing postsecondary success among parents.
Reflections on the experiences, challenges, and joys that shape the life of student father and Ascend PSP Parent Advisor Christian Ortiz.
Featured from the Ascend Community