'1 in 5' Season 2 Episode 7: Learn About Generation Hope
Today, Nicole Lynn Lewis is an accomplished author, CEO of Generation Hope, and mother of five. But she didn't always feel a sense of stability and pride. When she arrived on campus with her three-month old daughter, she instantly felt out of place and didn't know who to turn to for help. Her feelings of isolation, financial stress, and a lack of community later inspired Nicole to create her nonprofit, Generation Hope, that supports the mental health journeys of student-parents. Generation Hope offers resources parents need to thrive in college, so that other parents can confidently achieve educational success.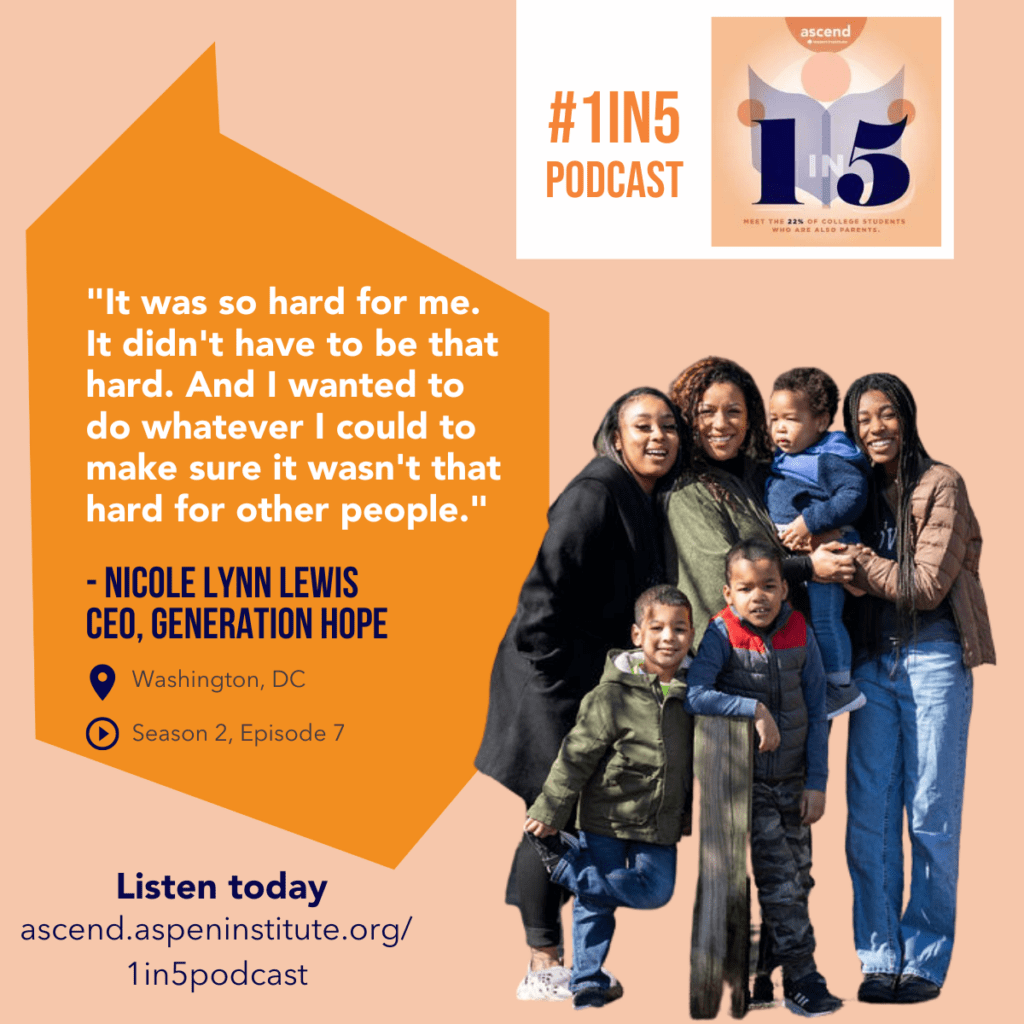 Listen
You can read the episode transcript here.
Resources
Generation Hope's Scholar Program surrounds teen parents with mentoring, tuition assistance, a peer community, and other vital, wrap-around services to help them earn their degrees. Scholars receive mental health support, tuition assistance, mentoring, emergency funding, and more.
Next Generation Academy is Generation Hope's early childhood program. The Academy provides robust literacy, academic, and social-emotional supports so that the children of our Scholars enter kindergarten ready to thrive.
Related Posts
In an Inside Higher Ed article, David Croom and Generation Hope provide important perspective into why the student parent population is important for higher education institutions to prioritize.

Today, Ascend at the Aspen Institute (Ascend) released the second season of "1 in 5," its highly rated podcast that explores the multifaceted lives of the one in five college students raising children.

Growing up, Isis Patterson and her family were constantly operating in survival mode. School offered her the safety and security she lacked at home, so she took a liking to it. When she found out she was pregnant at 15, she kept herself immersed in her schoolwork, graduated with honors, and received a full-ride scholarship …
'1 in 5' Season 2 Episode 10: Meet Isis Patterson Read More »
Featured from the Ascend Community