'1 in 5' Season 2 Episode 8: Meet Nicole Alkire Grady
Nicole Alkire always excelled in athletics and academics at Standing Rock High School in North Dakota. But being a survivor of childhood sexual abuse meant Nicole turned to dating, and eventually alcohol, to cope with the trauma. In high school, she became a mother and worked hard to graduate – leaning on the support of her family and especially her mother. Nicole was determined to go to college, and she tried several options to find a place with the right support for her growing family. She eventually found help for her substance abuse and
reconnected with her Lakota values. Today, Nicole is pursuing a legal career.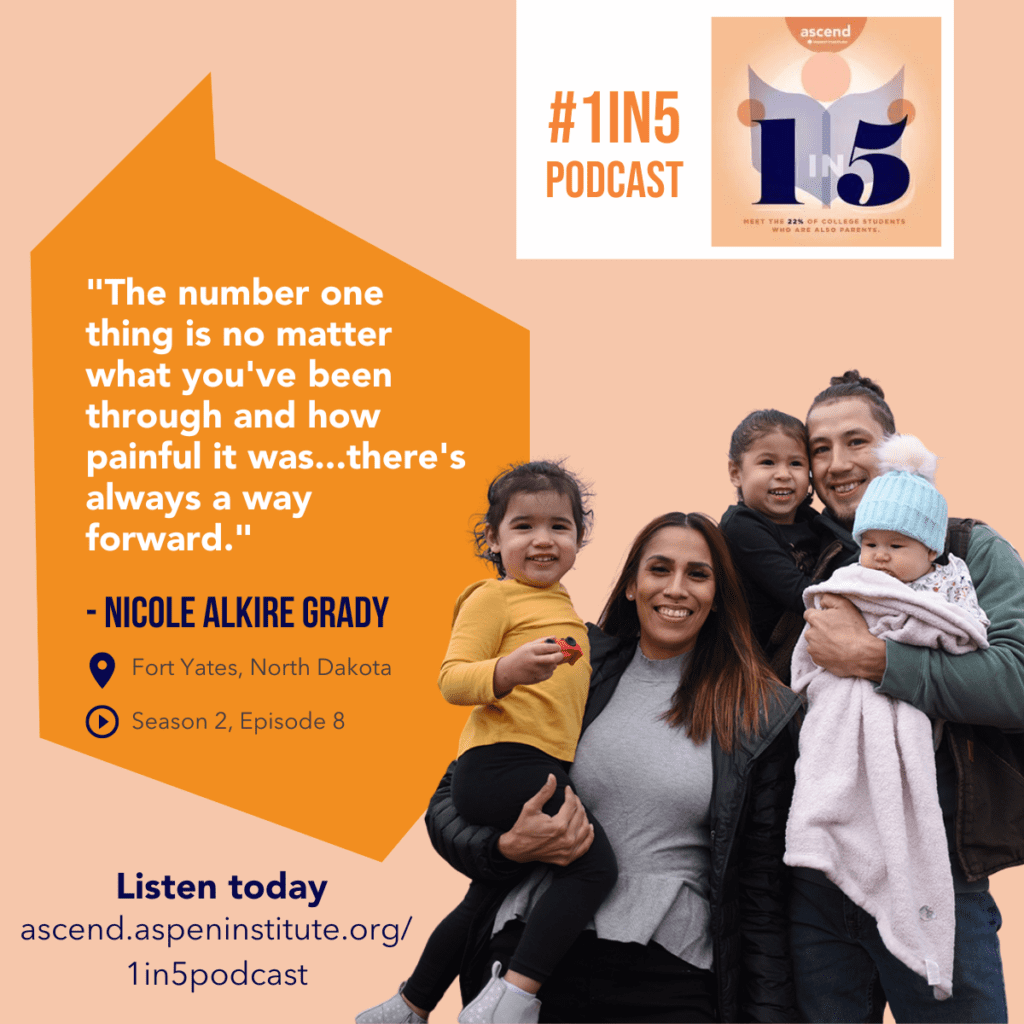 Listen
NOTE: This episode contains references to childhood sexual abuse and substance abuse. Anyone affected by sexual assault, whether it happened to you or someone you care about, can find support on the National Sexual Assault Hotline at 1-800-656-HOPE.
You can read the episode transcript here.
Resources
SAMHSA's National Helpline is a free, confidential, 24/7, 365-day-a-year treatment referral and information service (in English and Spanish) for individuals and families facing mental and/or substance use disorders.
American Indian College Fund supports Tribal Colleges and Universities in their efforts to strengthen education, Native communities, the environment, health and wellness, language and culture, emergent leadership, and infrastructure.
Ascend at the Aspen Institute's Black and Native Family Futures Fund is a new capacity-building fund that will provide financial support and expert technical assistance to selected Historically Black Colleges and Universities (HBCUs) and Tribal Colleges and Universities (TCUs) campuses that are committed to improving the success of their student parents.
Related Posts
In an Inside Higher Ed article, David Croom and Generation Hope provide important perspective into why the student parent population is important for higher education institutions to prioritize.

Today, Ascend at the Aspen Institute (Ascend) released the second season of "1 in 5," its highly rated podcast that explores the multifaceted lives of the one in five college students raising children.

Growing up, Isis Patterson and her family were constantly operating in survival mode. School offered her the safety and security she lacked at home, so she took a liking to it. When she found out she was pregnant at 15, she kept herself immersed in her schoolwork, graduated with honors, and received a full-ride scholarship …
'1 in 5' Season 2 Episode 10: Meet Isis Patterson Read More »
Featured from the Ascend Community