Katie Albright
Safe and Sound
San Francisco, CA
Katie Albright, JD, is the Executive Director of Safe and Sound (formerly the San Francisco Child Abuse Prevention Center), an organization dedicated to the prevention of child abuse and neglect, the promotion of healthy families, and the mental health of children. Her prior experiences include SF Deputy City Attorney representing public schools; SF Education Fund Policy Director leading a campaign to improve teacher quality and increase student retention; and Preschool California Co-Director of Policy & Outreach campaigning statewide for universal preschool. Prior to serving as an associate at Latham & Watkins and clerking for the US District Court in Maryland, she co-founded and taught in the Kayole-Gitau Nursery School & Community Center in Nairobi, Kenya.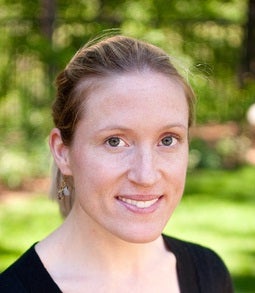 Cara Aley
Peachjar
San Diego, CA
Cara Aley is the Chief Operating Officer of Peachjar, a company that connects parents, programs, and schools with the goal of enabling every child to have the opportunity to achieve their full potential. Previous, Aley was the President and COO of American Mojo, a social venture that addressed the issues of mothers in poverty.  By providing new career paths and freedom from child care costs, American MoJo supported and celebrated its employees' drive to get their lives and those of their children on the right track.
Reggie Bicha
Shine Early Learning
Denver, CO
Reggie Bicha is the former Executive Director of the Colorado Department of Human Services (CDHS), with more than 5,000 employees and a budget of $2.2 billion. CDHS oversees the state's public assistance and child welfare programs, public mental health system, and juvenile corrections system.
State Human Services Model: Colorado as a Case Study for Policymakers
Mia Birdsong
Economic Security Project
Oakland, CA
Mia Birdsong is a Senior Fellows at the Economic Security Project. She was formerly the Co-Director of Family Story. She has spent more than 20 years fighting for the self-determination, and pointing out the brilliant adaptations, of everyday people. Most recently, she was the Vice President of the Family Independence Initiative (FII). Under her leadership the organization expanded and achieved national recognition. Through FII, she created and curated the Torchlight Prize, an award for groups of everyday people working together to strengthen their own communities.
Mia's TED Talk: The story we tell about poverty isn't true
Lindsay Chase-Lansdale
Institute for Policy Research, Northwestern University
Evanston, IL
Lindsay Chase-Lansdale, PhD, is the Frances Willard Professor of Human Development and Social Policy at the Institute for Policy Research and the Associate Provost for Faculty at Northwestern University. She is an expert on the interface between research and social policy for children and families, including a focus on two-generation educational interventions.
The Northwestern University Two-Generation Research Initiative
Karla Davis
Assisi Foundation of Memphis, Inc.
Memphis, TN
Karla Davis is Programs Officer at the Assissi Foundation of Memphis, which works with partners to address pressing challenges while also searching for root causes with the goal of creating community-wide transformation. She formerly served as Commissioner of the Tennessee Department of Labor and Workforce Development, overseeing 2,000 employees and a $220 million budget, including the Adult Education, Workplace Regulations and Compliance, Occupational Safety and Health, Workers' Compensation, and Employment Security divisions.
Steven Dow
CAP Tulsa
Tulsa, OK
Steven Dow has served as Executive Director of CAP Tulsa since 1992. CAP Tulsa embraces a two-generation anti-poverty strategy which focuses on providing high-quality early childhood education coupled with comprehensive family support services. CAP Tulsa has received national recognition for its innovative and effective approaches, having been honored in the initial class of the Annie E. Casey Foundation's Family Counts National Honors program, a member of the Fannie Mae Foundation Alliance, and named as a National Head Start Center of Excellence.
Christopher King
Ray Marshall Center, University of Texas at Austin
Austin, TX
Chris King, PhD, is a lecturer at the University of Texas at Austin's LBJ School of Public Affairs and a senior research scientist at the Ray Marshall Center, which he directed from 1991 to 2014. He co-led a team that designed CareerAdvance®, Tulsa's 2-Generation program, in 2008-2009 and has been evaluating the program with colleagues at Northwestern, NYU and Columbia since 2011. He co-chairs Austin's 2-Generation Advisory Committee, is on the Casey Foundation's Two-Generation Strategic Evidence-Building Advisory Group and leads the evaluation of the National Association of Workforce Boards' 2-Generation Initiative for the Kellogg Foundation.
Andrea Levere
Prosperity Now
Washington, DC
Andrea Levere has led Prosperity Now (formerly CFED) as its president since 2004. Prosperity Now's mission is to ensure everyone in our country has a clear path to financial stability, wealth and prosperity. Under her leadership, Prosperity Now launched the Campaign for Every Kid's Future in 2015. The Campaign will support the growth of the children's savings account field to ensure that at least 1.4 million children receive an account by 2020.
Steve Liss
Endicott College
Beverly, MA
Steve Liss is a documentary filmmaker, director of photography and associate professor of media at Endicott College in Beverly, Mass. Prior to that, he was a Time Magazine staff photographer for twenty-three years, where, as a licensed pilot, he flew himself to and from assignments across the United States. He is the former Director of American-Poverty.org, a project of In Our Own Backyard, a nonprofit which used visual media to raise awareness about poverty in the United States, dispel inaccurate stereotypes, and encourage action.
http://www.steveliss.com/
Meera Mani
The David and Lucile Packard Foundation
Los Altos, CA
Meera Mani, EdD, is Director of the Children, Families and Communities (CFC) Program at the David and Lucile Packard Foundation, which strives to ensure that all children have the opportunity to reach their full potential. Packard's grantmaking strategies address two fundamental needs: health and education. She joined the Foundation in February 2009 as program officer, and in 2010 assumed responsibility for leading the preschool, after-school and summer enrichment subprogram in CFC.
Nicole Mason 

Institute for Women's Policy Research
Washington, DC
Nicole Mason, PhD, is the Executive Director of the Center for Research and Policy in the Public Interest (CR2PI), a micro research and policy center created with support from the  W.K. Kellogg Foundation. She is also the Vice President of Programs at the Washington Area Women's Foundation, where she leads the Programs team and oversees the strategy of the Foundation's advocacy agenda.
Born Bright: A Young Girl's Journey from Nothing to Something in America
Margaret McKenna
Boston, MA
Margaret McKenna, JD, is a civil rights attorney and academic and former president of Suffolk University. McKenna was previously the president of Lesley University in Cambridge and president of the Walmart Foundation, granting more than $900 million in cash and in-kind donations to nonprofit organizations. She led Lesley and its teacher training programs to national recognition.
Wes Moore
Robin Hood Foundation
New York, NY
Wes Moore is the CEO of the Robin Hood Foundation, a social entrepreneur, decorated army combat veteran, and bestselling author. Most recently, Moore founded and served as CEO of BridgeEdU, an innovative college platform that addresses the college completion and job placement crisis.  BridgeEdU reinvents freshman year through high-touch and high-tech supports for students.
The Other Wes Moore / The Work: Searching for a Life That Matters
Eduardo Padrón
Miami Dade College
Miami, FL
Eduardo Padrón, PhD, is President of Miami Dade College (MDC), the country's largest institution of higher education. MDC makes high quality teaching and learning accessible to a diverse student body, and serves as an economic, cultural, and civic beacon in the community. He is credited with elevating MDC into a position of national prominence among the best and most recognized U.S. colleges and universities. In 2016, President Barack Obama awarded him the Presidential Medal of Freedom, the highest civilian honor in the U.S., for being a prominent national voice for access and inclusion in higher education.
Vivian Nixon
College & Community Fellowship
New York, NY
The Reverend Vivian Nixon is Executive Director of the College & Community Fellowship (CCF), an organization committed to removing individual and structural barriers to higher education for women with criminal record histories and their families. As a formerly incarcerated woman and prior CCF program participant, Rev. Nixon is uniquely positioned to lead the charge to help justice-involved women and their families have a better future.
Gloria Perez
Women's Foundation of Minnesota
Minneapolis, MN
Gloria Perez is President and CEO of Jeremiah Program, which offers one of the nation's most successful strategies for transforming families from poverty to prosperity two generations at a time. Jeremiah prepares determined single mothers to excel in the workforce, readies their children to succeed in school, and reduces generational dependence on public assistance. Headquartered in Minneapolis, MN, Jeremiah Program has campuses in Minneapolis and St. Paul, MN, and Austin, TX, and is expanding to Fargo, ND-Moorehead, MN.
Mario Small
Harvard University, Department of Sociology
Cambridge, MA
Mario Small, PhD, Grafstein Family Professor at Harvard University, is the author of numerous award-winning books and articles on urban poverty, support networks, qualitative and mixed methods, and other topics. He was previously the Dean of the Social Sciences at the University of Chicago.
Someone To Talk To
Henry Wilde
Acelero Learning
Madison, WI
Henry Wilde is Co-Founder and Chief Executive Officer at Acelero Learning and Shine Early Leaning. Acelero, a social venture model combining local expertise with the management support of a national network.  Acelero Learning currently serves more than 5,000 children and families in Head Start centers in four states. The Shine Early Learning division helps disseminate these innovative practices to other Head Start and Early Head Start programs throughout the country through intensive, ongoing training and technical assistance partnerships.
Richard Wylie
Endicott College
Beverly, MA
Richard Wylie, PhD, served as President of Endicott College for over 30 yeards. As Endicott College's fifth president, he is widely credited with spearheading the College's transition from a small, two-year school for women to a coeducational institution with national and international reach offering undergraduate, graduate, and doctoral degrees. More than 90 percent of the degree programs now available at Endicott did not exist in 1987. He launched Endicott's Keys to Degree Program, allowing academically qualified single parents ages 18 to 24 to study full-time and live on campus with their children. (in memoriam)