HeraldNet: Credit Grass-Roots with Perez's 'Upset' Win for Congress
In her HeraldNet op-ed, 2022 Ascend Fellow, Roxana Norouzi, discusses the important role that powerbuilding from community organizations has in election results.
This win belongs to the community; to organizations and leaders like Elizabeth, who have poured decades of work into shifting political power in a region by building long-lasting people power. Ignoring that critical piece of this year's political puzzle leaves out thousands of crucial and powerful players in the future of our multi-racial democracy.
Related Posts
Today, the Aspen Institute announced its 2023 Aspen Institute Ascend Fellows, 20 leaders from across the United States who are transforming systems so that all children and families can thrive.
In Aspen, the community and the Aspen Institute host renowned leaders, from deep dives on artificial intelligence at the Ideas Festival to the benefits of engagement over isolationism at the Aspen Security Forum.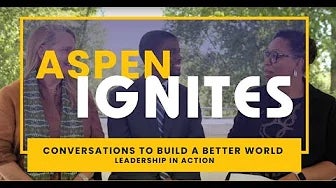 In episode three of Aspen Ignites: Conversations to Build a Better World, Jenn White leads a conversation on leadership with Anne Mosle and 2018 Ascend Fellow Melvin Carter.