Jennifer Lee
Chief Medical Officer,
ACHP
Richmond, Virginia
Dr. Jennifer Lee is Chief Medical Officer at the Alliance of Community Health Plans (ACHP) where she leads ACHP's Clinical Innovation and Data Analytics teams, spearheading research and programming on patient experience, delivery transformation and value-based coverage and care. Prior to this role, she served as a medical analyst for CNN and as an emergency room physician. Previously, Dr. Lee served as the Director of Virginia's Medicaid agency, where she was responsible for overseeing a $10 billion budget and providing health coverage for over 1 million Virginians. Prior to her role in Virginia, she served as Deputy under Secretary for Health for Policy and Services and Senior Advisor to the Secretary at the U.S. Department of Veterans Affairs. From 2014-16, Dr. Lee served as Deputy Secretary of Health and Human Resources for Governor Terry McAuliffe. Dr. Lee has also served as a White House Fellow, a health policy fellow on the U.S. Senate Health, Education, Labor, and Pensions Committee, and a Policy Research Scholar and Associate Professor at George Washington University. She received her bachelor's in biophysics and biochemistry from Yale University, her medical degree from Washington University School of Medicine, and completed her residency at Johns Hopkins. She is a board-certified, practicing emergency physician.
My Truth
The challenge of poverty sometimes seems too daunting to confront and overcome directly, whereas the opioid epidemic simply cannot be ignored. My proposal is to leverage the opioid crisis in communities that have been disproportionately affected to first unite multidisciplinary stakeholders around a common goal—reducing opioid abuse and overdose— but then to build on the momentum of success by providing community coalitions with a toolbox of two-generation approaches that will help lift families out of poverty.
Stories featuring Jennifer Lee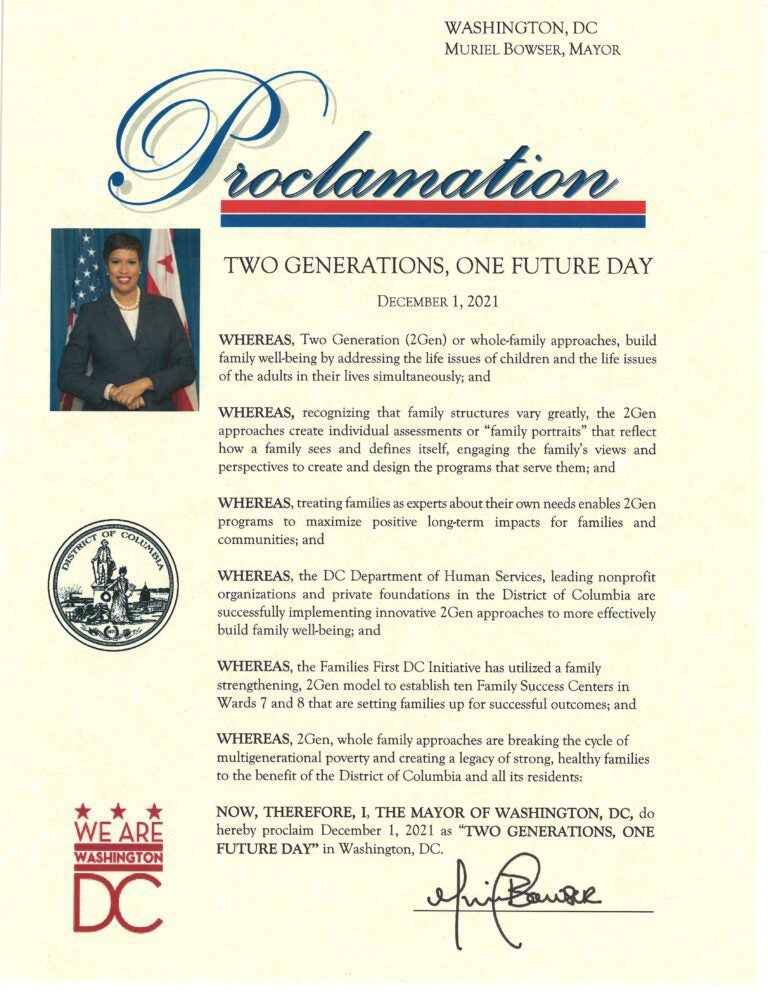 Mayor Muriel Bowser has officially proclaimed today, December 1st, 2021, as Two Generations, One Future Day in Washington, D.C.!
Physical and mental health and well-being are core components of the two-generation approach that builds family well-being by intentionally and simultaneously working with children and the adults in their lives to move whole families toward educational success, economic security, and health and well-being. Childhood trauma, for instance, has lasting health and social consequences. Similarly, economic …
Transforming Child and Family Mental Health in Washington, DC Read More »
Black Lives Matter. As a collective of leaders committed to advancing two-generation strategies to end multigenerational poverty, we believe that the only path to that outcome is through a reckoning with our past and present, and a fundamental shift in our institutions. This requires a new social contract to remedy the harms of White supremacy –a …
Undo A System of White Supremacy: The Call for a New Social Contract Read More »
Kwame AnkuChairman and CEOBlack Star Fund Sacramento, CAMy Vision – The problem I am focusing on solving is breaking the economic disparity cycle afflicting people of the African diaspora. I call my bold vision 100X100. It is a vision of 100 Black investment managers who will each manage $100M innovation funds by 2025. I believe we …
As state and federal lawmakers prepare for the year ahead, more than 350 practice and community leaders, policymakers, researchers, and philanthropists - including Ascend Fellows, Family Prosperity Innovators, and Ascend Network Partners - joined us at the 2019 Aspen Forum on Children and Families to harness this momentum for investing in the full potential of children and families, two generations at a time.
NEWS RELEASE Contact: Lindsay Broyhill Ascend at the Aspen Institute Tel: 202.721.5596 Lindsay.broyhill@aspeninstitute.org Prestigious Aspen Institute Ascend Fellowship Announces 2018 Class of Leaders Diverse Leaders Selected for Their Groundbreaking Work Advancing Opportunity for Children and Families With Low Incomes Washington, DC, September 6, 2018 – The Aspen Institute announced today the 2018 class of Aspen …
Prestigious Aspen Institute Ascend Fellowship Announces 2018 Class of Leaders Read More »