Prestigious Aspen Institute Ascend Fellowship Announces 2018 Class of Leaders
NEWS RELEASE
Contact: Lindsay Broyhill
Ascend at the Aspen Institute
Tel: 202.721.5596
Lindsay.broyhill@aspeninstitute.org
Prestigious Aspen Institute Ascend Fellowship Announces
2018 Class of Leaders
Diverse Leaders Selected for Their Groundbreaking Work Advancing Opportunity for Children and Families With Low Incomes
Washington, DC, September 6, 2018 – The Aspen Institute announced today the 2018 class of Aspen Institute Ascend Fellows. The Ascend Fellowship invests in diverse, entrepreneurial leaders from a range of sectors who have breakthrough ideas to build economic security, educational success, and health and well-being for families in the US.
"The Ascend Fellowship is a premier leadership program at the Aspen Institute that exemplifies our commitment to advancing opportunity and equity," said Dan Porterfield, president and CEO of the Aspen Institute. "We are proud to welcome these extraordinary leaders who are moving ideas to action for children and families in the US."
For bios and photos of all 21 outstanding leaders, visit /2018-2019-ascend-fellows.
These leaders are on the front lines of new solutions to address inequality for children and their parents. Among their ideas and innovations:
applying behavioral science and trauma-informed research to child welfare and other systems serving families;
leading systemic shifts in state human services, early education, and Medicaid through a two-generation approach that focuses on children and their families together;
changing the narrative and opportunities for families affected by the justice system;
targeting angel investments and digital platforms at bridging racial and economic inequities;
redefining approaches to mental health for children, particularly in communities with low incomes;
building stronger pathways from the early years to adulthood for Native American youth.
They reflect the diversity and talent of America across gender, race and ethnicity, geography, and sector:
Represent 13 states and the District of Columbia (Alabama, California, Colorado, District of Columbia, Georgia, Illinois, Maryland, Minnesota, North Dakota, New Hampshire, New York, South Carolina, Virginia, Washington)
Are in public service in 6 states, stewarding more than $16 billion in public resources
Support early care and education for more than 400,000 children
Lead the country's largest non-profit higher education provider, serving 135,000 students through pioneering uses of technology and outstanding student service
Represent the best of Silicon Valley's entrepreneurial spirit and expertise
Manage $20 million in annual philanthropic giving
57% people of color; 12 women; 9 men
The 2018 Ascend Fellows join the vanguard of a national network to advance opportunity for families with low incomes across the country. This year's class includes state leaders in human services, Medicaid, and early care and education; national leaders in higher education, philanthropy, faith, and business; and innovative researchers and practitioners.
"Ascend Fellows are inspirational, visionary leaders able to lead beyond their positions to drive change for children and families," said Anne Mosle, vice president, Aspen Institute, and executive director, Ascend at the Aspen Institute. "The 2018 class of Ascend Fellows are individually outstanding and collectively lead a powerful set of solutions for the opportunities and challenges facing families today."
The Ascend Fellowship is a values-based leadership program that builds on the best of the Aspen Institute leadership tradition. Ascend Fellows participate in signature Institute convenings and platforms; tap powerful networks of social justice and other leaders; and carry out action plans that advance their innovations and solutions on behalf of children and families.
2018 Aspen Institute Ascend Fellows:
Kwame Anku, CEO and Chairman at the Black Star Fund (Sacramento, CA)
Anthony Barrows, Managing Director at ideas42 (New York, NY)
Kristin Bernhard, Deputy Commissioner for System Reform at the Georgia Department of Early Care and Learning (Atlanta, GA)
Matthew Biel, MD, MSc, Division Chief of Child and Adolescent Psychiatry, Associate Professor of Clinical Psychiatry and Pediatrics at the Georgetown University School of Medicine/MedStar Georgetown University Hospital (Washington, DC)
Myla Calhoun, President, Alabama Power Foundation, and Vice President, Charitable Giving for Alabama Power (Birmingham, AL)
Wendy Ellis, Project Director and Co-Principal Investigator of the Building Community Resilience network and collaborative, George Washington University (Washington, DC)
John Farnam, Community Investment Liaison at the Morgridge Family Foundation (Denver, CO)
Tobeka Green, President and CEO of the National Black Child Development Institute (Washington, DC)
Joseph Hobot, EdD, President and CEO of American Indian OIC (Minneapolis, MN)
Laura Huerta Migus, Executive Director of the Association of Children's Museums (Arlington, VA)
Chris D. Jones, Executive Director of the North Dakota Department of Human Services (Bismarck, ND)
Joseph T. Jones, Jr., Founder and CEO of the Center for Urban Families (Baltimore, MD)
Ariel Kalil, PhD, Professor at the Harris School of Public Policy; Director of the Center for Human Potential and Public Policy; and Co-Director, Behavioral Insights and Parenting Lab at the University of Chicago (Chicago, IL)
Paul J. LeBlanc, PhD, President of Southern New Hampshire University (Manchester, NH)
Jennifer Lee, MD, Director of the Department of Medical Assistance Services for the State of Virginia (Richmond, VA)
Georgia Mjartan, Executive Director of South Carolina First Steps (Columbia, SC)
Nitzan Pelman, Entrepreneur in Residence at LinkedIn Social Impact (Berkeley, CA)
Lori Pfingst, PhD, Chief of Programs and Policy at the Economic Services Administration at the Washington State Department of Social and Health Services (Olympia, WA)
Michelle Sarche, PhD, Associate Professor at the Centers for American Indian and Alaska Native Health in the Department of Community and Behavioral Health at the Colorado School of Public Health at the University of Colorado Anschutz Medical Campus (Aurora, CO)
Lorelei Atalie Vargas, Deputy Commissioner for Child and Family Well-being at the City of New York's Administration for Children's Services (New York, NY)
Raphael Gamaliel Warnock, M.Div, PhD, Senior Pastor of the Ebenezer Baptist Church (Atlanta, GA)
Ascend at the Aspen Institute is the national hub for breakthrough ideas and collaborations that move children and their parents toward educational success, economic security, and health and well-being. We take a two-generation approach to our work – focusing on children and their parents together. We bring a gender and a racial equity lens to our analysis. For more information, visit https://ascend.aspeninstitute.org
The Aspen Institute is an educational and policy studies organization based in Washington, DC. Its mission is to foster leadership based on enduring values and to provide a nonpartisan venue for dealing with critical issues. The Institute is based in Washington, DC; Aspen, Colorado; and on the Wye River on Maryland's Eastern Shore. It also has offices in New York City and an international network of partners. For more information, visit www.aspeninstitute.org
###
Related Posts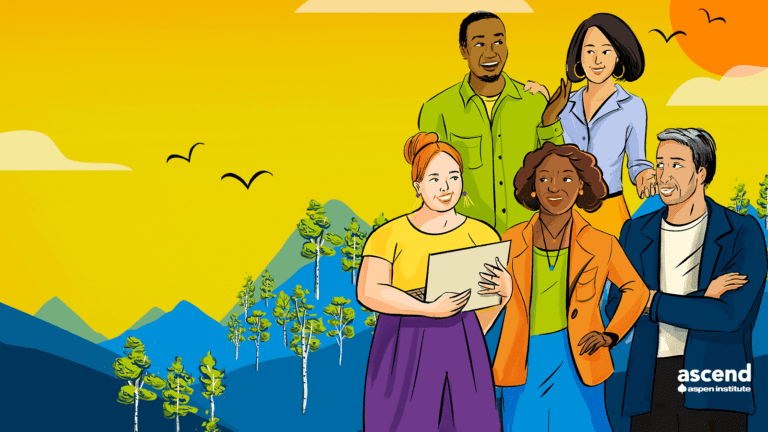 100 Ascend Fellows will join the Aspen community for two afternoons of conversations aimed at Building Well-Being for Children and Families and Prioritizing Joy and Human Thriving.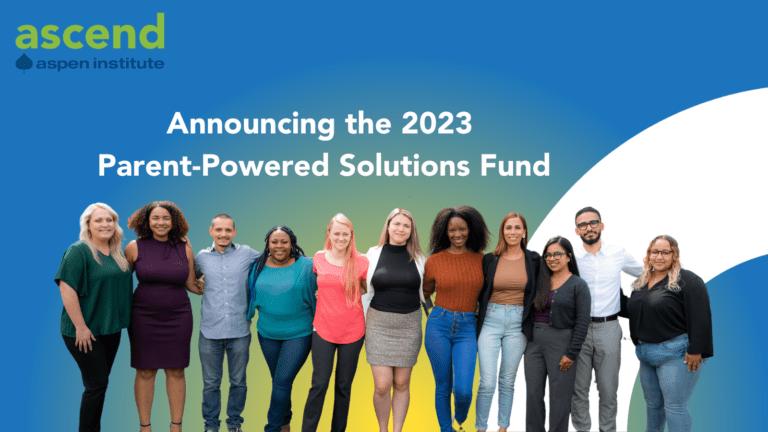 Ascend at the Aspen Institute is excited to announce the launch of the 2023 Parent-Powered Solutions Fund, which will provide financial resources and technical assistance to nonprofit organizations and institutions focused on increasing postsecondary success among parents.
Today, Ascend at the Aspen Institute (Ascend) released the second season of "1 in 5," its highly rated podcast that explores the multifaceted lives of the one in five college students raising children.