Moving Families Toward Opportunity, Two Generations at a Time
2018 election eve research by Lake Research Partners found increasing public support for two-generation (2Gen) programs across party lines. In their most recent survey, 86 percent of Americans reported believing that investing in caregivers is essential to ensuring better outcomes for children from families with low incomes. 81 percent favor the 2Gen approach even if it means raising their taxes.
As state and federal lawmakers prepare for the year ahead, more than 350 practice and community leaders, policymakers, researchers, and philanthropists – including Ascend Fellows, Family Prosperity Innovators, and Ascend Network Partners – joined us at the 2019 Aspen Forum on Children and Families to harness this momentum for investing in the full potential of children and families, two generations at a time.
At Ascend, we know that the most important aspect of moving families toward opportunity is meeting families where they dream. We all want children and families to live whole, happy, and healthy lives, but families are the only ones who can truly define what success is for them. So we began by listening.
Ascend Fellow and managing director of human services at the Kresge Foundation Raquel Hatter and Administration for Children and Families assistant secretary Lynn Johnson joined parents Rynn Bell, parent support provider at Ascend Network Partner Family Tree; Shannon Davis, parent ambassador at Ascend Network Partner Garrett County Community Action Committee; and Daniel Torres, STRIVE program graduate in a conversation around their aspirations and recommendations for supporting them.
Sessions that followed explored the roles of brain and behavioral science in expanding opportunity with Ascend Fellows Sarah Watamura and Matthew Biel, Children's National Health System case manager Randall Baylor, and Ascend Network Partner ideas42 co-founder and Princeton University Woodrow Wilson School of Public and International Affairs professor in behavioral science and public policy Eldar Shafir and the inextricable link between health, work, and family with David and Lucile Packard Foundation CEO Carol Larson and Robert Wood Johnson Foundation president and CEO Richard Besser.
New and established Cabinet secretaries Laura Zeilinger, director, District of Columbia Department of Human Services; Jennifer Lee, Ascend Fellow and director, Virginia Department of Medical Assistance services, Danielle Barnes, commissioner, Tennessee Department of Human Services, and Lori Pfingst, Ascend Fellow and senior director, Washington State Department of Social and Health Services shared their plans for accelerating family prosperity in 2019 and beyond, and David and Lucile Packard Foundation program officer for the Children, Families, and Communities Program Katherine Beckman; Ascend Fellow and Southern New Hampshire University president Paul LeBlanc; Omidyar Network Global Education Initiative partner Amy Klement; and Ascend Fellow and Ascend Network Partner ZERO TO THREE chief policy officer Myra Jones-Taylor shared how they are adapting to more effectively serve 21st century learners.
Like definitions of students, evolving definitions of family are outpacing programs and policies designed to nurture and support them. So Aliza Pressman, co-founder of the Parenting Center at Mount Sinai Hospital and clinical professor of behavioral and developmental health at the Icahn School of Medicine at Mount Sinai; Mia Birdsong, Ascend Fellow and senior fellow at the Economic Security Project; Lori Barr, Vice President of Ascend Network Partner Raise the Barr; and Anthony Barr, Minnesota Vikings linebacker and founder of Raise the Barr provided insight into how they are thinking about redefining community and systems to meet the needs of all mothers, fathers, caregivers, and their children.
The Forum provided space, learning, and leadership to to surface big ideas and proven practical solutions to move families toward opportunity in 2019. Parents like Rynn, Shannon, and Daniel and families like Lori and Anthony confirmed what we are reminded of with each interaction with the children and families we serve. Families with low incomes are resilient and deserve more than the status quo, where our systems leave them few pathways for realizing their dreams.
But work to make those systems work better for families is happening each day across the Ascend Network. Ascend Fellows Joe Jones, president and CEO of the Center for Urban Families; Wendy Ellis, co-principal investigator and project director of the Building Community Resilience Collaborative at George Washington University; Kwame Anku, chairman and CEO of the Black Star Fund; and Aisha Nyandoro, CEO of Springboard to Opportunities provided a final jolt of inspiration at the Forum, sharing their powerful ideas for disrupting systems to ensure prosperity and well-being for all children families.
So there remains work to be done, but there is tremendous momentum for bold ideas that move families toward opportunity. We experienced it together at the 2019 Aspen Forum on Children and Families and encourage all to share strategies, insights, and inspiration for this work far and wide so that together, we invest in the full potential of all children and families.
Relive every second of the Forum and check out highlights:
Check out Ascend Fellows, Network Partners, and Family Prosperity Innovators' big ideas to move families toward opportunity in 2019 here and how the 2Gen approach inspires their work here.
Related Posts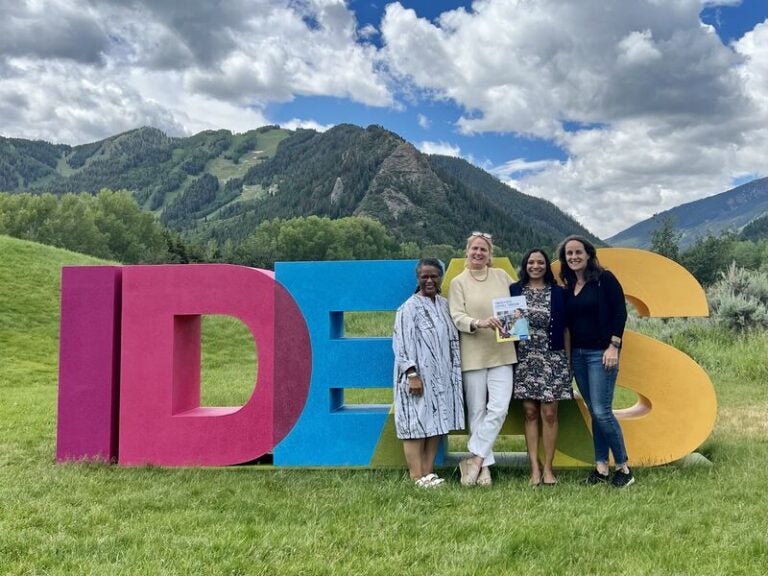 I started off the 2022 Aspen Ideas Festival at Aspen Words Book Ball, a passion project of Isa Catto and Daniel Shaw.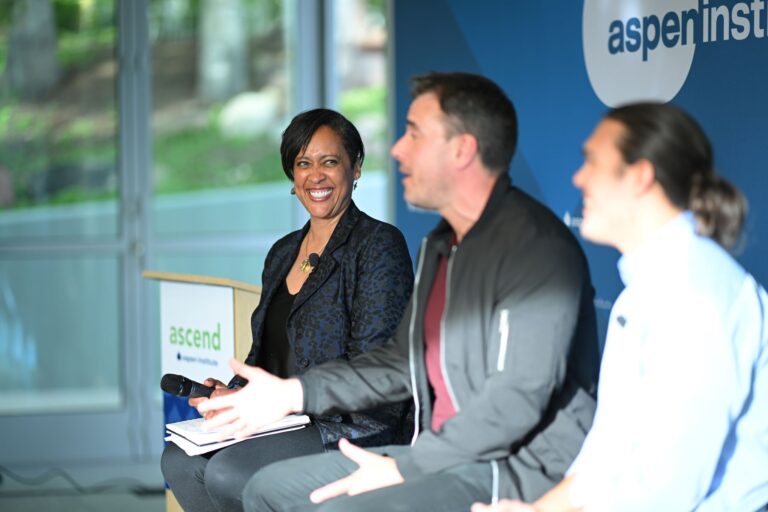 This year, the Aspen Idea Festival returns to in-person programming at our campus in the Rocky Mountains June 25 - July 1, 2022.
On Tuesday, June 1st, 2021, Ascend at the Aspen Institute's Family Prosperity Innovation Community hosted a panel discussion about the recently proposed federal legislation on paid leave. This webinar presented how and why this proposed legislation matters and shared opportunities to advance paid leave locally and nationally. Watch Now Presenters and Panelists Vicki Shabo – New …