Webinar Recap: Uplifting California's Student Parents
Student parents are a key population – one that represents over 20 percent of the postsecondary student population and the state of California. How can the state's systems prepare for this key population?
With this question in mind, Ascend at the Aspen Institute, Tipping Point Community, The Education Trust—West, California Competes, The Michelson 20MM Foundation and Blue Shield of California Foundation, among others wanted to convene a group of early childhood and postsecondary leaders, including student parents themselves, across the state of California to discuss this key population of student parents.
To create space for this important conversation, Ascend hosted the webinar, Uplifting California's Student Parents on November 15, 2021 for early childhood and postsecondary leaders to build awareness of recent policy, research, and advocacy around student parents, create opportunities for collaboration, and generate new solutions to support parents enrolled in postsecondary pathways and their families.
A key highlight was a special panel conversation facilitated by Chris Nellum of Ed Trust West where the experts – student parents themselves – answered the following questions:
What impact has the coronavirus pandemic had on you and your family's well being? Has it shifted what you need from the Family Resource Center and other supports?
As working parents, what barriers have you faced in accessing state supports like CalWORKs?
What's one change that college administrators/student success staff can make to better serve student parents?
What's one myth about parenting students that you want people to know isn't true?
Also incorporated into the agenda were remarks from Kara Dukakis of Tipping Point to frame this space, research findings and insight from California Competes Executive Director Su Jin Jez on the Policy Agenda for California Student Parents, and exciting news about the future student parent in-person convening from Miguel Leon of The Michelson 20MM Foundation to re-energize and inspire us all to make more positive impact together.
"Serving parents is the right thing to do and will help close equity gaps for populations that have been historically underserved in higher education. Addressing their needs and carving out a pathway would create ripple effects for education and the economy." – Su Jin Jez, Ph.D., Executive Director, California Competes
"I think when we're talking about student parents, they are equally important to talk to [them] about the postsecondary space and also early childhood development. Student parents are really front and center on our agenda, and it is pretty simple to me." – Kara Dukakis, Senior Program Officer, Tipping Point
"For far too long, pregnant and student parents have been an afterthought in post-secondary education. But that ends with us – with this amazing community of practitioners, advocates, allies, philanthropists, and students." – Miguel Leon, Program Officer Michelson 20MM Foundation
On behalf of Ascend at the Aspen Institute, I want to thank everyone who joined our final Postsecondary Success for Parents Initiative convening of 2021, shared their honest experiences, and strengthened connections to prepare for the work ahead. I look forward to convening in-person to unite our various communities around solutions to better support student parents in California in 2022 and beyond.
Related Posts

An episode of firsts! Our first live episode recorded at the inaugural Ascend Parent Advisor Convening in Aspen, CO in front of an audience of student parents.

Today, Ascend at the Aspen Institute announced that four community colleges from across the United States have been selected as partners to its Postsecondary Leadership Circle Activation Fund.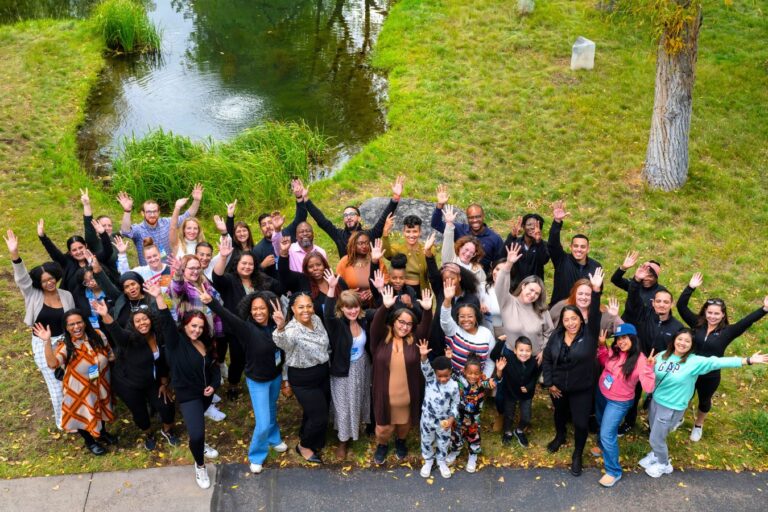 Snapshots from the 2023 Ascend Parent Advisor Convening in Aspen, Colorado.