Culturally Rooted and Responsive Ways to Bridge Gaps in Maternal Mental Health
While the perinatal period can be an exciting time for families, Black mothers are more likely to experience perinatal mood and anxiety disorders (PMADs) but are less likely to receive treatment. PMADs include depression during pregnancy, anxiety, post-traumatic stress disorder, and postpartum depression. Almost 40 percent of Black mothers experience postpartum depression compared to roughly 13 percent of the general population.
Black Maternal Health Week reminds us of the urgent need to provide comprehensive, holistic maternal health care, free from bias and discrimination. Higher exposure to psychosocial stressors such as lack of social support and traumatic experiences contribute to higher rates of postpartum depression among Black women alongside risk factors resulting from socioeconomic inequities and systemic racism including:1
Lack of access to high-quality medical care
Higher risk of pregnancy and childbirth complications
Gaps in medical insurance
Financial barriers, including lack of paid time off from work
At the same time, Black women are less likely to initiate and continue postpartum depression treatment due to lack of access to high-quality, culturally-competent mental health care.1,2 A lack of screening for Black women, historical distrust for mental health care institutions, and stigma also make mental health care inaccessible.3Screening tools developed and validated for assessing depressive symptoms across the mental health system, for example, were evaluated with predominantly white and non-Black participant samples.4 Studies have found that even when screening the same score as a white counterpart, Black clients often exhibit less severe functional impairment in how their depressive symptoms manifest, leading to minimization of symptoms and unmet need.3,5 These insights highlight the importance of employing screening tools with attention to racial specificity and attending to the nuanced mental health experiences of Black women.
The Mothers and Babies program – an evidence-based stress management and postpartum depression preventive intervention being implemented by home visiting programs and other early childhood providers across the United States – bridges gaps in the maternal mental health care for Black mothers by leveraging the reach of paraprofessionals such as home visitors, case managers, medical assistants, childcare workers, and health educators. Efficacy data demonstrates that Mothers and Babies is one of the two most effective interventions for preventing postpartum depression 6 and is just as impactful in reducing depressive symptoms when delivered by lay health workers, compared with delivery by professional mental health clinicians. 7Having health workers deliver the program within home visiting or other care providing networks improves the accessibility of the intervention. The ability to deliver mental health services outside of the public mental health system offers a cost-effective way to increase access to mental health care for Black caregivers. Furthermore, providers are encouraged to offer Mothers and Babies to clients as a stress management tool, and the intervention focuses on normalizing stress as a standard contributor to one's mood. By emphasizing stress management, Mothers and Babies functions effectively as a preventive intervention against the onset of depressive episodes and can reduce stigma around accessing mental health care.
By listening and attending to the specific stressors of Black mothers, service providers can foster increased trust. Trust becomes a key bridge across gaps in the mental health care system. Additionally, service access and service uptake can be improved by tangibly investing in Black communities and supporting Black service providers as they lead the charge in meeting community needs. For example, Black women during the perinatal period and beyond, have been connecting to support via the Therapy for Black Girls Podcast and online community by Dr. Joy Harden Bradford.8 In another long legacy of meeting community needs, Black midwives and doulas have dedicated lifetimes to seeing Black maternal mental health as precious, providing psychological, emotional, informational, and spiritual resources to expectant Black mothers.9
This Black Maternal Health Week, we encourage all practitioners to recognize and invest in the organic solutions Black women have created for themselves in response to maternal mental health gaps.
Resources:
Black Maternal Health Virtual Conference – April 16-17: Hosted by the Black Mamas Matter Alliance, the conference will feature clinicians, professionals, advocates and other stakeholders working to improve maternal health, including a presentation from the HHS Office of Minority Health on culturally and linguistically appropriate care in maternal health. Find out more about the conference here.
On April 13, 2021 – President Biden issued a proclamation describing the Administration's commitment to Black maternal health.
Two-generation research by Drs. Pilyoung Kim and Sarah Watamura of the University of Denver underscores the opportunity to leverage the neural plasticity experienced by infants and the adults in their lives during co-occurring sensitive periods of early life and the transition to parenthood to improve outcomes for children and families.
Onyinyechi Jessica Ogwumike (she/they) is a doula and MPH candidate at DePaul University, with a focus on marginalized birthing people's perinatal health and wellness. They are the Evaluation and Implementation Assistant for the Mothers & Babies team, where she supports sites in sustaining the intervention and understanding its impact on their communities.
Emma Gier, MPH, is the Implementation and Evaluation Coordinator with the Mothers and Babies team at Northwestern University in Chicago, IL. Her work includes ensuring service providers have the supports they need to implement MB with success, and spearheading MB's evaluation efforts.
Darius Tandon is an Aspen Institute Ascend Fellow and co-director of Northwestern University Feinberg School of Medicine's Institute for Public Health and Medicine. Dr. Tandon is a partner in Ascend's Two-Generation Prenatal to Three Learning and Action Community.
References
1 Pao, C., Guintivano, J., Santos, H., & Meltzer-Brody, S. (2019). Postpartum depression and social support in a racially and ethnically diverse population of women. Arch Womens Ment Health 22, 105–114. https://doi.org/10.1007/s00737-018-0882-6
2 Kozhimannil, K. B., Trinacty, C. M., Busch, A. B., Huskamp, H. A., & Adams, A. S. (2011). Racial and ethnic disparities in postpartum depression care among low-income women. Psychiatric services (Washington, D.C.),62(6), 619–625. https://doi.org/10.1176/ps.62.6.pss6206_0619
3 Alang, S. (2019). Mental health care among blacks in America: Confronting racism and constructing solutions. Health Services Research, 54(2), 346–355. https://doi.org/10.1111/1475-6773.13115
4 Thombs, B.D., Benedetti, A., Kloda, L.A., Brooke, L., Riehm, K.E., Azar, M., Cuijpers, P., Gilbody, S., Ioannidis, J.P.A., McMillan, D., Patten, S.B., Shrier, I., Steele, R.J., Ziegelstein, R.C., Tonelli, M., Mitchell, N., Comeau, L., Schinazi, J., & Vigod, S. (2015). Diagnostic accuracy of the Edinburgh Postnatal Depression Scale (EPDS) for detecting major depression in pregnant and postnatal women: Protocol for a systematic review and individual patient data meta-analyses. BMJ Open, 5(e009742). doi:10.1136/bmjopen-2015-009742
5 Huang, F.Y., Chung, H., Kroenke, K., & Spitzer, R.L.(2006). Racial and ethnic differences in the relationship between depression severity and functional status. Psychiatric Services, 57(4), 498-503. https://ps.psychiatryonline.org/doi/full/10.1176/ps.2006.57.4.498
6 O'Connor E, Senger CA, Henninger ML, Coppola E, Gaynes BN. Interventions to Prevent Perinatal Depression: Evidence Report and Systematic Review for the US Preventive Services Task Force. JAMA. 2019 Feb 12;321(6):588-601.
7 Tandon SD, Johnson JK, Diebold A, Segovia M, Gollan JK, Degillio A, Zakieh D, Yeh C, Solano-Martinez J, Ciolino JD. Comparing the effectiveness of home visiting paraprofessionals and mental health professionals delivering a postpartum depression preventive intervention: a cluster-randomized non-inferiority clinical trial. Arch Womens Ment Health. 2021 Mar 3. doi: 10.1007/s00737-021-01112-9
8 About Therapy for Black Girls. (n.d.). Retrieved from, https://therapyforblackgirls.com/about/.
9 Ellmann, N. (2020). Community-based doulas and midwives. The Center for American Progress. Retrieved from, https://www.americanprogress.org/issues/women/reports/2020/04/14/483114/community-based-doulas-midwives/
Related Posts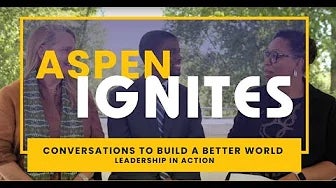 In episode three of Aspen Ignites: Conversations to Build a Better World, Jenn White leads a conversation on leadership with Anne Mosle and 2018 Ascend Fellow Melvin Carter.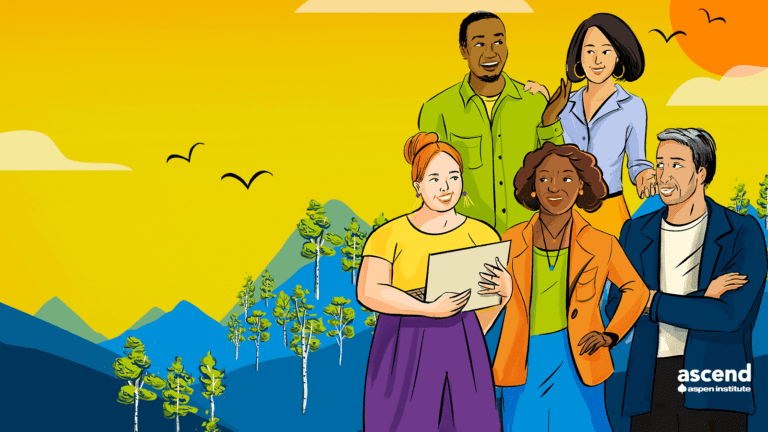 100 Ascend Fellows will join the Aspen community for two afternoons of conversations aimed at Building Well-Being for Children and Families and Prioritizing Joy and Human Thriving.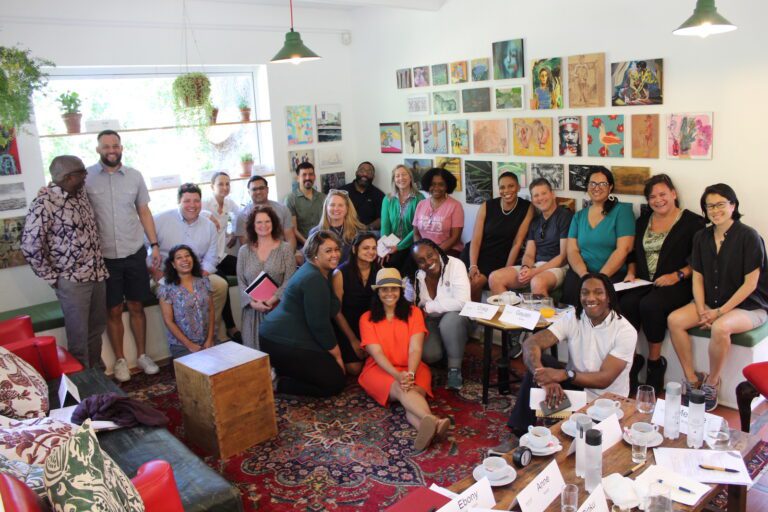 We've selected four projects from the 2021 Class of Fellows that show impressive potential in both their scope and capacity to address timely issues.