Forging Ahead: The 2Gen Practice Institute
"It seemed that way in the 1960s, at the height of the civil rights movement, when America itself felt as if it might burst at the seams – so much tension, so many storms. But the people of conscience never left the house. They never ran away. They stayed, they came together and they did the best they could, clasping hands and moving towards the corner of the house that was the weakest.
And then another corner would lift, and we would go there.
And eventually, inevitably, the storm would settle, and the house would still stand." – John Lewis
In his essay, "Walking with the Wind," congressman and civil rights leader John Lewis tells the story of a powerful storm that tore through his aunt's home while four-year-old Lewis, his siblings, and cousins where inside. At the behest of his aunt, young Lewis joined hands with more than a dozen of his cousins to move towards the corners of the house that threatened to come apart, keeping the structure down with their weight and leaving much of it intact. The experience came back to Lewis throughout the turbulence of the 1960s, reminding him of the "people of conscience"—leaders, policymakers, activists, and others—who gave everything in pursuit of dignity, equality, and civil rights for their communities. Today, we face a national crisis with nearly half of all children living in families with low incomes, but we are heartened by the presence of so many practitioners and organizations who work tirelessly to improve the lives of children and families.
This work never stops, and it brings new challenges every day. Luckily, the existence of a growing network, like the Ascend Network, of organizations with common goals and diverse experiences in support of children and families helps us all be better advocates, service providers, and innovators. That's why we are so looking forward to the 2Gen Practice Institute, a convening that will bring together nearly 200 of the field's leading experts on 2Gen program development, implementation, and scale. Hosted by Ascend in partnership with CAP Tulsa, directed by Ascend Fellow Steven Dow and home to one of the country's leading 2Gen programs, this collaborative convening responds to outreach and inquiries from the Ascend Network. As part of our signature effort to prepare participants with an inspirational reading that grounds the group in shared values, the participants of the 2017 2Gen Practice Institute will read "Walking with the Wind".
Drawing on nearly seven years of outreach, network development, and tool-building, we will engage practitioners, researchers, and philanthropists in understanding, adapting, and implementing best practices for 2Gen approaches across a range of platforms and sectors. The Practice Institute will highlight the expertise of CAP Tulsa leadership and staff, as well as the insights and resources of the Ascend Network. Participants and speakers hail from a wide variety of organizations, including Head Starts, community colleges, United Ways, Catholic Charities, Rural IMPACT sites, and more. We hope the breadth of experiences and specialized knowledge at the convening will promote collaboration across issue areas and geographic divides to improve critical services in support of children and families.
Over the course of three days, participants will take part in numerous panels and strategy sessions. CAP Tulsa will lead several panels, showcasing its CareerAdvance coaching and cohort model; its best practices for marketing and messaging its 2Gen programming; and other aspects of its success.  Participants will also be able to experience CAP Tulsa's 2Gen model firsthand through facilitated site visits to CAP Tulsa early childhood sites.
Other highlights will include a plenary featuring Ascend Fellow and leading researcher Dr. Sarah Enos Watamura, who will share groundbreaking research conducted with her colleague Dr. Pilyoung Kim on the neurobiologic shifts that take place in early parenthood and how practitioners can apply the lessons of brain science to their work.
The Practice Institute promises to foster partnerships, spark new conversations, and provide the impetus for creating lasting improvements in the lives of children and families. More difficulties may lie ahead, but we'll work together to weather every storm, "holding hands, walking with the wind."
Stay tuned for tools, blogs, and more to help capture lessons and implications from the field practitioners and others who are participating in the Practice Institute. In the meantime, connect with us on social media by following us on Twitter @AspenAscend and using the hashtag #2Gen in your posts.
Related Posts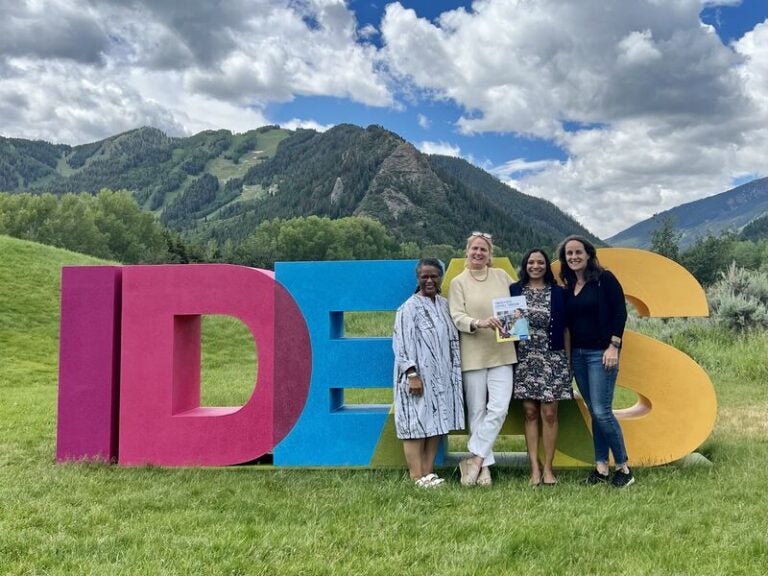 I started off the 2022 Aspen Ideas Festival at Aspen Words Book Ball, a passion project of Isa Catto and Daniel Shaw.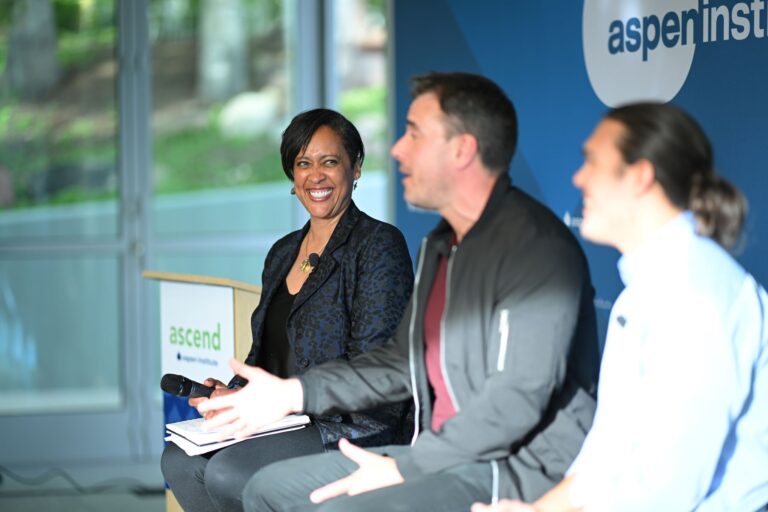 This year, the Aspen Idea Festival returns to in-person programming at our campus in the Rocky Mountains June 25 - July 1, 2022.
On Tuesday, June 1st, 2021, Ascend at the Aspen Institute's Family Prosperity Innovation Community hosted a panel discussion about the recently proposed federal legislation on paid leave. This webinar presented how and why this proposed legislation matters and shared opportunities to advance paid leave locally and nationally. Watch Now Presenters and Panelists Vicki Shabo – New …