Postsecondary Completion: What Works for Parents
The Aspen Postsecondary Success for Parents (PSP) Initiative at Ascend at the Aspen Institute hosted a two-day convening to mark entering its second phase. More than 50 researchers, philanthropists, higher education administrators, policymakers, and student parents gathered at the Aspen Institute office in Washington, D.C. for a strategy session titled, "Postsecondary Completion: What Works for Parents." The convening focused on how colleges, universities, and workforce development programs can implement practices and strategies that better support student parents.
On the first day, the cohort of Ascend's Parent Advisors discussed with Ascend staff and our partners at Imaginable Futures (IF – formerly the Education Initiative at the Omidyar Network) how integral the perspectives and experiences of parents are to elevating and informing PSP work. Isabelle Hau, partner at IF, said "you set the conditions for thinking about the opportunities together – not only having a voice at the table, but also the voice of creation to work on solutions." Yoslin Amaya Hernandez – a mother of two, a student at the University of Maryland, and one of the newest Parent Advisors – responded to this call to action with a saying: "if I'm not at the table, I'm on the menu. I no longer want to be on the menu."
The new Parent Advisors kicked off the strategy session in the evening with a panel discussion. Amber Angel, program coordinator at the Los Angeles Valley College Family Resource Center, moderated the conversation with fellow Parent Advisors Lesley Del Rio, program manager at the Boys and Girls Club of Metro Denver, Rashika Lee, medical biller at Spectrum Health, and Drayton Jackson, executive director of the Family Day Foundation. The group reflected on their unique postsecondary experiences and offered suggestions for enhancing student parent completion rates.
Jackson, a father and a student at Olympic College, said completing his two-year degree took four years. Housing insecurity, lack of access to childcare, and invisibility on campus as a student parent experiencing homelessness prolonged his completion. After becoming student body president, Jackson ensured the college gathered information about students' housing and economic security with the intention of creating stronger wrap-around services for students experiencing homelessness.
"The key is understanding that our lived experience is our best asset to give you knowledge on what to do," Jackson said. "The greatest thing we can realize is that we have power to change things moving forward."
The following day, Vinice Davis, venture partner at IF, introduced the organization's highly anticipated innovation challenge – the "Rise Prize." A group of judges will award $1 million to solutions accelerating student parent postsecondary success. The panel includes two Ascend Parent Advisors, Lesley Del Rio and Ariel Ventura-Lazo, as well as Anne Mosle, vice president at the Aspen Institute and executive director of Ascend at the Aspen Institute. The Rise Prize will to not only increase awareness of the needs of student parents, but also boost the number of effective solutions to address these needs. "When student parents rise, we all rise," Davis said.
Throughout the day, guests attended thought-provoking presentations and breakout sessions featuring some of the nation's top experts on student parents enrolled in postsecondary institutions and workforce development programs. Guest speakers included:
The convening ended with a panel discussion featuring state representatives who shared their initiatives that support student parents. Moderated by Tiffany Day, systems change and policy analyst at Ascend at the Aspen Institute, the panel included Nakeisha Ricks, director of Tennessee Department of Labor and Workforce Services, Donna Linderman, associate vice chancellor for academic affairs at City University of New York (CUNY), and Sherry Cleary, university dean of early childhood initiatives and executive director of the New York Early Childhood Professional Development Institute at CUNY.
All three speakers emphasized that programs should increase their level of engagement in student parents' lives with support from the community. Ricks highlighted Tennessee's "Drive to 55" Initiative, which aims to equip 55 percent of Tennesseans with a college degree or certificate by 2025. The initiative has created an alliance with private sector partners and community leaders to help generate greater awareness and support for college entry and completion, adult education and training, and identifying and closing skills gaps in preparation for the workforce. Ricks said she noticed a culture shift in Tennessee after agencies began to focus on reaching the same outcome. "You understand that the 'Drive to 55' is a goal for everyone."
Cleary explained how CUNY encourages, "extending childcare hours, adding a social worker or family worker to interface with students, and making sure they were using all the supports on our campuses so that they can go on campus and get the things that they need." Linderman supported this statement adding that faculty and staff should receive "robust training" to better support student parents. Although both CUNY representatives admitted that turning faculty into advocates is a process, Linderman said what makes the greatest difference is "having regular contact with faculty and letting them know [student parents] are in their programs."
With the new year in full swing, the PSP Initiative is just getting started. Read the latest press release about the PSP Initiative for more information on the next phase of work and upcoming developments.
Related Posts

What does college success look like for Black and Native student parents? This podcast episode sheds light on student parents' and administrators' experiences at Historically Black Colleges and Universities, or HBCUs, and Tribal Colleges and Universities, or TCUs.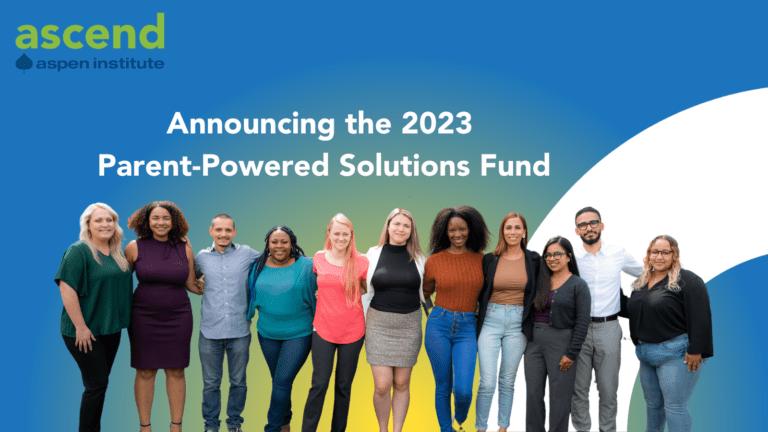 Ascend at the Aspen Institute is excited to announce the launch of the 2023 Parent-Powered Solutions Fund, which will provide financial resources and technical assistance to nonprofit organizations and institutions focused on increasing postsecondary success among parents.
Reflections on the experiences, challenges, and joys that shape the life of student father and Ascend PSP Parent Advisor Christian Ortiz.