Aspen ThinkXChange 2019 Round-up: Materials and Videos
With family voices at the center, Ascend brought together leaders from across key issues and sectors at the Aspen ThinkXChange 2019: Advancing Family Prosperity on October 15-18 in Aspen, Colorado, to share bold ideas, generate new strategies, and identify critical partnerships to move families toward opportunity in the decade ahead.
The convening highlighted inherent strengths of families with low incomes while bringing new and established leaders to conversations they might not otherwise have an opportunity to join, such as the barriers facing students who are parents and low-wage workers. This ThinkXChange featured a focus on the learnings of the Aspen Family Prosperity Innovation Community, a partnership with the Robert Wood Johnson Foundation to identify new and different ways to ensure families in America find opportunity and thrive.
You may find more details on the agenda, publications and materials, and videos below. This is Ascend's fourth signature ThinkXChange, with previous convenings held in 2012, 2014, and 2015.
Program Book
Check out the ThinkXChange program book here, which includes all session descriptions and a participant list.
New Publication
Ascend published the Family Prosperity Innovation Community Index: a collection of resources, publications, tools, webinars, and more, all developed by Family Prosperity partners.
Live Blogs
Ascend posted two blogs capturing live takeaways from the convening here:
Materials
Ascend collected more than 80 materials during ThinkXChange, including session presentations and publications, from participants. Check out this Dropbox folder to find materials, organized by the day they were presented.
Videos
Transformational Narratives
Five Leaders in the Ascend Network — from the Ascend Fellowship, Family Prosperity, the Postsecondary Success for Parents Initiative — relayed their experiences in a "TED Talk"-style plenary session to share their work to advance family prosperity. Start the full playlist below or click here to view each story.
Anthony Barrows, Managing Director, Ideas42
Lesley Del Rio, Program Manager, Boys and Girls Club of Metro Denver
Gayle Goldin, FMLI Campaign Advisor, Family Values @ Work
Sherece West-Scantlebury, President and Chief Executive Officer, Winthrop Rockefeller Foundation
Henry Wilde, Chief Executive Officer, Acelero Learning
Livestreams
Ascend livestreamed the two morning plenaries on Family Prosperity:
Centering Family Voice & Equity: The Prosperity Landscape, with three leading thinkers and researchers on the racial wealth gap:
Kilolo Kijakazi, Institute Fellow, Urban Institute
Jennifer Richeson, Philip R. Allen Professor of Psychology, Yale University
Lola Adedokun, Program Director for Child Well-Being and Director for the African Health Initiative, Doris Duke Foundation
Moderator: Anne Mosle, Vice President & Executive Director, Ascend at the Aspen Institute
Advancing Family Prosperity: Innovations Ready to Spread, with six Family Prosperity partners on equity and family-supportive policies like paid family leave.
How do employers listen to and respond to families?

Stephanie Summers, Chief Executive Officer, Center for Public Justice
Mary Bogle, Principal Research Associate, Urban Institute

What's next for paid leave?

Vicki Shabo, Senior Fellow of Paid Leave Policy and Strategy, New America
Pronita Gupta, Director Job Quality, Center for Law and Social Policy

How do we advance family-informed policies in a divisive political climate?

Sharon Terman, Director of the Work and Family Program, Legal Aid at Work
Erika Moritsugu, Vice President, National Partnership for Women and Families
Moderator: Marjorie Sims, Managing Director, Ascend at the Aspen Institute
Related Posts
The Aspen Family Prosperity Innovation Community Phase II sought to find and foster the most effective and innovative strategies to accelerate social and economic mobility for working families with low incomes. To do so, we elevated the voices and expertise of families with lived experience, were guided by 14 advisors, and we brought together 20 …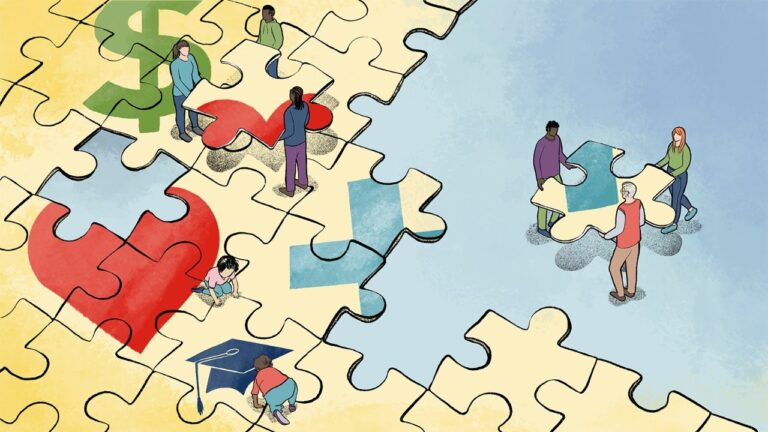 In a blog post authored by Trene Hawkins of Robert Wood Johnson Foundation, Ascend's Managing Director Marjorie Sims shares how Ascend harnesses parent and caregiver leaders' expertise to create policy and systems change in communities and organizations.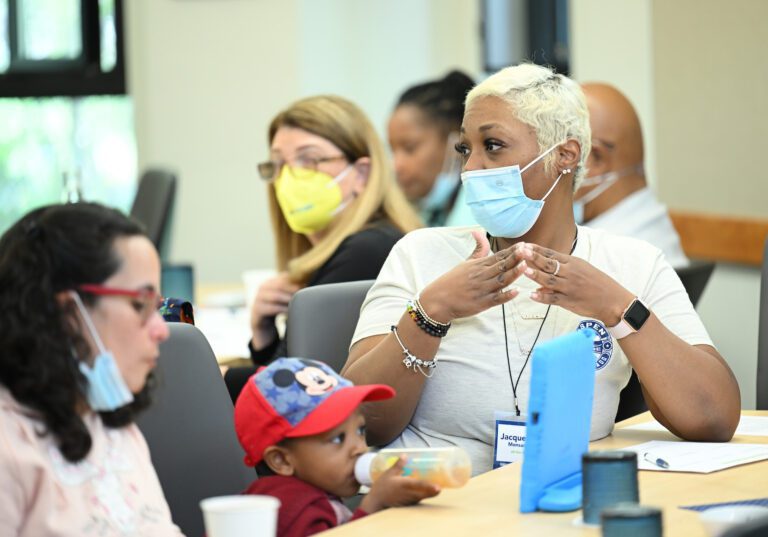 As an organization with a vibrant Early Head Start program and a two-generational approach to alleviating poverty, All Our Kin has been a proud partner in Ascend at the Aspen Institute's Family Prosperity Innovation Community. Being part of this group among 20 partnering organizations has given All Our Kin the opportunity to bring its innovative model …
Mom and Son Duo Reflect on Family Prosperity Convening Read More »