RFP Submission Guidelines for the Aspen Parent Powered Solutions Fund
Engaging the ideas, perspectives, and expertise of students who are parents is critical to co-creating authentic solutions at the local, state, and national levels. When brainstorming ways to advance postsecondary completion for student parents, Ascend at the Aspen Institute turned to a special cohort of experts for insight into the unique needs of this population.
The Aspen Parent Powered Solutions Fund was created by the Ascend Parent Advisors in partnership with Imaginable Futures, and is the realization of goals set by the first cohort of Parent Advisors who voiced support for community-based organizations. The Fund is the first student parent-led fund of its kind. It will provide 12-month grants totaling $150,000 to nonprofit organizations that are supporting student parents in completing postsecondary programs including: workforce development, career, technical, and postsecondary education. Importantly, the Fund will ensure parents are positioned to influence practice, policy, and philanthropy on behalf of other parents.
The lived experience and recommendations of 11 Parent Advisors helps inform the Aspen Postsecondary Success for Parents (PSP) Initiative, a partnership between Ascend, Imaginable Futures, and the ECMC Foundation. The PSP Initiative raises awareness about and shares strategies to better support student parents.
The second cohort of Parent Advisors will select several organizations that are working to implement or expand postsecondary programs and policies that actively engage parents and incorporate their voices and perspectives in the creation of the organization's models. The grantees will commit to documenting and sharing results and tools with the nonprofit and higher-education fields. Organizations will be selected in October 2020.
"The definition of a 'traditional student' is changing," says Savannah Steiger, a psychology and community studies major at the University of Maine at Machias and an Ascend Parent Advisor. "Student parents are the new normal for colleges. We are the change-makers and the future. Being able to support that has been so amazing and fulfilling. I'm very excited to read and learn about all the applicants and see student parent programs in action."
Important upcoming dates for submitting your organization's proposal:
Optional webinar with Ascend staff and Ascend Parent Advisors: Monday, July 20, 2020
Proposals due to Ascend: Friday, August 28, 2020
Grant agreements signed: Wednesday, October 7, 2020
Grantees announced: Thursday, October 22, 2020
Grant period begins: Tuesday, November 2, 2020
The RFP can be found here. The budget template is here. Watch the RFP webinar here. Download the RFP presentation here. NOTE: Please include the budget narrative on the same page as the budget template.
All proposals will be submitted through this form by 11:59 pm ET on Friday, August 28, 2020. Late proposals cannot be accepted.
Questions and Answers for Participants from the RFP webinar
What is the amount of funding available?
All: There will be six awards of $25,000 for a total of $150,000 awarded.
Which organizations are eligible to apply?
All: 501(c)3 organizations are eligible to apply. The following organizations are also eligible: public and/or non-profit higher education institutions, vocational programs (those new and existing). We want to clarify, however, that the fund is specifically focused on advancing student parents. If there is not a component specifically dedicated to student parents, it will not qualify.
For the "student parent reference" component, are graduates still considered student parents or should they still be currently enrolled in school? Also, should it be specifically an undergraduate student parent, or could a graduate student parent provide a letter of support?
All: The perspective of alums is just as valid as that of currently enrolled students. An alum's perspective would have the benefit of reflection and could provide insight into how the program supported their success. This opportunity is supporting undergraduate or first postsecondary credential student parents solely. It's not applicable for programs serving graduate student parents primarily
Does someone qualify as a "student" only if they are attending college or do High School Equivalency (HSE) and English as a Second Language certification courses count?
All: It would depend on the program and the supports they provide. It would be within our intent if the program was to support students entering college. We want to take an expansive approach to postsecondary success to include credentialing, certifications, workforce programs etc.
What was the most useful support, to you as a parent, to achieve your goals?
Savannah Steiger: In the program I am a part of, Family Futures DownEast, they did "barrier removal." They helped remove the biggest barrier students were facing so things like vehicle repair, paying for childcare, providing gas cards for all classes, connections to services, and more. One of the most beneficial parts was coaching. We had intensive coaching in the first year and then less intensive (but still available) coaching the following year. I am an alumnus of the program, but I still talk with my coach weekly.
Michaela Martin: Free drop-in childcare. During my undergraduate years, Oregon State University provided a program that allowed students to access free, on-site child care for up to three hours a day. I can't imagine that I would have been able to stay on top of everything without that. It is astonishing the amount of work I could accomplish in three child-free hours.
Did the Parent Advisors come to a consensus about some of the most common needs of student parents or some of the best ways to support their strengths toward postsecondary success?
All: We all brought different concerns that were at the forefront of our own lives and highlighted the different struggles student parents face together. I think we were nearly always in consensus and if there were any questions or disagreements they were sorted out quickly. I don't think any of the members of the cohort ever felt like their concerns weren't heard.
Is there a target for number of students served during the year?
All: No – we want to see growth of student parents served in a three-year period.
Can we submit more than one student parent letter?
All: No – only one letter is needed.
What experiences can you all share with us that you have faced in getting student parents involved in a program. What is difficult? What tips can you share?
All: The hardest part of getting student parents involved with a program is accessibility and time. Most parents struggle to make time for themselves and adding in school makes it feel very overwhelming.
Savannah: The program I'm in (Family Futures DownEast) is completely built around student parents with insight from the local community as to what student parents want/need (such as transportation, gas money, childcare, time for studying, time for class, etc.). We still have students who struggle (at no fault of their own or the program, life is hard as we know). I think the way to make it accessible is to find out what your parents want out of an education program, ask their needs, and then do your best to fill those needs. The intensive coaching in my program is one of the biggest reasons students keep going. Coaches know their students and the struggles the students face and can therefore provide better resources and connections.
What advice do you have for a successful application?
All: This question was answered live. Please refer to the recording.
Should our proposal focus on a solution that is specifically two-generation and/or exclusively for parenting students or can it be something that benefits our parenting students and also benefits other student affinity groups?
All: It can benefit other affinity groups, but student parents must be prioritized.
Can the program help students who are already enrolled in postsecondary education or training?
All: Yes, this opportunity is available for programs serving parents already enrolled in postsecondary pathways.
How are grants administered? Are they as rewards or it goes into the institution (where we have to account for overhead costs)?
All: $25k is general operating support and will need to include all overhead costs. We expect these funds will most likely be connected to other funding. If there some ideas you'd like to pilot, this is an opportunity to do so.
Can we hear more about what "innovative" means as a criterion?
All: This question was answered live. Please refer to the recording.
If the Fund is a one-year nonrenewable grant, how would we show growth of student parents served over a three-year period?
All: Growth is one of the elements under consideration, but we realize the limits of this fund. One of the questions in the narrative is, "What are your anticipated parent postsecondary outcomes in one year and in three years?" Estimations are fine.
How did transportation affect your ability to achieve your goals?
All: This question was answered live. Please refer to the recording.
I hear that this is focusing on supporting parents who are students in higher education institutions. Would it still count if they are attending a local community college to get their high school diploma, in order to access AB540 funds for undocumented students?
All: Students would need to be pursuing a postsecondary credential so the next step after acquiring the HSE would be of interest to us. We are interested in undocumented student parent programming.
Related Posts

An episode of firsts! Our first live episode recorded at the inaugural Ascend Parent Advisor Convening in Aspen, CO in front of an audience of student parents.

Today, Ascend at the Aspen Institute announced that four community colleges from across the United States have been selected as partners to its Postsecondary Leadership Circle Activation Fund.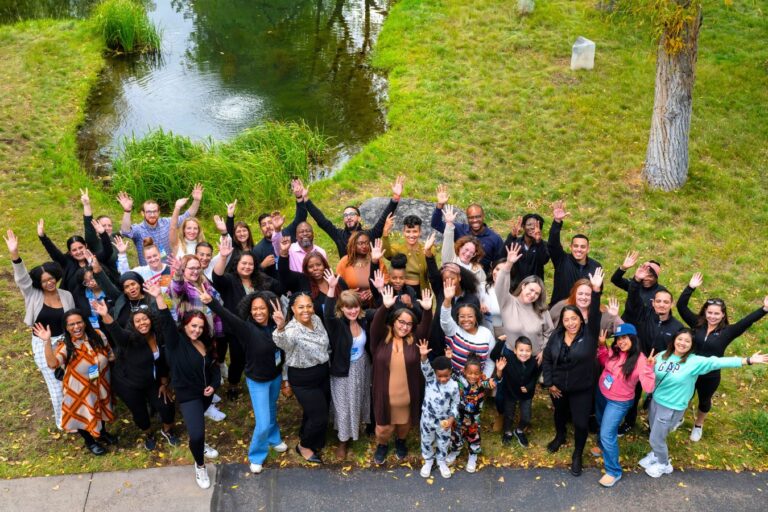 Snapshots from the 2023 Ascend Parent Advisor Convening in Aspen, Colorado.
Featured from the Ascend Community