Three Strategies to Make Family Prosperity a Widespread, Equitable Reality
On October 12-14, 2021, Ascend at the Aspen Institute hosted the third virtual convening of the Aspen Family Prosperity Innovation Community. More than 90 leaders from around the country participated to focus on activating and implementing a range of projects designed to advance work-family supportive practices and policies in communities, states, and at the national level. This blog is adapted from leadership remarks by Ascend's Executive Director, Anne Mosle, posing the key question: when we work together, instead of in silos, how much more is possible?
Poverty is the result of poor policy choices. These choices reflect our national values and decide who deserves access to opportunity to achieve their dreams and who does not. This flawed mindset has led to persistent inequities and a hollowing of our shared humanity. Change is possible. The choice is ours. We must summon the political will and power to disrupt and transform public policies and institutional practices that condemn generations of families to a life where ends never meet no matter how hard one works. We must embrace and enact solutions that see families prosper one generation after the next. We know what works. We have solutions today that when invested in and scaled, generate concrete outcomes. As I reflect on our opportunity to do better for families, I encourage us all to lean into three strategies: collective power, timing, and family- and equity-centered leadership.
Prosperity rises when we collectively focus on and prioritize making that happen. The Aspen Family Prosperity Innovation Community is a collaborative, multi-layered community of 20 national and community-based organizations that's geographically diverse and represents perspectives from across the ideological spectrum. It is a very rare thing to have this kind of ingenuity and insight working together towards a common goal, but this is exactly what families need and deserve. For too long, families have worked hard to just make it by living paycheck to paycheck. It was true before, but the pandemic made it crystal clear: society has placed too much on the shoulders of American families. We all share responsibility to eliminate structural barriers and create opportunities for all families, and we can do that together through bold ideas and partnership. That's what happens at Ascend.
Collectively, as the Family Prosperity Innovation Community, we have cross-sector, on-the-ground local and regional leaders as well as visionary and results-driven national policy organizations co-creating concrete solutions with families and one another. Each Family Prosperity Partner brings passion and purpose as well as deep expertise and creative strategies to advance family economic mobility and well-being. Through a shared commitment to radical collaboration, we can collectively activate the power of families, organizations, and communities by amplifying each other's solutions, from paid family leave to early childhood to safe, stable housing at the county, state, and federal levels. After learning of the pernicious impacts of asset limits on families, Jobs with Justice, which has been working on employee protections for decades, is aligning its advocacy work with other community organizations addressing the cliff effect for workers with low incomes. Legal Aid at Work has learned from mothers and partners in Mississippi, where Springboard to Opportunities launched the nation's first guaranteed basic income pilot for Black single mothers, to consider how its pregnancy rights roadmap can be utilized by all mothers who need resources for job protection and lactation support. UpTogether, which has long centered parent voices in its effort to strengthen services for families, is now adapting a mutualism frame, taking a page out of Family Prosperity Advisor Sara Horowitz's book of the same name. Proving geography is no barrier to scale and adaptation, Baystate Medical Center in Springfield, MA., is learning from CrossPurpose in Denver, CO., how to redesign benefits for hospital employees who are earning lower wages to ensure they are not left out of vital asset-building tools like retirement matching funds. Bringing organizations to a table they otherwise might not sit at together has fundamentally shifted how they think and work on behalf of families.
Now is the time to do right by our families. The past few years, I have no fancy words, have just been brutal. The pandemic, the racial justice reckoning, and caregiving crisis have fundamentally affected and altered us, as people as well as a country. We are living in an unprecedented moment of transformation, and we need to summon our collective stamina to build society in a way that is biased towards families and not against them, especially Black, Indigenous, LatinX, and Asian American families.
Let us seize this moment. Let us link arms and double-down on centering families and family prosperity in policies and public and private investments. In this final push of congressional action on reconciliation, let's not lose sight of what is at stake: right now, we can do better for all families. We must make family prosperity a national priority that doesn't depend on an administration. We need everyone from elected leaders to community leaders to business leaders asking themselves: will this make it better for families? And that being said, let us make sure every dollar of the now $1.75 trillion Build Back Better federal investment is invested in the families that need and deserve it the most. Full stop.
We need to hold ourselves and our elected leaders, Republicans and Democrats, accountable. Under our watch, do families, all of them, do better? We need to measure what contributes most to family prosperity, not profit for a few. With inflation rates reaching a 30-year record high and personal income down 1 percent in the last month as reported by the Federal Reserve, it does not take a Nobel Laureate to know we need to fundamentally change what we value and what we measure at a structural and systematic level or that working families are hit exponentially hard, whether buying milk or pumping gas. We have moves we can make – starting with the creation of a Family Prosperity Index to track and respond quickly to the impact of rising inflation on families with incomes of 200 percent of the federal poverty level. Prioritizing data and policy just as we track the monthly jobs numbers would be a policy move in the right direction. Lead and listen to those closer to the ground who know best how to improve lives and do so equitably. We have the opportunity to follow the lead of the families who know best what they need and what will work, and to fully implement the Biden-Harris Administration's executive order for advancing racial equity and the recently released National Plan to Advance Gender Equity and Equality as if our future depends on it. As, in fact, it does.
Our future as a country is inextricably tied to how well we do by our families, but for families to be the backbone of strength our nation needs, we must eradicate insecurity as the status quo. This possibility of prosperity for all families is incredibly exhilarating, and I hope we can anchor ourselves and each other in this unwavering, unapologetic, and aspirational spirit to do far better for families.
Follow along on the Family Prosperity Innovation Community's progress by viewing the assets and resources that help to solve one or more of the biggest threats to family prosperity.
Related Posts
The Aspen Family Prosperity Innovation Community Phase II sought to find and foster the most effective and innovative strategies to accelerate social and economic mobility for working families with low incomes. To do so, we elevated the voices and expertise of families with lived experience, were guided by 14 advisors, and we brought together 20 …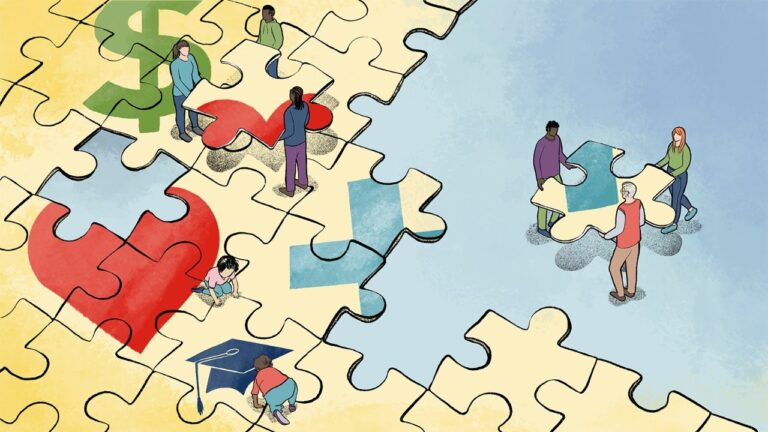 In a blog post authored by Trene Hawkins of Robert Wood Johnson Foundation, Ascend's Managing Director Marjorie Sims shares how Ascend harnesses parent and caregiver leaders' expertise to create policy and systems change in communities and organizations.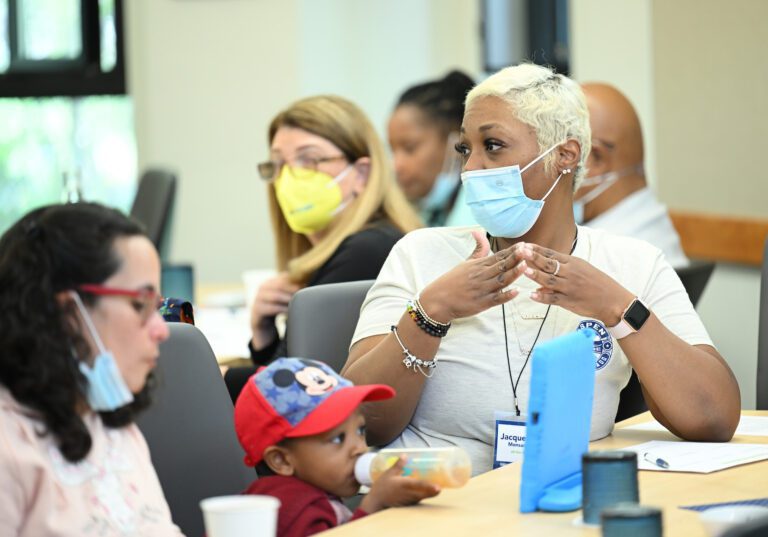 As an organization with a vibrant Early Head Start program and a two-generational approach to alleviating poverty, All Our Kin has been a proud partner in Ascend at the Aspen Institute's Family Prosperity Innovation Community. Being part of this group among 20 partnering organizations has given All Our Kin the opportunity to bring its innovative model …
Mom and Son Duo Reflect on Family Prosperity Convening Read More »
Featured from the Ascend Community