Centering Families in Policy Solutions in 2021 and Beyond: What Parents Know
In the last year, families have endured and adapted to myriad unknowns, and too often they've had to figure it out without basic support and resources. Yet, as new research conducted by Ascend at the Aspen Institute (Ascend) and the American Enterprise Institute (AEI) discovered, there is widespread support across political ideologies for solutions that center families and children and boost the economy.
Parents shouldn't have to choose between a paycheck and their health or their career and caring for their child. As we work to recover from the COVID-19 pandemic, begin a new year, and consider how to set up our nation to be more resilient for years to come, let's raise the bar and eradicate economic and health insecurity as the status quo for millions of families.
It can be done: we can remove financial hardship by creating family-supportive policies and practices that can change the course of a family's life. They must include what families truly need: a comprehensive approach to ensuring parents can provide for their families, be healthy, and have the space and support to thrive. We know this because that's what families recently told us.
New Research Uncovers Family Prosperity Solutions to Scale – with Widespread Support
In 2020, Ascend and AEI separately reached out to parents and families themselves on what they need, right now. AEI is a partner of the Family Prosperity Innovation Community (Family Prosperity), Ascend's learning and action community funded by the Robert Wood Johnson Foundation. The community is dedicated to advancing family-supportive policies and working with policymakers, business leaders, and communities to scale and spread them. In that spirit, AEI commissioned a survey of 3,518 working-age adults in July 2020 to better understand the paid leave landscape available to working families during the COVID-19 pandemic and how the pandemic has shaped childcare needs and arrangements.
Ascend conducted its research – Parent Voices 2020 – through parent focus groups across 10 states including Minnesota, Colorado, New Jersey, Tennessee, and Georgia from September to October, and via an online national bulletin board specifically for mothers with incomes below 200 percent of the federal poverty level. Ascend also conducted a national election-day voter exit poll to understand public perception of the 2Gen approach and test policy ideas that support families.
Centering the voices of parents and families is at the heart of Family Prosperity's work, and both Ascend and AEI's research revealed striking takeaways about how families are thinking, feeling, and responding to the moment. Something all parents agreed upon: the added pressure of our reality. "The standard of parenting has been raised," said one mother in a focus group that included parents from Tennessee, Mississippi, and Georgia, and "[parents have] to roll with the punches and be able to do anything at anytime, anywhere [for their children]," said another.
Everyone has a role: policymakers, businesses, and families
The research revealed opportunities for bipartisan policy action that can transform current tensions between breadwinning and caregiving that affect all families, particularly families of color with low incomes. AEI's results call for social institutions, particularly employers, to share the burdens this pandemic has placed on parents and caregivers and to offer them additional benefits and flexibility so they can meet their caregiving needs without dropping out of the labor force entirely.
About one in five workers reported leave-taking in their household since the pandemic began. Yet, a fifth of working-age adults reported needing time off since the pandemic started, but not taking any. The proportion was greater among families with children and those with a household income below $50,000 per year. Concerning too are the most common reasons people gave for an unmet need for leave: inability to afford a loss of income, high workload, and fear of job loss or negative action by an employer. Families must meet a lot of demands, but some have little support. Let's design well-targeted policies that enable parents to work and care for their families. They want to do both.
Solve for caregiving and breadwinning
For working families, reliable childcare is critical but often lacking. Policymakers can solve this by allocating funds that help childcare providers, particularly small providers who are often women of color, stay open and serve more families. This was borne out in AEI's research, and Ascend saw a strong appetite for this in parent focus groups.
AEI's survey found that families have experienced substantial childcare instability. Just over half of parents with children age 0 – 5 who used childcare before the pandemic reported having no childcare in place or using a different provider by July 2020 – a huge shift in families' day-to-day schedules, routines and dynamics. Maternal employment was disproportionately affected through a 25 percentage point drop in full-time employment among mothers of children age 0 – 5 who used childcare before the pandemic, echoing the unprecedented number of women who left the workforce in September.
Ascend asked parents to describe an ideal childcare policy. They readily called for low-cost, or even free childcare: "I would create more affordable programs that would help families in need of childcare by including more hours of availability and enough staff with exceptional backgrounds in childcare education," said one mother on the national bulletin board. Another mother on the East Coast suggested a "type of program for single moms…kind of like a daycare, but also like a learning center, so it's less of a burden for the parent to play all these roles with their kids." Those programs, such as early learning centers and Montessori schools, do exist. We just need more of them to be accessible.
Another concern that parents and caregivers across the board supported resoundingly in Ascend's research: mental health support – and in particular, parents and children having access to mental health care together.
More than 70 percent of voters agree that mental health screenings and services should be available to parents and children together, even if only one is enrolled in a health insurance plan. This appeals to both Trump and Biden voters. "It teaches both the parent and the child how to cope with certain situations together," said one mother in Minnesota. A father in a focus group that included parents from Tennessee, Mississippi, and Pennsylvania echoed how many parents feel as they negotiate a reality they never imagined: "I would like to become the best parent I can be. So, if I had help in trying to reach that goal, I would really like that." Considering the positive feedback loops associated with mental health and economic security, we can see how such supports can and should be included in policies that serve parents and children together.
It's clear: when it comes to improving the well-being of all children and families, there are significant areas of bipartisan agreement and overlapping, growing support for solutions that put families at the center.
Parents and caregivers are not only telling us what they need but also showing us what we can be. Business leaders and policymakers should rise to their expectations to advance family prosperity across the nation – and in doing so, build a resilient, reimagined economy that can weather crises and support all families, now and for future generations.
Related Posts
The Aspen Family Prosperity Innovation Community Phase II sought to find and foster the most effective and innovative strategies to accelerate social and economic mobility for working families with low incomes. To do so, we elevated the voices and expertise of families with lived experience, were guided by 14 advisors, and we brought together 20 …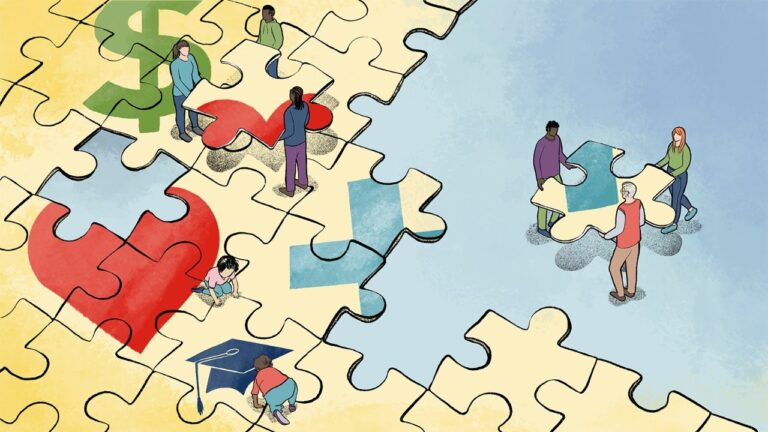 In a blog post authored by Trene Hawkins of Robert Wood Johnson Foundation, Ascend's Managing Director Marjorie Sims shares how Ascend harnesses parent and caregiver leaders' expertise to create policy and systems change in communities and organizations.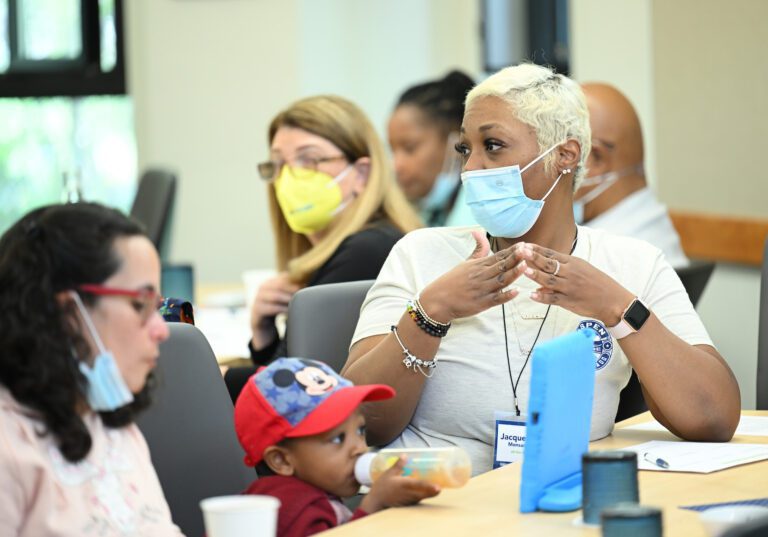 As an organization with a vibrant Early Head Start program and a two-generational approach to alleviating poverty, All Our Kin has been a proud partner in Ascend at the Aspen Institute's Family Prosperity Innovation Community. Being part of this group among 20 partnering organizations has given All Our Kin the opportunity to bring its innovative model …
Mom and Son Duo Reflect on Family Prosperity Convening Read More »
Featured from the Ascend Community