Breadwinning and Caregiving Don't Have to Be Incompatible
For many of us with young children at home, the pandemic hasn't just disrupted our lives — it's turned them upside down, erasing the boundaries between home and work. We're seeing more and more stories about parents, especially mothers and specifically mothers in low-wage jobs, struggling to balance being a breadwinner and a caregiver.
Only 1 in 5 US workers has access to employer-provided paid family and medical leave, and during this global health crisis, we are witnessing firsthand the brutal tradeoffs far too many have to make between their wallets and their well-being. In addition, millions of parents have had to leave the labor force altogether because of the ongoing child care crisis and Covid-related care responsibilities.
Fortunately, there are proven solutions to grow family prosperity, and an increasing number of employers have embraced empowering policies and compassionate practices that create spaces for families to thrive and contribute to society and the economy. While more public and private sector leaders need to share in the responsibility of caring for children, elders, and their communities, we'd like to celebrate a few exemplars affiliated with the Ascend program's Family Prosperity Innovation Community who are leading the pack and creating sustainable, equitable, and family-informed work policies:
Atrium Health was one of the first health systems in the nation to announce a vaccination mandate for its workforce. It took a human-centered, relationship-based approach to address vaccine hesitancy to maximize the number of employees who complied with their vaccine mandate.
Atrium Health is an integrated, nonprofit health system with roughly 70,000 employees serving patients at 40 hospitals at more than 1,400 care locations. It provides care under the Atrium Health Wake Forest Baptist name in the Winston-Salem, North Carolina, region as well as Atrium Health Navicent and Atrium Health Floyd in Georgia and Alabama. Wake Forest University School of Medicine serves as the academic core of its enterprise. It's a nationally recognized leader in shaping health outcomes through innovative research, education, and compassionate patient care, but they still found themselves confronting vaccine hesitancy among their employees.
Some employers have embraced empowering policies and compassionate practices that create spaces for families to thrive.
Family Prosperity Advisor Dr. Jennifer Sullivan is Atrium Health's senior vice president of strategic operations and the former head of Indiana's Department of Family and Social Services. She was part of the leadership team, led by Dr. David Callaway, charged with mitigating the operational risk of losing staff due to the requirement. This team felt an obligation to protect the livelihoods of their health care staff who have cared for patients in a heroic fashion. They arranged one-on-one and small group discussions with employees to listen and share educational resources. In the end, Atrium Health was able to achieve 99.5% compliance with its vaccine requirement.
Atrium Health has taken many proactive steps to recognize the resilience of its workforce, including establishing support groups to help normalize the personal grief process of caring for the sick and dying and scheduled time for self-care. It also invested $180 million into across-the-board pay raises and incentive programs last year and has subsequently announced an additional $90 million Heroic Caregiver Award program, specifically for patient-facing teammates, to be paid out this year.
Baystate Health is an anchor health institution working to create greater opportunity for low-income communities in Massachusetts. They've designed a pay-to-train cohort-based model that attracts and retains entry-level, frontline employee positions such as medical assistants and patient care technicians. The hospital partnered with Roca, a local youth-focused intervention group, and local career-readiness programs to recruit the first cohort of 22 new hires. The team at Baystate is looking to expand this model and is seeking opportunities to ensure its sustainability.
Also in Massachusetts, StreetCred is a financial coaching program within Boston Medical Center's pediatric health institution. By combining financial services with routine health check-ups, the team has been able to implement a two-generation approach and elevate financial security for families as they visit their pediatrician.
In an article for the New England Journal of Medicine, Dr. Lucy Marcil, a founder of StreetCred, detailed the relationship between financial status and poor health outcomes, emphasizing that health care systems have the ability and opportunity to impact both financial and physical health through medical financial partnerships. These partnerships can include services for parents and caregivers such as financial coaching and assistance in establishing savings accounts, filing taxes, and building credit.
StreetCred has led the way in such partnerships and has demonstrated an immense opportunity for expansion of these services in all areas of health and wellness.
These case studies and stories remind us that there is no one-size-fits-all solution for employers looking to support their employees and their families. By remaining nimble and continuously engaging families in response to the changing landscape, these organizations have been able to support caregiving employees who are vital to their workforce. My colleagues know my son's silly grin now that he has appeared countless times in my zoom background; they also know I step away from work some days to accommodate unexpected preschool closures and lack of flexible child care due to a range of factors, including keeping potential caregivers safe from exposure.
I feel deeply fortunate for these privileges, and organizations of all sizes and sectors need to step up and do their part to shift how we support working families not only in this time of crisis but also in daily life. That's why the Aspen Family Prosperity Innovation Community has created the Four Employer Principles for Family Prosperity which serve as a roadmap for organizations to design their own family-supportive policies and benefit programs. Sign on and help achieve the vision of good jobs for all parents and caregivers, particularly for those with low incomes.
This blog post original appeared in the Aspen Institute's Blog.
Related Posts
The Aspen Family Prosperity Innovation Community Phase II sought to find and foster the most effective and innovative strategies to accelerate social and economic mobility for working families with low incomes. To do so, we elevated the voices and expertise of families with lived experience, were guided by 14 advisors, and we brought together 20 …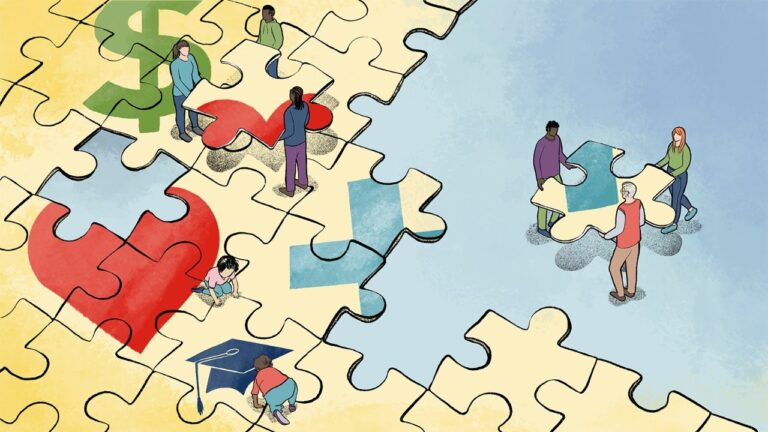 In a blog post authored by Trene Hawkins of Robert Wood Johnson Foundation, Ascend's Managing Director Marjorie Sims shares how Ascend harnesses parent and caregiver leaders' expertise to create policy and systems change in communities and organizations.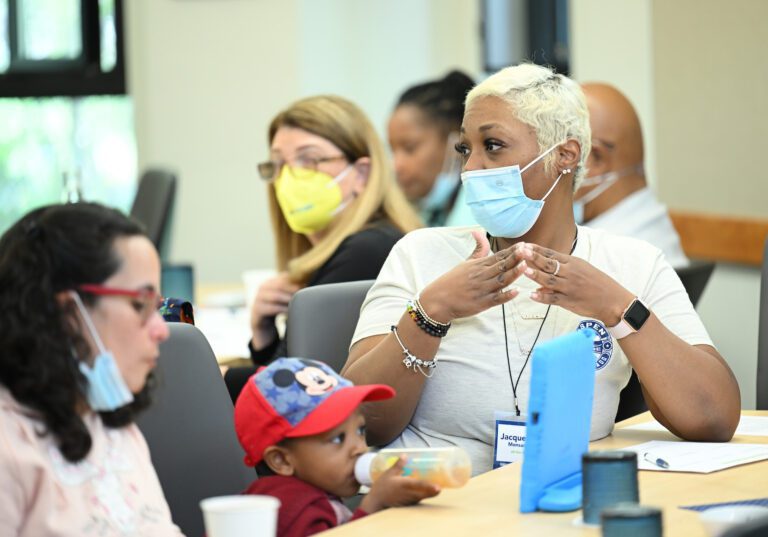 As an organization with a vibrant Early Head Start program and a two-generational approach to alleviating poverty, All Our Kin has been a proud partner in Ascend at the Aspen Institute's Family Prosperity Innovation Community. Being part of this group among 20 partnering organizations has given All Our Kin the opportunity to bring its innovative model …
Mom and Son Duo Reflect on Family Prosperity Convening Read More »
Featured from the Ascend Community